If you're living with IBD, here's the blood clot risk you need to know about
Email sent: Dec 2, 2020 5:30am


December 02, 2020

Good Morning, -!
When people think of blood clots, they think of cardiovascular issues. But there are many conditions, even those that seem totally unrelated, that increase your risk for a dangerous blood clot that could lead to stroke. That's why it's important to keep your health top of mind in everything you do, every day. Make it part of your daily flow — and Peak Blood Flow™ part of that healthy plan!
Yours for easy health,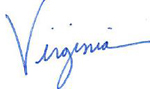 Virginia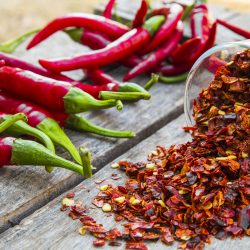 Why do some people gravitate toward chili peppers and enjoy the burn while others can't stand it? Perhaps they sense something that more and more research is revealing: that chili peppers may help you live longer. So, if you're not traditionally a fan of spicy foods, it may be time to change your ways... More »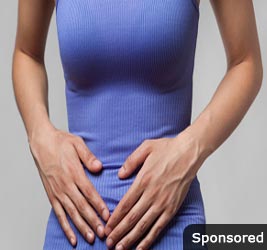 Stanford researchers have discovered a simple tweak to your breakfast routine which can have a dramatic effect on how often, how easily, and how fully you empty your bowels. Add this "unusual ingredient" to coffee or tea, to effortlessly and fully empty your bowels every single morning... More »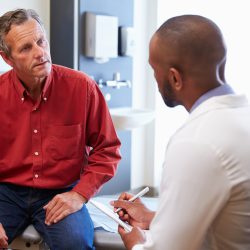 Men need to be watchful for any signs of testicular cancer, especially if they are at higher risk for the disease because of age, race, family history or medical condition. Recently, a study turned up another risk factor for testicular cancer — a medical procedure that can be difficult to avoid but could raise the risk almost 60 percent... More »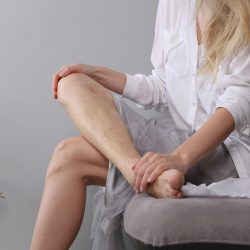 When you live with inflammatory bowel disease, you have a lot of health concerns to watch out for. First there's the chronic inflammation of your digestive tract. There's also the weight loss and diarrhea. And there's the increased risk of colon cancer. But a danger not as well known is that IBD triples the risk of a life-threatening blood clot. But for 1 in 7 IBD patients, it may be higher. More »
---
 

You subscribed to Easy Health Options® and are receiving this email at - because you indicated an interest in receiving special updates and offers from Easy Health Options®. We hope you'll find these updates interesting and informative. But if you'd rather not receive them, click here. You will be immediately removed from our database. Remember, your personal information will never be rented or sold and you may unsubscribe at any time.

PO Box 1105 Cullman, Alabama 35056

 
Other emails from The Lifesaver Heart Surgeons Won't Tell You About!
Jan 27, 2021

The connection between aging, mitochondria and COVID-19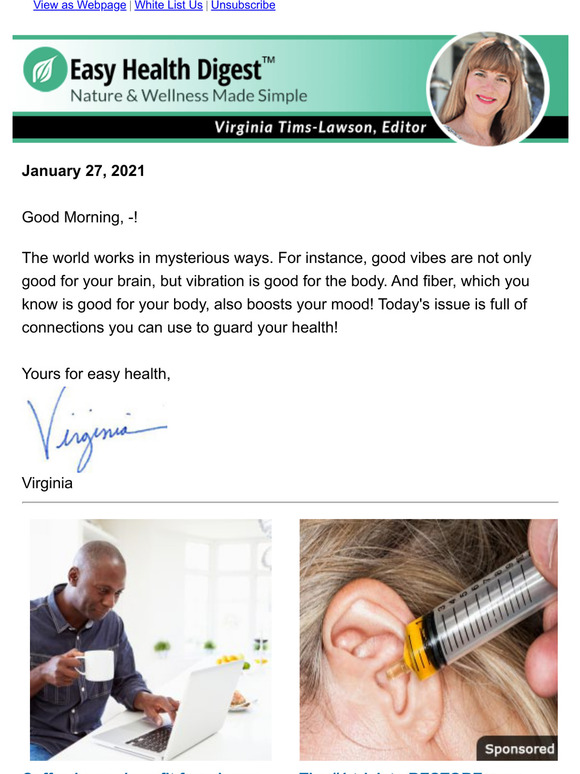 Jan 26, 2021

Golden Oil: 3,000-year-old remedy is the health secret of Egyptian Kings... European Queens... and Religious Prophets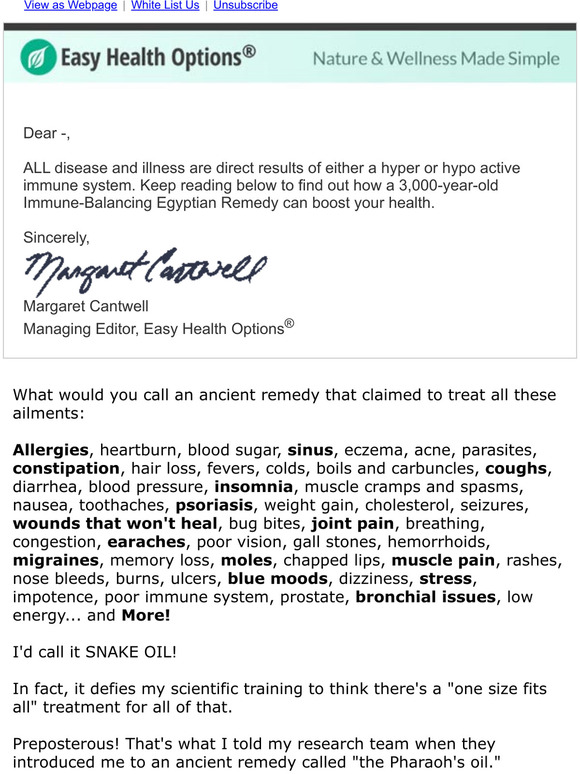 Jan 26, 2021

The Japanese secret to healthy circulation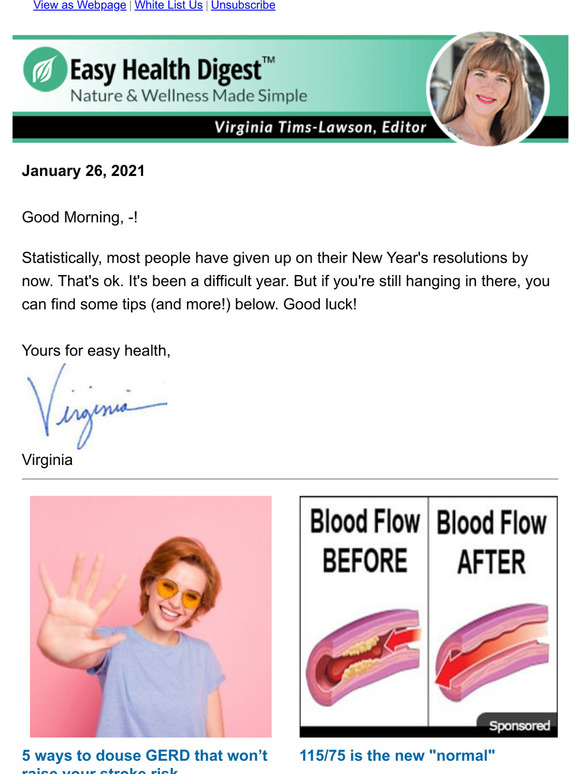 Jan 25, 2021

Vaccine Fervor [what you need to know]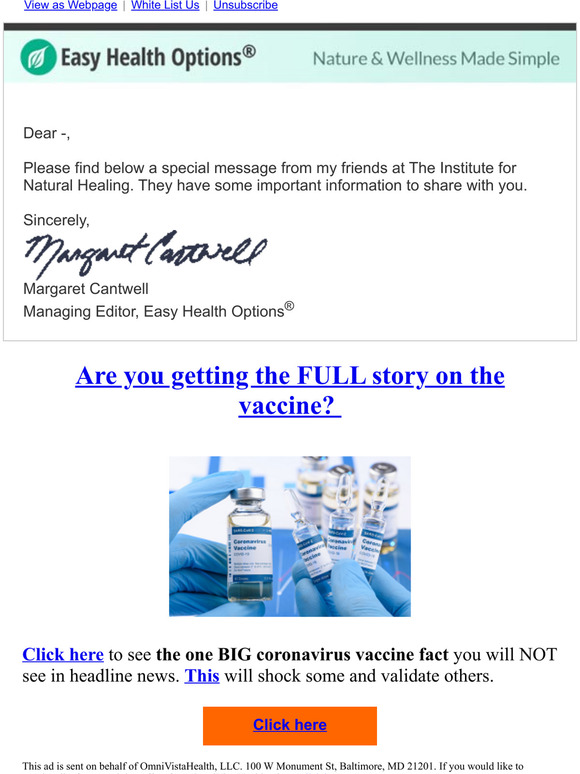 Jan 25, 2021

Extra cardioprotective effects of omega-3s discovered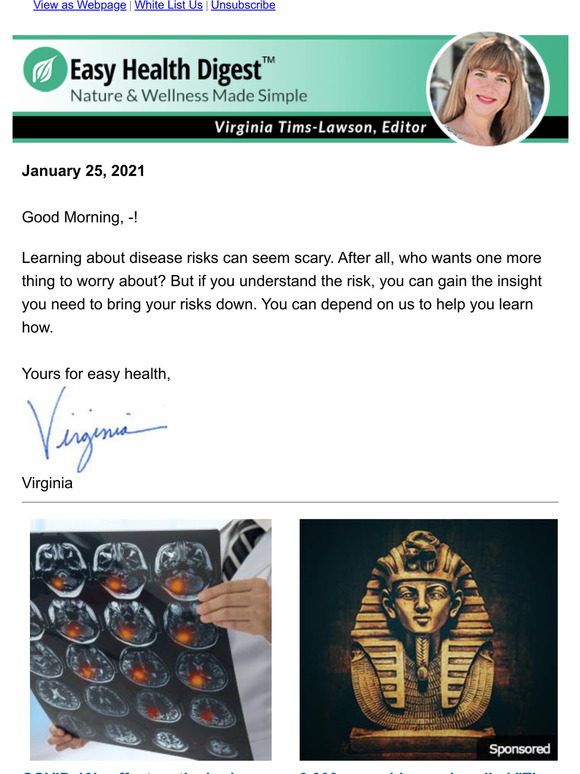 Jan 24, 2021

The Disease That Almost Everybody Gets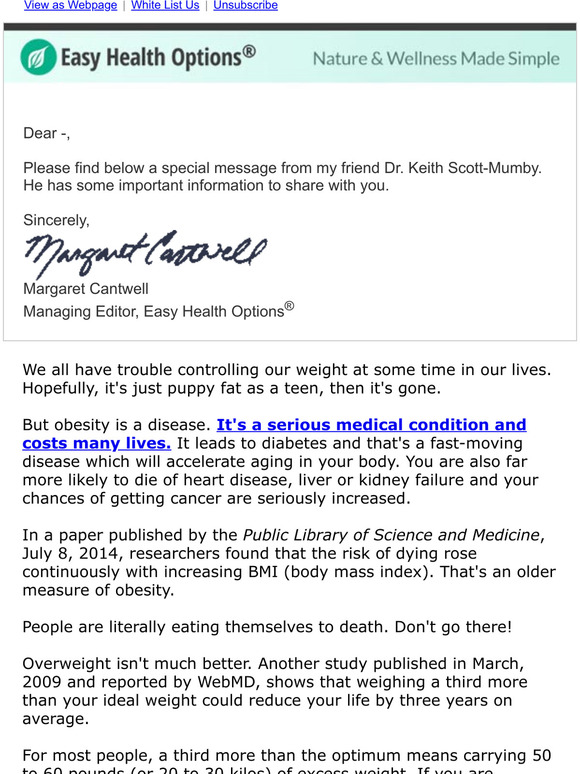 Shop without the noise.
Get our free newsletter of hand-picked sales you need to hear about from the web's best brands.