Two new cannabinoids are taking the country by storm
Email sent: May 4, 2021 10:40am


Dear -,
Please find below a special message from my friend Kriss Berg. He has some important information to share with you.
Sincerely,

Margaret Cantwell
Managing Editor, Easy Health Options
®
CBD, aka cannabidiol, has been the rage for a couple years now.
And it's easy to see why; the list of benefits is long:
It helps with stiff joints and muscle pain
It can drastically improve sleep
It can also reduce anxious moods
Many users claim it helps with skin irritation
Others take it for focus and memory
But two new cannabinoids are taking the country by storm. Recent research has shown two recently discovered cannabinoids have incredible healing properties. They're called CBC and CBG.
CBG
CBG stands for cannabigerol, and like CBD is non-psychoactive. It is commonly found in hemp plants. CBG-acid is the precursor to other cannabinoids and has been called the 'stem-cell' of all cannabinoids.
Pain: Recent research has demonstrated the powerful pain-relieving effects of CBG
Eye health: CBG reduces intraocular pressure, associated with some eye conditions
Antibiotic: CBG has been shown to have antibiotic and antibacterial properties
Digestion: It has been shown to treat the root cause of bowel and digestive conditions
Mood: CBG has been shown to boost the body's production of anandamide, the bodies native 'bliss molecule'
Brain health: It has also been shown to be a powerful neuroprotectant and can help with conditions affecting the brain and nervous system
CBC
CBC, also known as cannabichromene, is also a natural oil found in the hemp plant. It has many therapeutic properties that were recently discovered.
Mood: A recent study showed CBC has 10x the effect of CBD on relieving depressed moods
Pain: CBC has also been shown to have powerful pain-relieving effects
Anti-virus and anti-microbial: It has been shown to be an effective anti-viral
Calm: Several studies have shown CBC to be an effective relaxant, making users feel at ease quickly
Brain Growth: CBC appeared to increase the viability of developing brain cells — a process known as neurogenesis.
They Go Better Together
The best news from this recent research is that CBC, CBG and CBD are most powerful when they are ingested together. One study showed that CBD was up to 3x more powerful when taken with CBC, CBG, and other natural cannabinoids.
This is called the 'entourage effect' and dozens of studies show it is now the most effective way to get the most out of a CBD supplement.
That's why full-spectrum CBD is the go-to supplement for millions of Americans now. They can get all the benefits of CBD, with up to 3x more efficacy, and also enjoy the benefits of CBC, CBG, and other cannabinoids.
Now you can enjoy all these cannabinoids in one powerful dose with Prosper CBD's 1000mg Full Spectrum Oil.
It has 35mg of full spectrum CBD in every dose, plus 2mg of CBC and 1mg of CBG. This unique formula uses the entourage effect to gives its users restful sleep, improved mood, and fast but lasting pain relief.
Now you can enjoy Prosper CBD 1000mg Full Spectrum oil for 20% off today only. This is a special introductory price and costs as much as many companies charge for 300 or 500mg.
Go here to reserve your bottle while this introductory offer is still valid.
Sincerely,

Kriss Berg
Certified Nutritionist
Prosper Wellness

P.S. We just got this review on our site from one of our customers:





Want the same results?

It's easy, just take advantage of the flash sale on this pain neutralizer
 

You subscribed to Easy Health Options® and are receiving this email at - because you indicated an interest in receiving special updates and offers from Easy Health Options®. We hope you'll find these updates interesting and informative. But if you'd rather not receive them, click here. You will be immediately removed from our database. Remember, your personal information will never be rented or sold and you may unsubscribe at any time.

PO Box 1105 Cullman, Alabama 35056

 
Other emails from The Lifesaver Heart Surgeons Won't Tell You About!
May 9, 2021

4 symptoms of a blood clot you should never ignore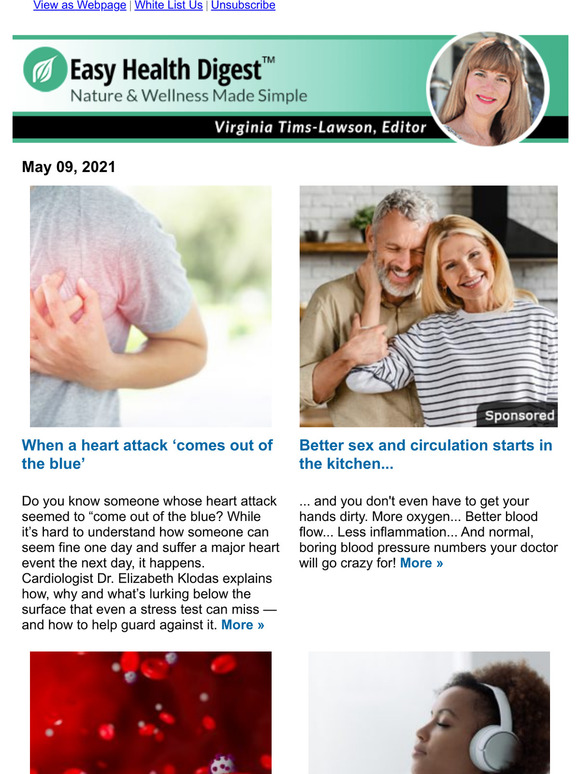 May 8, 2021

gin soaked raisins KILL inflammation?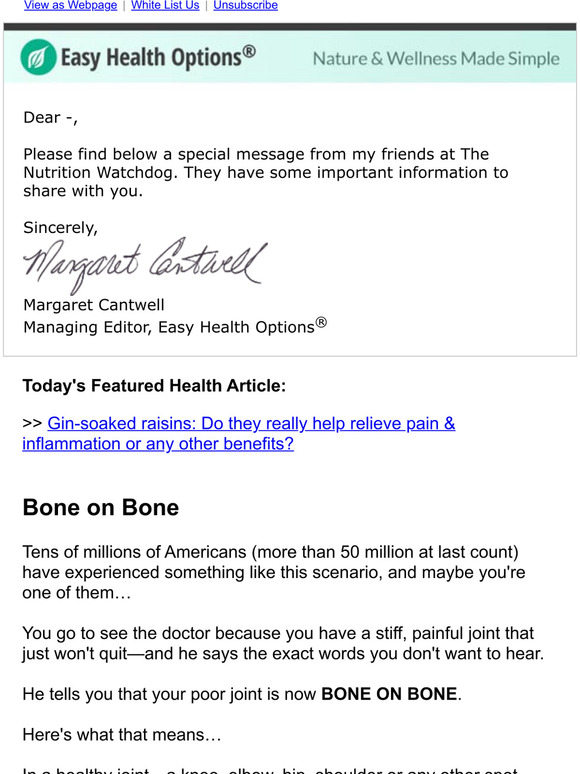 May 8, 2021

Orange juice: Pure, natural... and poison?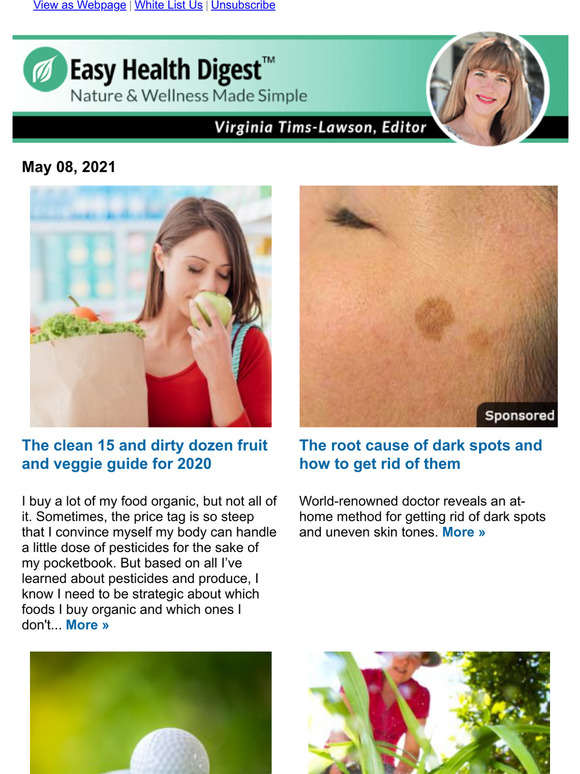 May 7, 2021

Golden Oil: 3,000-year-old remedy is the health secret of Egyptian Kings... European Queens... and Religious Prophets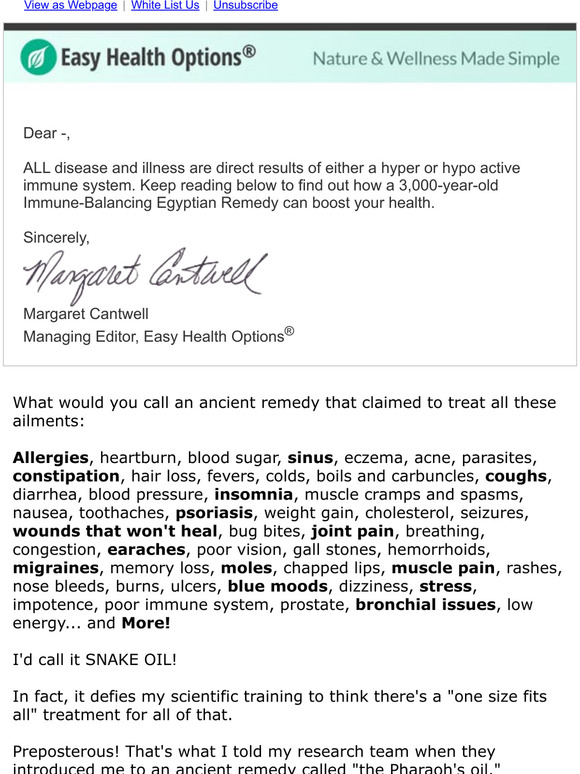 May 7, 2021

Three times in life when your aging gets ramped up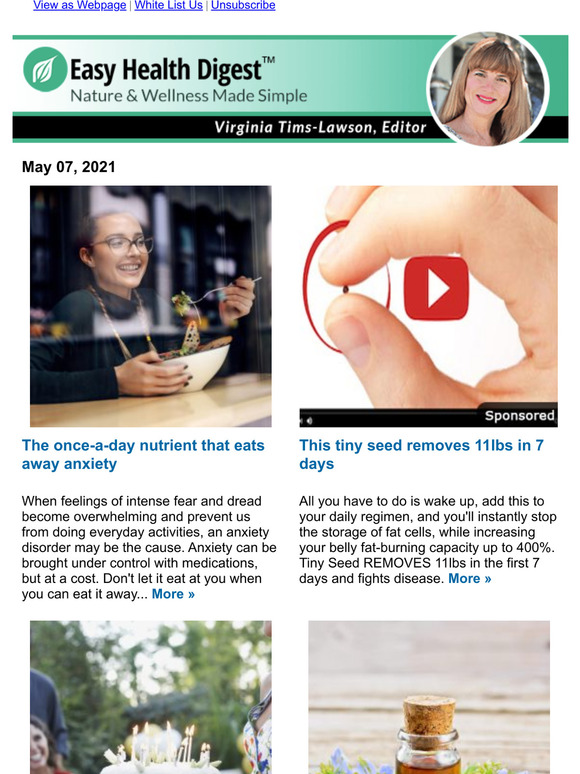 May 6, 2021

Kills more cancer cells than a dose of radiation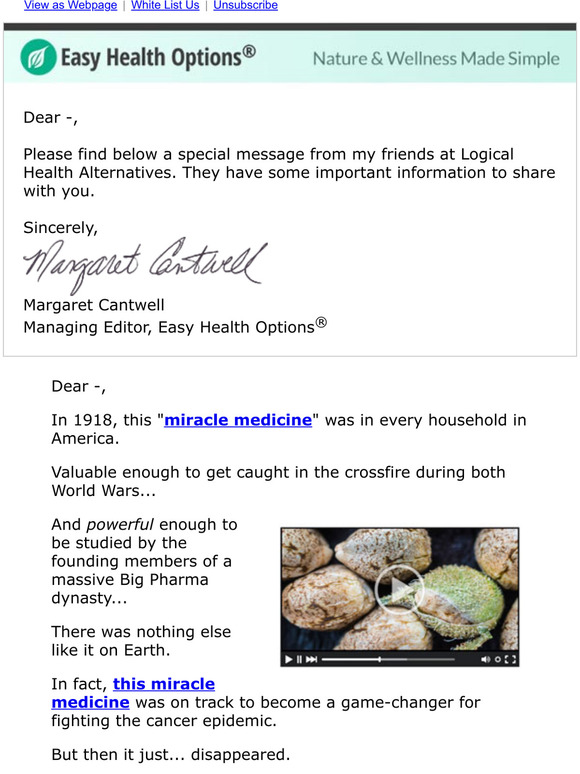 Shop without the noise.
Get our free newsletter of hand-picked sales you need to hear about from the web's best brands.