Natural Treatment for Sinus Problems
Email sent: Nov 27, 2018 3:45am
It is THE FINAL WEEK to take advantage of our SPECIAL IMMUNE-BOOSTING CONSULTATION for £60.  
Book in with Greg for an hours' Bicom Bioresonance therapy to stimulate your immune system and receive our top immune boost naturopathic checklist, flu blew recipes including 'Hooch' and 'warming socks' recipe.  To book, phone the Ilkley Healing Centre on 01943 602 177.
How waterfalls & other natural remedies can heal the pain of sinus problems
If you've ever suffered from sinusitis or other sinus problems, you'll know how painful it can be.  "But how can a waterfall help?" I hear you say?  Read on.    
Sometimes referred to as 'asthma of the nose', the mechanisms of the conditions are similar.  In response to a trigger such as an allergy or a head cold, nasal and sinus mucous membranes can become swollen and secrete mucus. This is what causes the pain of sinusitis; since the sinus cavities are tiny, any build-up is bound to increase pressure.
The Symptoms
The main symptom of sinus is a headache (usually painful, often throbbing) behind or above the eyes, worsening when you bend forward. Other symptoms include eyestrain and eye pain; a congested nose; tenderness, swelling and puffiness especially under the eyes; bad breath and a post-nasal drip (mucus dripping down the back of the throat).
The Causes
As mentioned, allergies and infections are the most common causes.  Changeable outdoor temperatures, indoor air pollution and dryness caused by dehumidifying air-conditioning systems can also be a trigger for sinus problems, as can pollution, second-hand smoke, and chemical sensitivities.  Moulds, mould toxins and even reflux are other common culprits.  For a full list,
read the full blog here.
Pinpointing the cause of your sinus problem with
Bicom Bioresonance
Using 
Bicom bioresonance
, we are able to pinpoint your triggers and causes.  We can then tailor a targeted therapy plan incorporating 
bioresonance therapy
 and naturopathic medicine detailed in the full blog post!
Heal with nature - this is the link to the waterfall.  Mucous membranes thrive and maintain a strong defence against outer attacks when the air you're breathing is clean, moist, warm, oxygen-rich, and filled with negative ions – these are created in nature by the effects of rushing water, air, and sunlight, such as beside the ocean.  
Drink at least three litres of clear fluids daily. Liquid, particularly if warm and clear, stops mucus from becoming too thick, which is when it tends to become infected.
Eat foods high in zinc (peas, pumpkin seeds, seafood, sesame seeds, kidney beans, turkey, beef, cashews, mushrooms) to support immune defence and tissue healing.
If you are having problems breathing at night, place a vaporiser in your bedroom.
Effective herbs for sinusitis include eyebright, echinacea, elderberry, golden seal, myrrh, goldenrod, ribwort and fenugreek. Try MediHerb's Eyebright Complex tablets and Echinacea Premium tablets.
CLINIC NEWS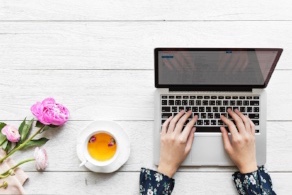 As you may well have seen, we are updating to a computerised system. If you are a patient of ours, please be aware that from now on you will receive a text message and/or email reminder a few days prior to your appointment.  Please do let the clinic know if any of your contact details require updating.
Jenny's Clinic Hours 
Mondays 9-5pm
Tuesdays 9-5pm
Wednesday 9-5pm
Fortnightly Thursdays 2-8pm
Greg's Clinic Hours 
Mondays 9.45-1.45pm
Tuesdays 9.30-1.30pm
Wednesdays 9.45-12.45pm
Thursdays 9-5pm/ 9-1pm  every fortnight
Email Etiquette
Please be aware there is ordinarily a fee associated for email replies which will be charged.  Non-urgent questions are best discussed at your next consultation, thank you.
Missed Appointment Fees
Please be aware of the  patient agreement of a consultation fee incurred for any missed appointments - see terms of service here

Naturopathy integrates medical science with the holistic approach of natural medicine
Share this newsletter via the links below
Copyright © 2018 Jenny Blondel N.D,  All rights reserved.
You are receiving this email because you have 'opted-in' at www.jennyblondel.com. If you have received this email in error please unsubscribe. Jenny Blondel ND accepts no liability for any damage caused by this email or its attachments due to viruses, interception, corruption or unauthorised access. This email provides information on living well. All material is provided for information only and I recommend that you seek a professional opinion on your personal health issues. You are welcome to unsubscribe at any time.

Mailing address is:
Leeds Road
Ilkley LS29 8DP
United Kingdom

Want to change how you receive these emails?
You can update your preferences or unsubscribe from this list



Other emails from The Natural Pcos Diet
Shop without the noise.
Get our free newsletter of hand-picked sales you need to hear about from the web's best brands.