🚗 Your Roadmap To Health
Email sent: Dec 4, 2019 6:45pm
Not everyone knows how important this is 
Roadmaps Show Us Where We're Going
Dear -,
 
It's been a while since my last newsletter but now I'm back up and running on the other side of the world (Sunshine coast, Australia) I look forward to being in touch more consistently.  As we near the end of the year,   I wanted to take the opportunity to remind you how I help patients recover from illnesses and regain optimal health.  
As with any important journey,  an effective roadmap is critical.  This includes the success of overcoming ill-health. 

My patients' personal 'roadmap to health' is completely bespoke and designed to help them understand how to navigate the trip and what to expect along the way. It also helps identify and understand some of the detours, challenges, and important mileposts on the road to health and wellness.  Let's take a look at the 4 steps.

1. Realisation 
We all look after ourselves the best we can when we get an illness but there are times when things we try don't work the way they should.  The first step on the journey is acknowledging you can't go 'it alone' and that you are going to benefit from outside help.

2.  Taking Action 
Those for whom the above rings true, booking an appointment is the next step.  New patients need to complete a new patient form.   This is intentionally detailed because there are so many considerations we ordinarily don't factor in.  It's important I have an understanding of background information such as people's main reasons for making the appointment.  
3.  Identifying your 'barrel of stress' 
During the first consultation it's important to target specific areas of the body that are struggling (e.g. gut, hormones, brain neurotransmitter, spine etc) and holding back health.

I thoroughly test and identify what the key drivers are to the symptoms client's have been experiencing. 

It's common for there to be more than one driver.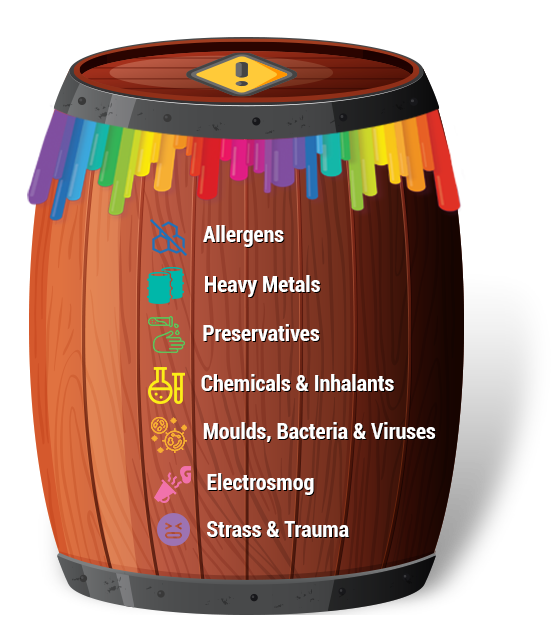 These vary from emotional trauma, spinal misalignment, scar blockages, radiation/geopathic/ EMF stress, nutrient deficiencies, hormones and/or neurotransmitter imbalances, a leaky gut, food intolerances, parasites, moulds, bacteria, viruses, heavy metals, vaccine stress and more.

I then identify the main stressors, the priority stresses, what could be 'blocking' the ability to heal – in order to create an effective healing journey roadmap.
4.  Treatment: What's Involved 


Using Bicom bioresonance devices in our clinic (which I must point out has revolutionised the way I practice naturopathy), I begin with a 'basic therapy' which is a bit like an 'MOT'.  I then treat any 'blocks', address nutrient deficiencies, gently open and stimulate your detoxification organs, address emotional blocks and traumas (shock therapy, chakra treatment, inverting emotions etc), before moving on to  target any pathogenic stressors (parasites, moulds, bacteria, viruses), heavy metals, allergens and other environmental toxins.  

...

If you've been unwell for too long and want to feel healthy again, why not book your appointment today and begin your roadmap to health!

 
Please share this newsletter via the links below with others you feel will benefit

Naturopathy integrates medical science with the holistic approach of natural medicine
Copyright © 2019 Jenny Blondel N.D,  All rights reserved.
You are receiving this email because you have 'opted-in' at www.jennyblondel.com. If you have received this email in error please unsubscribe. Jenny Blondel ND accepts no liability for any damage caused by this email or its attachments due to viruses, interception, corruption or unauthorised access. This email provides information on living well. All material is provided for information only and I recommend that you seek a professional opinion on your personal health issues. You are welcome to unsubscribe at any time.

Mailing address is:
12 Maidstone Cres
Peregian Springs
QLD 4573
AUSTRALIA

Want to change how you receive these emails?
You can update your preferences or unsubscribe from this list



Other emails from The Natural Pcos Diet
Shop without the noise.
Get our free newsletter of hand-picked sales you need to hear about from the web's best brands.