Multiple payments are now more secure than ever.
Email sent: Oct 12, 2020 3:33pm




Multiple payments.
More peace-of-mind.



| | | | | |
| --- | --- | --- | --- | --- |
| | | Want the details on our latest product update? Check out this quick video by Matt from our Sell Team:  | | |



There's a lot to love about offering payment plans: they can break down a customer's financial objections and make your products more affordable. 

But you also need peace of mind that you'll actually see those payments roll in. That's why Kajabi now features improved payment plan security. 


Specifically, if you offer your customers a multiple payment option, you can now set your terms to prevent those customers from removing their payment information before completing all required payments. 


And if you're not yet offering payment plans to your customers, here are a few ways entrepreneurs use them to increase sales:


Do customers need help affording your premium offer? Break it up into as many payments as you choose and make your products accessible to a larger audience.


Do you teach a course that takes place over a few months? Make it easier for your members by allowing them to space their payments out too.


Not sure what the right payment amount is? Test out different options until you get it just right.


Enhanced security for payment plans is just the beginning of the innovations you can expect from Cambria and all future 6-week development cycles. 


So, go ahead! Expand your reach by offering your members the option to make multiple payments — all with the peace of mind that you're in the driver's seat.



| | | | | |
| --- | --- | --- | --- | --- |
| | | P.S. —  Word to the wise: there are rules about payments, subscriptions, and cancellations that can be tricky. No matter what payment options you offer, make sure you are always in compliance with the laws and regulations applicable to your business. | | |



This email was designed with Kajabi Email.

TM and © 2020 Kajabi, 15495 Sand Canyon Ave #300, Irvine, CA, 92618, USA

You received this email because you are subscribed to Free Marketing Content from Kajabi.

If you prefer not to receive email from Kajabi, please edit your preferences or completely unsubscribe


Other emails from the place page professional (ppl)
May 6, 2021

Save the date! Toronto dev cycle recap on Facebook live.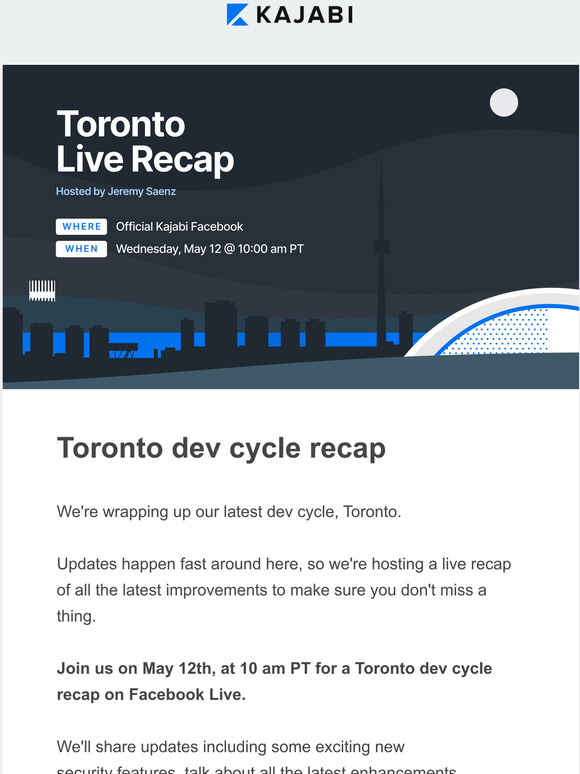 Jan 5, 2021

Tomorrow we're live on FB for our Newport dev cycle recap on Facebook.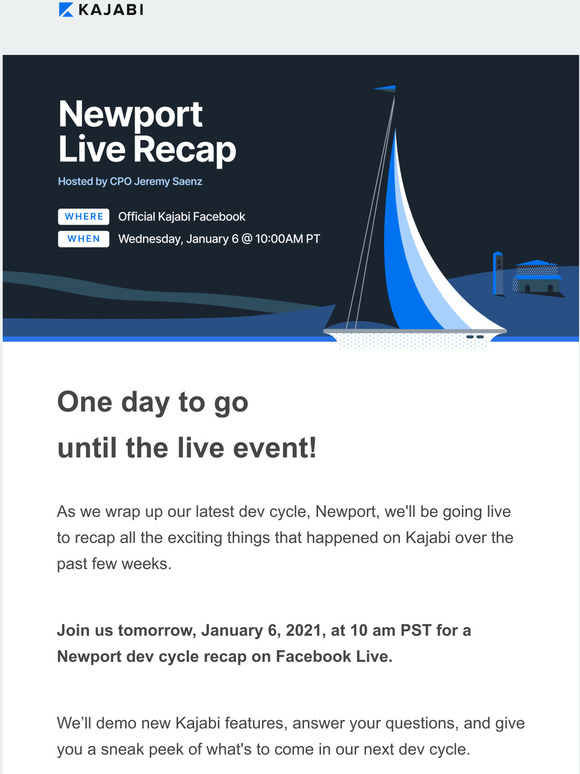 Shop without the noise.
Get our free newsletter of hand-picked sales you need to hear about from the web's best brands.