1.50 per week for 6 whole months.
Email sent: May 7, 2021 9:06am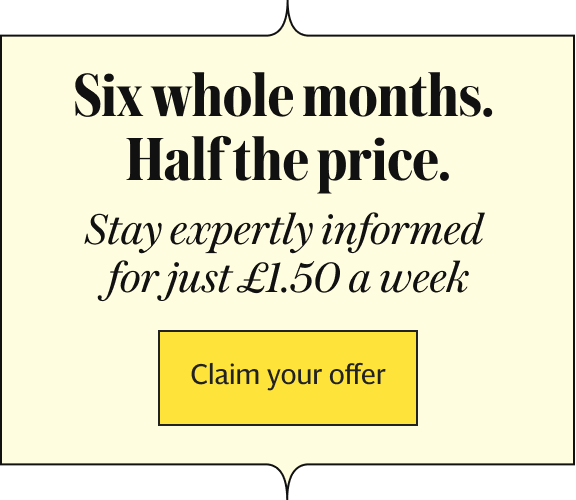 In many ways, Britain's future is developing exactly as planned. With lockdown restrictions easing on schedule and vaccinations continuing apace, brighter, less dramatic days seem to be well on their way.

But as recent events have shown, the world can change in an instant. From yesterday's crucial elections to tensions in the waters around Jersey, the road to our brave new world still has a fair few twists and turns in store.

Now is the time to turn to The Telegraph. Join us today and you'll enjoy six whole months for just £1.50 a week. Save 50% and stay expertly informed whenever - and wherever - the story breaks with our award-winning website and brilliant new app. Read on for only £3 a week and you may cancel anytime.

As a Telegraph subscriber, you'll gain an unrivalled perspective as Britain awaits the results of Thursday's elections. Follow the latest updates as they arrive from around the UK, with the Conservatives winning Hartlepool in an historic by-election victory. Keep track of when we can expect the all-important results to be announced, London's mayoral elections and how your area voted.

In his unmissable analysis, Gordon Rayner writes that "Keir Starmer is running out of time to prove Labour has any point at all". Tom Harris comments that the Labour leader "must ask himself some difficult questions" after his party's defeat in Hartlepool.

Scotland, too, headed to the ballot box on Thursday. We'll get you up to speed with profiles of the key candidates, who's leading in the polls and when results will be known. You'll find our guide to the seats that could prove pivotal for the SNP, as well as what Nicola Sturgeon's policies mean for Scottish independence.

With polls showing a slump in support for Scotland breaking away from the UK, the First Minister has downplayed any plans for a second referendum. However, the Scottish Tory leader has warned voters that Nicola Sturgeon will plan for independence on "day one", if she is elected. Plus, don't miss Philip Johnston's captivating commentary, as he cautions that "Britishness itself is under attack from those who want to rewrite our history".

Royal Navy ships were ordered to Jersey on Wednesday evening, as 70 French fishing boats staged a dawn blockade. Henry Samuel recounts his illuminating experience on board one of the French vessels, shedding light on the crew's motivations for their actions. As they sailed away, the French fishermen warned that "We will go back, and next time it will be war". Britain, meanwhile, has threatened to cut France out of future electricity links.

In his balanced, expert analysis, James Crisp writes that "Brexit Britain's 'war on France' is a perfect storm in a teacup". Ambrose Evans-Pritchard forthrightly states that "The French people are Britain's best ally – they can't stand Macron either". And The Telegraph View is that "French belligerence is only the start of the fishing industry's worries".

In her compelling, in-depth analysis, Sarah Knapton declares that "Vaccines are stopping the Covid pandemic – and it's time to celebrate the achievement". Germany has backtracked on its decision to block the AstraZeneca jab for under 60s. Plus, in their exclusive article, the UK's leading travel and aviation bosses have urged the Government to recognise the vaccination status of British travellers - and ditch "illogical" plans to get them to take tests.

Ross Clark provides intriguing food for thought as he argues that "Anyone can see no-one's obeying Covid rules anymore". Elsewhere in Opinion, Judith Woods issues a riveting, rallying call that "Women must not be erased by this 'agender' agenda". Ben Wright eruditely makes the case for why this is "Time for pharma giants to be the heroes, not the villains". Sally Jones, meanwhile, reflects on the FA's new logo, commenting "Nobody was offended by the Three Lions. So why does England Football think we need this woke new symbol?"

Join us today to enjoy your first six months for just £1.50 a week with a Digital Subscription. That's a 50% saving and you may cancel at any time. Stay expertly informed on your schedule with the new Telegraph app, which brings you the latest news updates and our daily newspaper, all on your phone or tablet - plus unlimited access to telegraph.co.uk.
You have received this email because you have expressed an interest in The Telegraph's journalism, and we think you would like to know what subscription options are available to you.
If you no longer wish to receive these messages, please unsubscribe.
In accordance with the 2018 Data Protection Act, Telegraph Media Group Limited is committed to protecting your privacy. If you wish to know more please access our privacy policy.
This email is from Telegraph Media Group Limited - 111 Buckingham Palace Road, London SW1W 0DT. Registered in England under No 451593.

Other emails from The Telegraph
Jun 19, 2021

Why lifelong Tories voted Lib Dem, foreign holidays for the fully vaccinated and more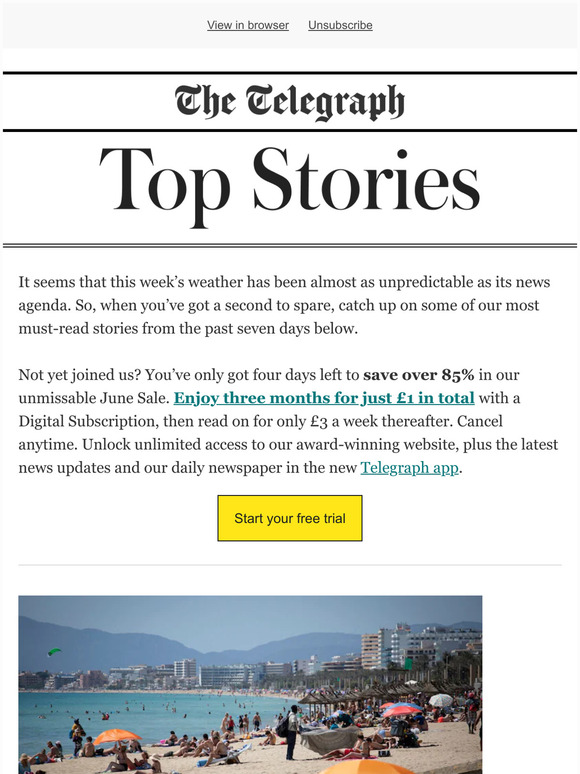 Shop without the noise.
Get our free newsletter of hand-picked sales you need to hear about from the web's best brands.