Enjoy four whole months, all for just 3
Email sent: May 12, 2021 7:57am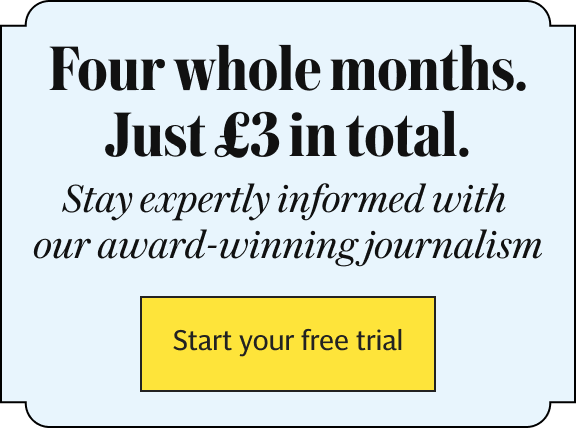 They say that the more things change, the more they stay the same. But with restrictions across much of Britain set to ease from Monday, as well as new pledges unveiled in yesterday's Queen's Speech, the shape of things to come is beginning to take on a decidedly different form.

In these exciting, ever-changing times, it pays to have a perspective that you can trust. That's why there's never been a better time to turn to our award-winning journalists.

Join us today and you'll enjoy your first four months for just £3 in total. You won't even pay a penny for your first month - and you may cancel at any time.

As a Telegraph subscriber, you'll be kept expertly informed and up to speed as Britain continues to turn the tide against Covid-19. Boris Johnson has urged the public to use their "common sense" as he announced a further relaxation of England's Covid-19 rules. We'll bring you everything you need to know about the restrictions that are changing from May 17.

Sir Patrick Vallance has said that people may still be allowed to work from home this winter, while Spain has said it plans to waive Covid tests for Britons from May 20, if the UK's infection rate allows. And don't miss Sarah Knapton's brilliant analysis, in which she points out that "Even the gloomiest modellers admit it: Britain is not facing a third Covid wave".

On Tuesday, the Queen delivered her speech at the State Opening of Parliament. We'll talk you through what was revealed about Boris Johnson's key new policy pledges, including health, care and wellbeing, a new Bill on skills and education, and migration.

Michael Deacon wryly reflects on the debate around the Queen's Speech in the Commons, writing that "Keir Starmer once looked a serious threat to Boris Johnson. Now he's the PM's hapless punchbag". Philip Johnston is illuminating as he rues that "There will never be a consensus on fixing social care, and Boris knows it". Jacob Rees-Mogg adroitly asserts that "Parliament cannot blame Brussels any longer". And Sherelle Jacobs is at her incisive best as she warns that "The Tories' stonking super-majority is built on sand".

Elsewhere, Ambrose Evans-Pritchard looks to America as he astutely determines that "This time the US really is heading into a serious inflation storm". Ross Clark pulls no punches as he argues that "Obesity is out of control. Time to stop faffing around with sin taxes and focus on personal responsibility". Molly Kingsley celebrates that "At long, long last, the Government is putting children first". And Charles Moore offers a fond, thought-provoking "farewell to the last butcher in the village", as he laments "the end of an era for a taste of old England".

No matter how much the world around us changes, you can always count on our award-winning journalists for an unrivalled, uncompromising perspective on the stories of the day and what they mean for you.

Subscribe now to enjoy your first four months for just £3 in total with a Digital Subscription. Stay expertly informed anywhere, at any time, with unlimited access to telegraph.co.uk, plus the latest news updates and our daily newspaper in digital form, together in one place on the Telegraph app. Remember: your first month is free - and you may cancel at any time.
You have received this email because you have expressed an interest in The Telegraph's journalism, and we think you would like to know what subscription options are available to you.
If you no longer wish to receive these messages, please unsubscribe.
In accordance with the 2018 Data Protection Act, Telegraph Media Group Limited is committed to protecting your privacy. If you wish to know more please access our privacy policy.
This email is from Telegraph Media Group Limited - 111 Buckingham Palace Road, London SW1W 0DT. Registered in England under No 451593.

Other emails from The Telegraph
Jun 19, 2021

Why lifelong Tories voted Lib Dem, foreign holidays for the fully vaccinated and more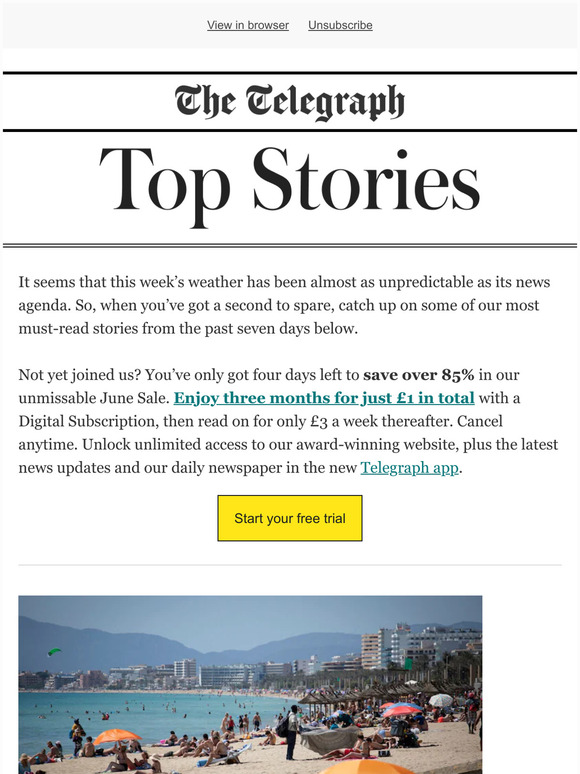 Shop without the noise.
Get our free newsletter of hand-picked sales you need to hear about from the web's best brands.