Try 4 months for just 3. Cancel anytime.
Email sent: May 9, 2021 3:46am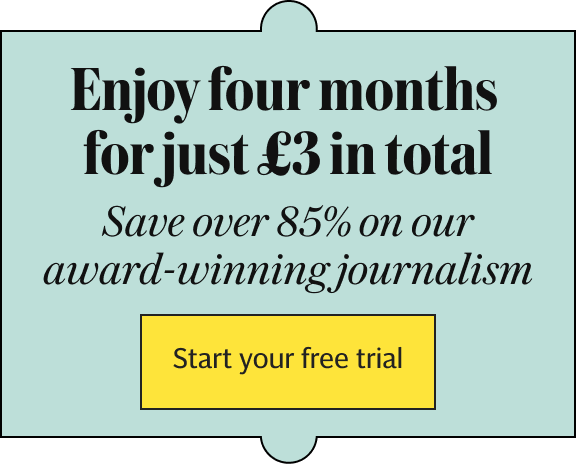 As the great Bob Dylan once sang, "the times they are a-changin'". Thursday's election results have shaken up Britain's political landscape. Meanwhile, England is preparing to take its next steps towards post-pandemic life, with international travel, indoor mingling and more much-missed liberties set to return from May 17.

As these exciting, complex events shape our future, it pays to have a perspective that you can trust. Our award-winning journalists are here to help you make sense of today's news with clarity - and make your plans for tomorrow with confidence.

Join us today and you'll enjoy four whole months for just £3 in total. Cancel anytime. Stay expertly informed with unlimited access to our website, plus the latest news updates and the daily newspaper, available anytime, anywhere on the Telegraph app.

As a Telegraph subscriber, you'll gain an unrivalled perspective on this week's historic election results. Nicola Sturgeon has said that Scotland must be allowed to determine its future through a second independence referendum, having claimed victory in her country's Parliamentary Elections. However, in an exclusive interview with The Telegraph, Boris Johnson has made it clear that he will reject calls for a second referendum. Alan Cochrane adeptly analyses how "The 'Boris Johnson factor' underpinned the SNP's electoral successes".

Following Labour's landmark loss in the Hartlepool by-election, Sir Keir Starmer has admitted that his party has "lost the trust of working people". One Labour frontbencher has quit, accusing Starmer of allowing his party to be captured by a "London-based bourgeoisie" and "brigades of woke social media warriors". Dominic Cummings, meanwhile, has lashed out in all directions, with campaign critiques for both Johnson and Starmer.

Our expert team will talk you through how Labour's worst result since the Second World War shows that the 'Red Wall' has further to crumble. There has been some good news for the Opposition though, with Andy Burnham re-elected as Mayor of Greater Manchester in a landslide victory. Labour has also equalled its best-ever result in Wales, winning 30 seats. You'll be able to follow up-to-the-minute election results from across the UK and see how your area voted.

In her unmissable, forthright response to the election results, Janet Daley writes that "The crisis facing Labour goes far beyond Keir Starmer and Brexit". Sherelle Jacobs makes a compelling case for why "This historic revolt against Labour is bigger than Brexit".
Charles Moore eruditely states that "For the first time, I suspect that reports of Labour's death are not exaggerated". And Camilla Tominey looks to the future in her usual inimitable style, writing "It's time for Boris to decide what he wants to achieve".

International travel is officially back on, with Grant Shapps unveiling the Government's "green list" of countries. Nick Trend analyses what this announcement means for the rest of summer, while Claire Irvin has been answering our readers' questions on the new rules in her must-watch video.

Despite this step forwards, Britain's Border Force chief has warned holidaymakers to expect delays that are 15 times longer than usual. You'll find everything you need to know about planning your next getaway in our Big Green List Holiday Guide, including where you can go, how to book and what you can do while you're there. You'll also be able to follow the latest travel news, as popular European holiday destinations miss out on "green list" status.

Covid-19 will no longer be circulating in Britain by August, according to one of the UK's top vaccine experts. One senior Government adviser has responded by suggesting that any third wave could arrive later than expected and be less damaging. However, Government scientists have cautioned that they want people to keep working from home indefinitely.

Elsewhere, Bryony Gordon is pointed and persuasive as she writes "Sorry, but social media is more damaging than TV – whatever the research may say". Katie Glass speaks from the heart as she reveals how "I joked I was having a midlife crisis. Now I realise I was the butt of that gag". And finally, to bring us full circle, Bob Dylan fans won't want to miss Neil McCormick's brilliant, illuminating look at the troubadour's life: "Bob Dylan at 80: From Elton John to Bono, stars reveal the man behind the 'unknowable' genius'".

Subscribe now to secure four months of our award-winning journalism for just £3 in total, with a Digital Subscription. Unlock unlimited access to telegraph.co.uk - plus follow the latest news updates and download the daily newspaper in our convenient app. Read on for only £3 a week after your offer period and cancel at any time.
You have received this email because you have expressed an interest in The Telegraph's journalism, and we think you would like to know what subscription options are available to you.
If you no longer wish to receive these messages, please unsubscribe.
In accordance with the 2018 Data Protection Act, Telegraph Media Group Limited is committed to protecting your privacy. If you wish to know more please access our privacy policy.
This email is from Telegraph Media Group Limited - 111 Buckingham Palace Road, London SW1W 0DT. Registered in England under No 451593.

Other emails from The Telegraph
Jun 19, 2021

Why lifelong Tories voted Lib Dem, foreign holidays for the fully vaccinated and more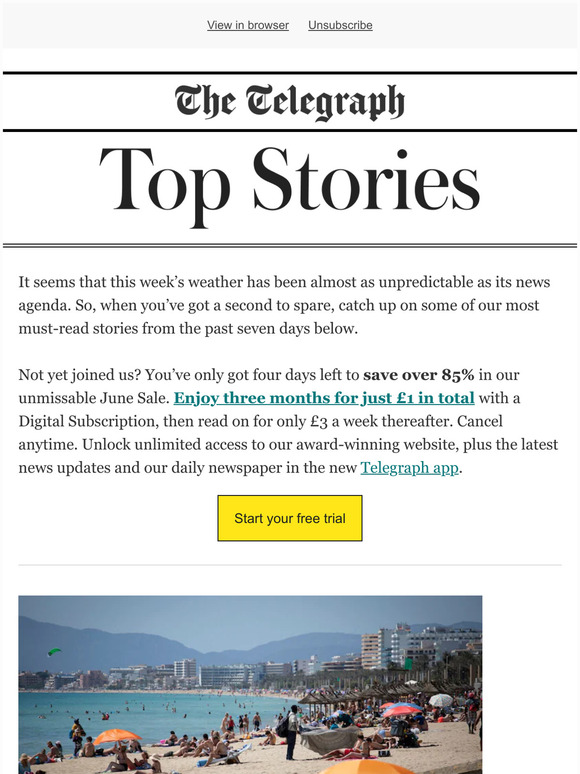 Shop without the noise.
Get our free newsletter of hand-picked sales you need to hear about from the web's best brands.