Try one month free, then three for 3 in total
Email sent: May 14, 2021 8:50am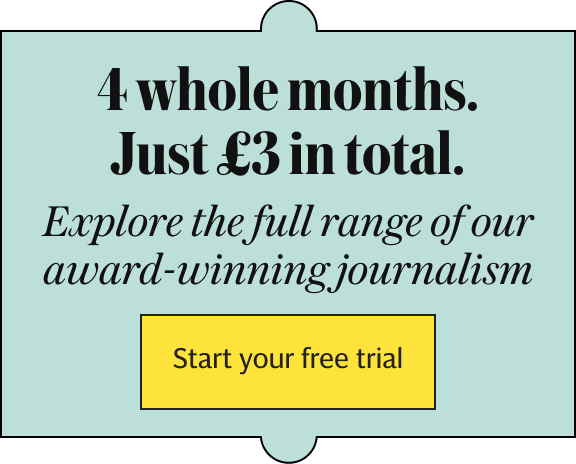 In just a few short days, lockdown restrictions will be further eased. From trips to the cinema, sporting events and holidays abroad to catching up with friends and loved ones indoors, we're all looking forward to enjoying some of the best things in life, once more.

That's why there's never been a better time to turn to The Telegraph. Our award-winning journalists will help you make even more of everything that you care about, be it culture, sport, politics, travel or today's biggest talking points.

Join us today and you'll enjoy your first four months for just £3 in total. You can try your first month for free and you may cancel at any time. With the latest news updates and the daily newspaper together in our app, plus unlimited access to telegraph.co.uk, your Digital Subscription will keep you informed, inspired and connected when it counts, wherever life takes you.

We'll keep you up-to-the-minute as concerns grow over the Indian variant of Covid-19 and Blackburn begins surge vaccinations to over-18s . You can also rely on us to explain where, and how quickly, the variant is spreading. Monitor the very latest developments and how they may affect you via our live coronavirus blog.

Our expert journalists will also keep you ahead of unfolding holiday uncertainties as travel to Portugal may now be on hold. However all may not be lost as Greece has pledged to fully vaccinate the population of its 6,000 islands by the end of June and virtual queueing is being trialled at Heathrow to avoid holidaymakers congregating at check-in desks or boarding gates. We'll also guide you through what vaccine passports mean for your summer holidays, the confirmed "green list" of destinations and what you can do while you're there.

The Duke of Sussex has revealed that he wanted to quit the Royal family in his 20s in a wide-ranging interview. We'll also keep you up to date on the arrival of the Duke and Duchess's new baby girl. Meanwhile, Prince Charles has thanked medical staff who cared for his father and separately paid tribute to the late Duke of Edinburgh. Plus, Lady Kitty Spencer has contributed to the debate over female heirs as she discussed the thorny issue of her inheritance and the Althorp Estate.

In Culture, Tim Stanley provides a fascinating five-star review for the British Museum's "sublime" retelling of the murder of Saint Thomas Becket. Tim Robey examines what went wrong in the film Gigli, "the toxic turkey that ruined Ben Affleck and Jennifer Lopez". Ben Lawrence pulls no punches whatsoever as he argues that "The Turner Prize has become an anti-artistic, politicised basket-case". And our team will take you through all the latest rules if you're planning to visit a cinema, theatre or museum from Monday.

As a Telegraph subscriber, you'll also find illuminating commentary that brings today's biggest issues to life. The constantly compelling Allister Heath writes that "Barnier's incendiary immigration U-turn betrays the panic gripping the French elite". Anna Hart fuels the excitement of those eagerly awaiting Monday, describing how "I've had an early taste of freedom with the Scots – and it was sweet". And in Sport, Oliver Brown looks to Tottenham's managerial future, stating that: "Steven Gerrard is good enough for Sir Alex Ferguson - so why not Spurs?".

Start your free one-month trial today to unlock unlimited access to our wide-ranging, award-winning journalism with a Digital Subscription. You'll then enjoy three more months for just £1 a month and you can read on for only £3 a week thereafter. Cancel at any time.
You have received this email because you have expressed an interest in The Telegraph's journalism, and we think you would like to know what subscription options are available to you.
If you no longer wish to receive these messages, please unsubscribe.
In accordance with the 2018 Data Protection Act, Telegraph Media Group Limited is committed to protecting your privacy. If you wish to know more please access our privacy policy.
This email is from Telegraph Media Group Limited - 111 Buckingham Palace Road, London SW1W 0DT. Registered in England under No 451593.

Other emails from The Telegraph
Jun 19, 2021

Why lifelong Tories voted Lib Dem, foreign holidays for the fully vaccinated and more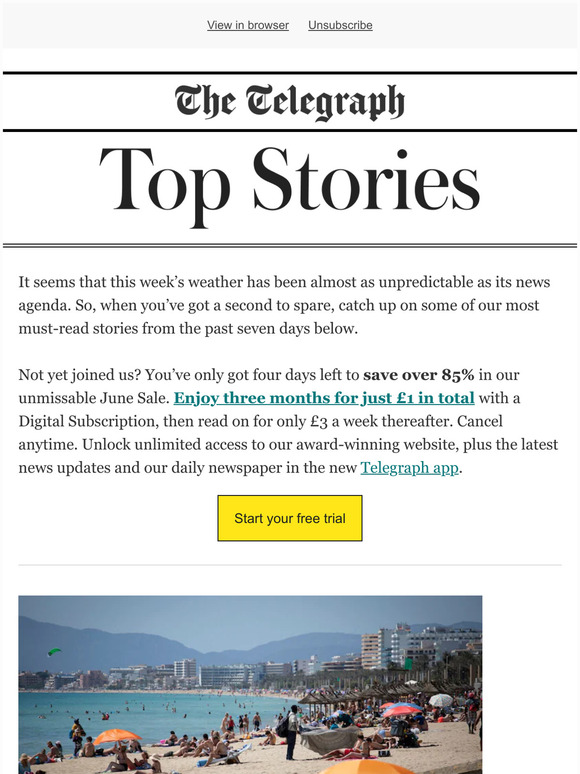 Shop without the noise.
Get our free newsletter of hand-picked sales you need to hear about from the web's best brands.