Eating beauty
Email sent: May 4, 2021 8:52am
It is right in front of you

Next New Moon May 11th




Dear ,


Be open to new and different relationships but even more important, wake up to your own beauty, self-worth and power. Now is not the time to hide your light under a bushel. 

~ Cathy Pagano

Today, what clutter can you clear from your life that will make more space for you? Look for one place in your day where there is a snag or stagnation and make a change that will release stuckness and open up more beauty.


Beauty is everywhere, if you are willing to look. Color, texture, taste... even in the most mundane places you can open your senses and eat beauty with your eyes and see beauty with your mouth.


One of my favorite experiences of feasting on unexpected beauty was during a workshop with my dear friend, Day Schildkret. Day creates impermanent art altars using found objects. His creations are so finely wrought, so exquisitely detailed that I wept the first time I a saw a picture.


I was super skeptical at this particular workshop when Day asked us to go out and forage natural found objects for our own altars. Why? Because we were in Brooklyn. How were twelve people going find enough natural materials among the asphalt and concrete and trash to craft beauty?


Within two blocks everything changed. As I shifted my city perspective and got quiet, the exuberant loudness of nature sang at me. Here were tiny white flowers growing in the cracks of the sidewalk. There, sensual grasses. Trees offered me red berries; a corner of a tiny neighborhood park laughed in yellow sunflowers.


There was a bounty of beauty. I only had to slow down and look.


When the twelve of us finished our altars an hour or so later I could barely believe the diversity of materials and the uniqueness of each creation. But there it was laid out in front of me, a reminder that even in the most unlikely places beauty is waiting to nourish us.


Here is a great article about Day's process and pics of some Morning Altars; also scroll down to learn more about his work, his upcoming training and to see one of my favorite Morning Altar pics...


Join me live today, Tuesday May 4th at 11 am Los Angeles, 2 pm New York, 7 pm London in today's live Episode 12 (take 2!) of the Warrior Goddess Revolution podcast on Facebook and Youtube. I'll do a 1/2 hour teaching and then open it up for questions. If you can't join live I'll post the recording soon at: http://www.warriorgddess.com/podcast


Here's to finding beauty in surprising places.


With love,
FROM MY FRIENDS:  Morning Altars Facilitator Training Starts June 5th, almost full


My dear friend, Day Schildkret of @MorningAltars is finally offering an amazing year-long course to become a certified Morning Altars Practitioner. The training is perfect for art therapists, doulas, church leaders, team trainers, healers, etc... Day has built both a thriving personal practice and a thriving business (that takes him all over the world doing altars at everywhere from Google HQ to community memorials to universities and more) from his beautiful work and now has more opportunities than he can handle. He's looking to bring people together in leading a collective return to nature, healing, and art. Whether you see yourself as a leader or would just like to deepen your personal connection to the ground beneath you, you should check out his program. It promises to be something truly special. For more details click here

(Note that this is indeed an affiliate link, which means I receive a part of the proceeds should you decide to join, but Day is also a dear friend and I deeply believe in his work. I only affiliate with people I completely believe in. Want to join directly, without the affiliate link? Click here).

NEW ONLINE EVENT Ignite Love: Awaken Your Warrior Goddess Fire with East/West Bookshop June 12th, 2021

In this free online webinar you will learn how to:

Live from inspiration instead of fear or perfection
Ground into your being 100%
Tend your vibrancy and ignite your creativity
Stay the course even in the midst of chaos
Listen deeply to the wisdom within

During this online event learn tools to shine your light brighter and deepen further into your own sovereignty. Register here

FIRST LIVE EVENT The Gathering of the Shamans July 9th - July 11th

Join me in person at this phenomenal yearly event. Held in Sedona, Arizona, this once-in-a-lifetime retreat will transport you from your usual patterns of living and teach you how to harness your inner power in entirely new ways. You will return to your life with fresh vision and know how to create your own reality as the work of art it was meant to be. More info here



If you wish to stop receiving our emails or change your subscription options, please
Manage Your Subscription
Amara Productions, 9901 Brodie Lane, Austin, TX 78748
Other emails from Toltec Center Electronic Bookstore
Apr 11, 2021

New Moon Musings: Clear and Impeccable Communication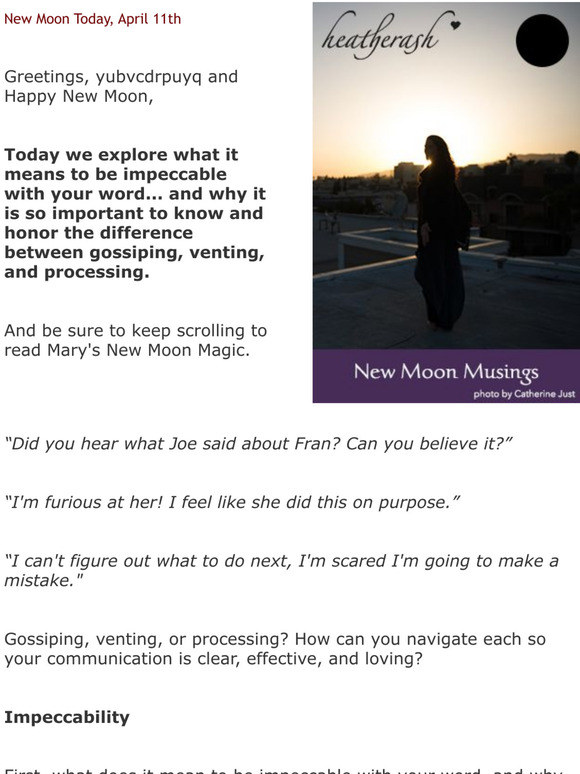 Shop without the noise.
Get our free newsletter of hand-picked sales you need to hear about from the web's best brands.