Confirm your Toluna Registration
This email was sent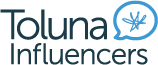 Hello -!
Congratulations on becoming a Toluna Influencer. Before you can start influencing your world, you have to do one simple thing...
You will receive 500 bonus points for registering and another 1,000 bonus points for completing your first survey (profiling surveys excluded). You will then be able to start having fun, influence the products and services that matter to you and be rewarded for it too!
If the button doesn't work, copy & paste this link into your browser:
https://us.toluna.com/emailVerification/kJu3mMf-4o-1Mrx17SUTgdKoTuTtEoUwPyP94Gf3_ZjBqPBbdyab8yYXT2aTstgI
(Note: Link will expire after 24 hours)
If you didn't sign up for a Toluna account using this email address, please ignore this message.

Recent emails from toluna australia
See more