Euro Tumbles as Lagarde Suggests it is Too Early for ECB to Begin Discussing PEPP Exit
Email sent: Jun 11, 2021 5:10am
Unable to view this email? View this update online
•    Pound rebounds unexpectedly – Sterling shakes off Brexit concerns
•    Euro slips on Lagarde Comments – ECB will continue pandemic bond-buying programme
•    US Dollar dips despite inflation figures – Dovish Fed expectations weigh on USD
•    G7 summit in focus today – Northern Ireland, coronavirus and trade news in the spotlight

Pound (GBP) Rallies despite Brexit Concerns

The Pound (GBP) started yesterday's session still reeling from the breakdown in EU-UK talks over the Northern Ireland protocol but mounted a surprise recovery in the afternoon.

The GBP/EUR pairing was buoyed by remarks from European Central Bank President Christine Lagarde, who said it was 'too early' to begin discussing tapering bond purchases. GBP/USD also benefitted from a weaker US Dollar (USD).

This morning's GDP figures for April printed at 2.3%, slightly below expectations of 2.5%, meaning the Pound may struggle to find further gains through today's trade.

Looking ahead, US President Joe Biden has weighed in on the Northern Ireland debate and there is fresh talk of delaying the ending of restrictions in the UK. Could these concerns dent the Pound today?

Euro (EUR) Dips on Lagarde Remarks

The Euro (EUR) lost ground against many of its peers yesterday following the ECB's latest interest rate decision.

While the bank's decision to keep interest rates at a record low came as no surprise, Lagarde's dovish comments impacted on EUR exchange rates, as did her warning that the Euro area has 'a long way to go for the economy to become sustainable.'

Turning to today, Germany's Bundesbank semi-annual forecast released this morning forecasts 'the start of a strong upswing' in the German economy, with economic growth projected to reach 3.7% this year and 5.2% in 2022. This could bolster the Euro as the day goes on.

US Dollar (USD) Stumbles on Dovish Fed Expectations

The US Dollar (USD) slipped yesterday, despite the US consumer price index showing a strong economic recovery in America.

The year-on-year inflation rate hit 5% last month – its highest level since August 2008 and 0.3% above forecast. However, USD failed to make any gains from these figures amid expectations that the Federal Reserve will not taper bond purchases any time soon.

This afternoon, the University of Michigan's consumer sentiment could provide some support for the 'Greenback' if it shows an increase in consumer confidence from last month.

Canadian Dollar (CAD) Fluctuates on Volatile Oil Prices

The Canadian Dollar (CAD) had a mixed day of trading yesterday amid some volatility in WTI crude prices, rising against the Euro and US Dollar but slipping against the Pound.

Today the oil-sensitive 'Loonie' could make some gains if crude prices sustain current highs of over $70 a barrel.

Australian Dollar (AUD) Gains despite Cautious Sentiment

The Australian Dollar (AUD) ticked higher this morning after trading mostly sideways overnight, despite a bearish market mood ahead of the G7 summit, supported by the current weakness in USD.

New Zealand Dollar (NZD) Firms on USD Weakness

The New Zealand Dollar (NZD) also climbed this morning following a night of lacklustre trading, with the 'Kiwi' benefitting from its negative correlation with a softer US Dollar.

Data Releases

07:00 GBP GDP (Apr)
07:00 GBP Industrial Production (Apr)
07:00 GBP Trade Balance (Apr)
15:00 USD Michigan Consumer Sentiment Preliminary (June)
If you need any further assistance, or require a live dealing quote from TorFX, please do not hesitate to contact me on +44 (0)1736 335250 or send an email to [email protected]
Regards,
TorFX
Follow us for all the latest currency news:







Award Winning Service

Voted International Money Transfer Provider of the Year 2016, 2017, 2018, 2019, 2020 and 2021

    
Any opinions expressed in this document are those of TorFX analysts. Any analysis and/or forecasts provided are aimed at helping clients understand market conditions and developing trends. Clients are wholly responsible for their own trading decisions.
Unauthorised copying or re-wording of this content is prohibited. The copyright of this content is owned by Tor Currency Exchange Ltd. Any unauthorised copying or re-wording will constitute an infringement of copyright.
Tor Currency Exchange Ltd | 0800 612 9625 |  www.torfx.com

Tor Currency Exchange Ltd, PZ360, Penzance, Cornwall, TR18 4DZ, United Kingdom. Registered in England & Wales, number: 5193147. Tor Currency Exchange Ltd is authorised by the Financial Conduct Authority as an Electronic Money Institution under the Electronic Money Regulations 2011. Our FCA Firm Reference Number is 900706.

Our EU services are provided by Currencies Direct Spain.

© Currencies Direct Spain, E.D.E., S.L., Avenida del Mediterráneo, 341, 04638 Mojácar, Almería, Spain. Registered in the Commercial Registry of Almería under the Spanish tax ID number B04897930. Currencies Direct Spain, E.D.E., S.L. is authorised by the Bank of Spain as an Electronic Money Institution under Law 21/2011 of 26 July and Royal Decree 778/2012 of 4 May. Our registration number with the Bank of Spain is 6716.

Unsubscribe from our emails | This email was sent to: -


Other emails from TorFX
Jun 17, 2021

US Dollar Surges following Fed Announcement, Pound Strengthens on Upbeat Inflation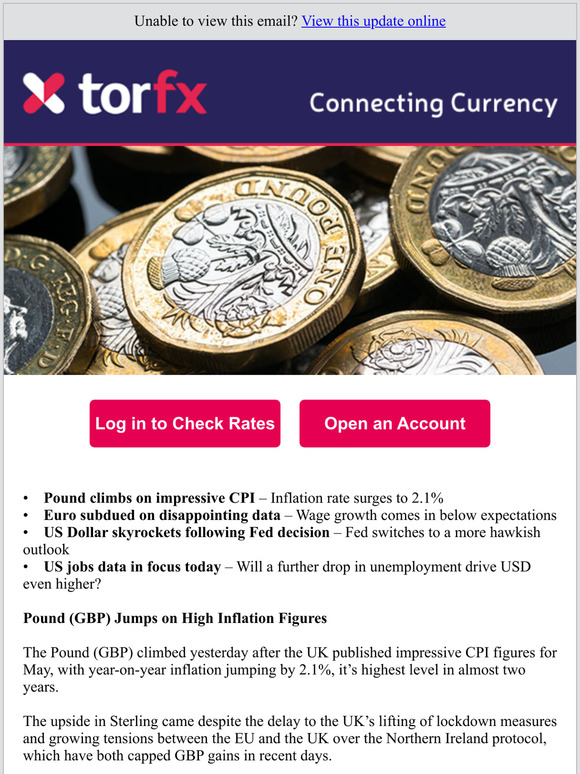 Shop without the noise.
Get our free newsletter of hand-picked sales you need to hear about from the web's best brands.