How Transit is becoming sustainable for the long haul
This email was sent
Why we're introducing subscriptions at Transit
Some parts of Transit will soon require a paid subscription. It's a big change. Here's why we're doing it.
Over the past decade we've grown from two people hacking on Transit, to a team of 60 designers, developers, data scientists, and transit wonks. Together, we make sure your app is super reliable, super fast, and super fun to use.
We spend all day talking with transit agencies to hunt down better data sources. Fixing broken transit data. Tweaking algorithms that predict when your buses and trains will show up. Designing features to make Transit ever-so-imperceptibly better.
This all takes time, money, resources.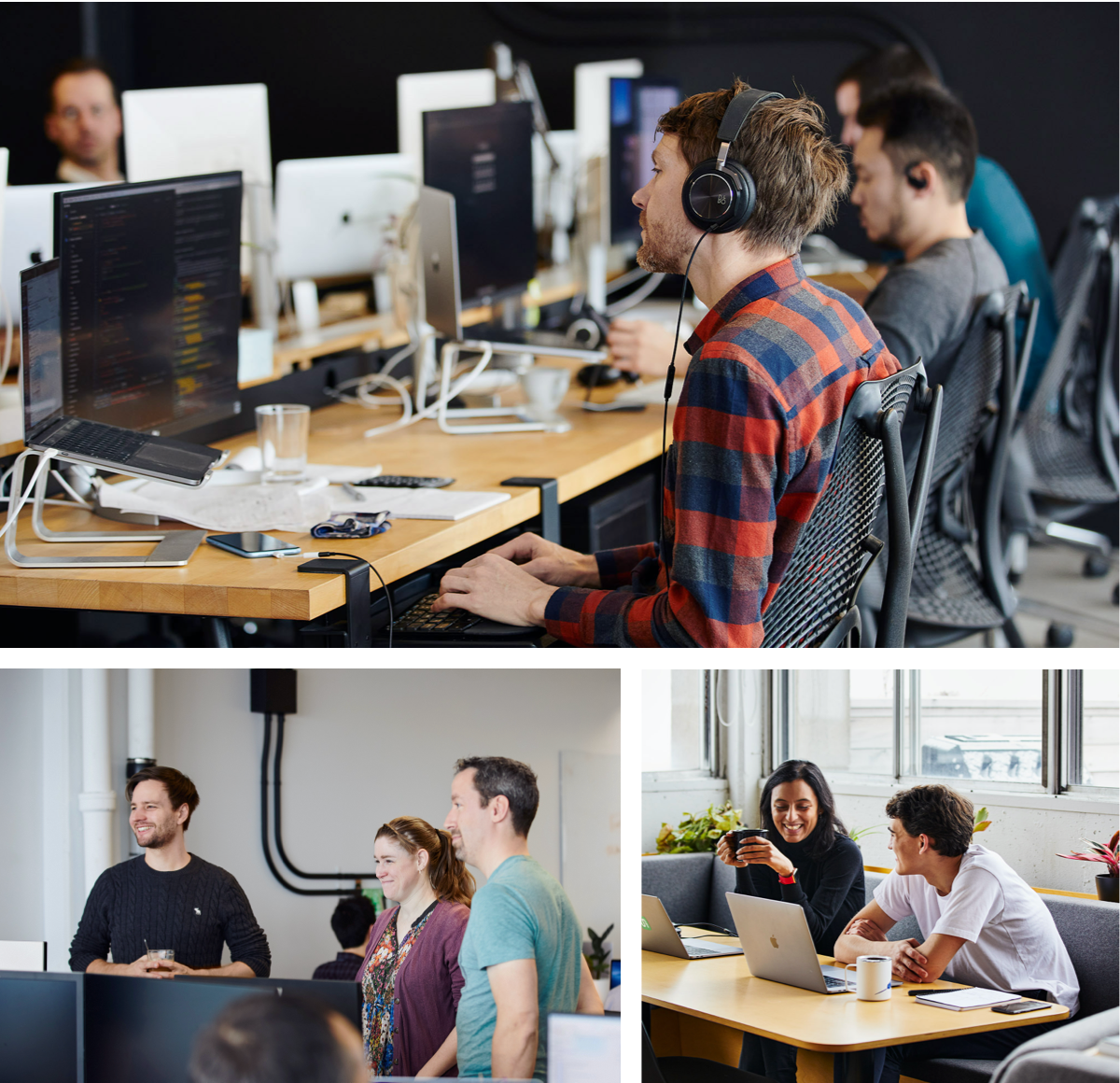 Pre-pandemic photos ⓒ Sylvie Li
So how do we keep the lights on?
Early on, it was clear the app was something people loved. Transit was quickly taking over our lives, but we hadn't yet figured out how to turn our side project into a sustainable business. So we took money from investors. It meant we didn't have to scramble for a business model — we could just focus on making Transit a better app.
Eight years later, Transit has matured: with millions of users, and partnerships with hundreds of transit agencies, bikeshare systems, ticketing providers. You name it.
Even during the annus horribilis of 2020-2021, we were able to weather the storm. Transit agencies lost riders (and so did we) but they're coming back. And more agencies sell contactless fares through Transit than ever before — we now help 50+ agencies sell fares, with our team taking a small cut. We're scaling that operation up. But it's not yet enough to sustain Transit.
So how do we keep Transit going for the long haul? Here's what we refuse to do: blast you with distracting ads, mine your personal data, sell it to the highest bidder. Making you our product, rather than our customer. We think that's wrong.
Over the last few months we've been testing a different approach: having Transit supported directly by riders. It's called Transit Royale. It's the culmination of endless tinkering: from the original paywall we tested in 2012, to more recent experiments with custom app themes and other "nice-to-haves."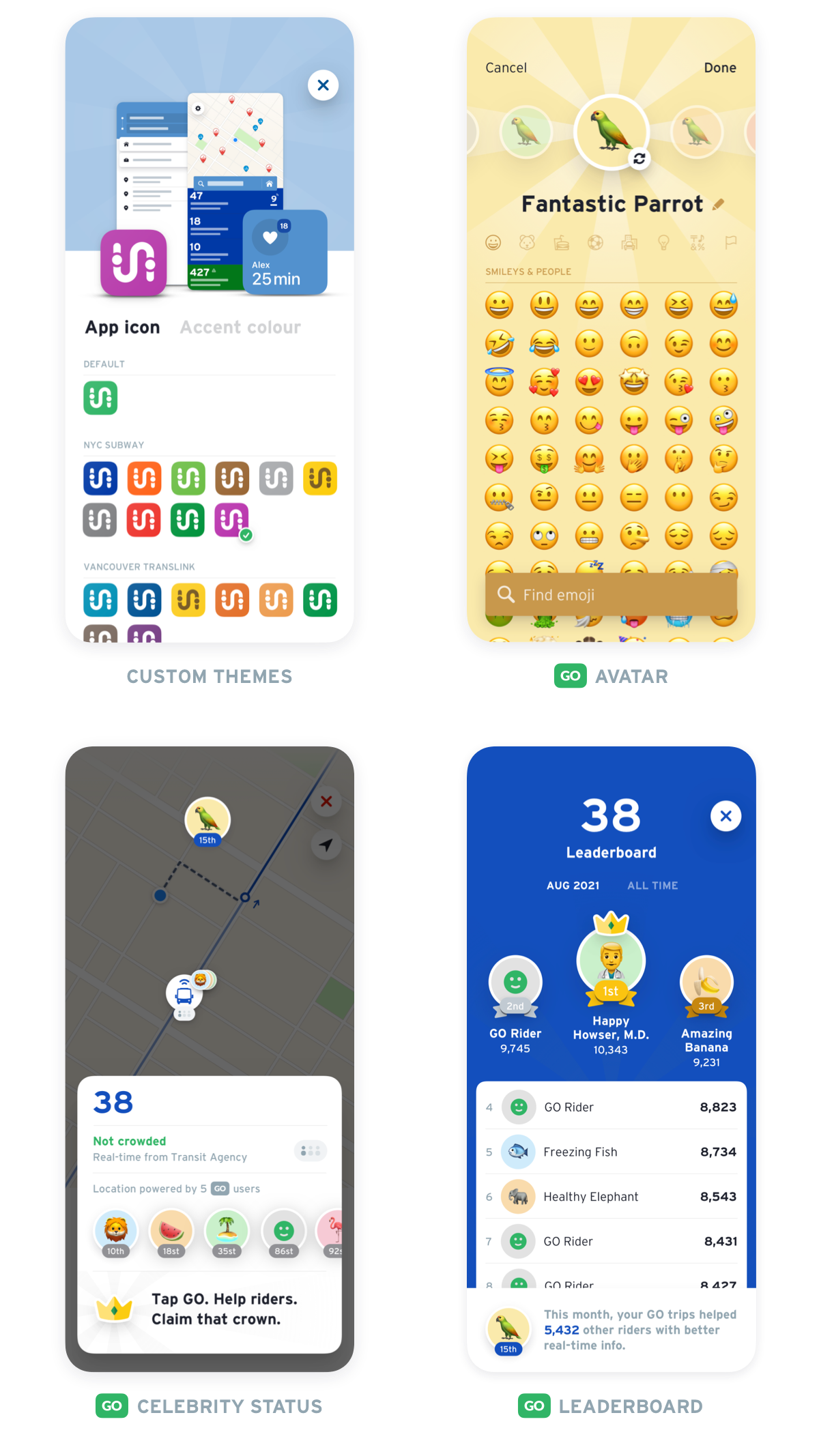 We're giving Royale subscribers some extras: new app themes and icons inspired by transit agencies around the world, and custom avatars for everyone that uses GO to crowdsource their trip (yes: this means you can now ride with friends 🥰)
But we'll be honest with you: with Royale we're also asking you to pay for certain longstanding features. We know who takes public transit — it wasn't a decision we made lightly. We spent long nights trying to find a delicate balance of what were "essential" features, and what were "bonus" ones worth paying for. What price would be sustainable for us, yet reasonable for our users.
Our choices won't make everyone happy, since these two features:
looking up departure times far into the future
browsing lines farther away
…will now require a subscription. But it allows us to continue work on Transit indefinitely. Without sacrificing app quality, losing control over our product, or compromising our riders' trust.
Moreover, an annual subscription comes to $2 a month. While that price is affordable to most of our users, we know it's still out of reach for many who are overworked, underpaid, sweating every penny. That's why we're offering free subscriptions if you truly can't afford one. You can request a free subscription when you see Royale in the app.
Most importantly: we've kept core Transit features free. You will always know when your next ride is coming, no matter what. You'll get the fastest trip plans, transit schedules and directions that work offline, alerts when service is down, and the most accurate predictions.
Unlike other companies, public transit is our bread and butter. Improving it is our mission, not just a means to an end. Google Maps exists to sell you ads. Apple Maps, to sell you phones. Uber and Lyft, to sell you car rides.
The custom app your transit agency feels forced to put out? It's rated "1 star" for a reason. They're built by government vendors who don't care about the user experience — because they get paid, no matter what.
The problem with all these approaches is that people who actually take the bus get treated like an afterthought. Transit riders deserve better.
So we're excited that now, with support from our users, we can keep improving Transit without compromise. We're also working with partner agencies in dozens of cities who want to bring Royale, with all the bells and whistles, free to all their riders. First up: Rochester's RTS, Dayton's RTA, Denver's RTD, St. Louis's Metro Transit, and Santa Monica's Big Blue Bus. More on the way.
"We are excited to partner on the launch of Royale and make these new features available to customers at no cost."
— Ed King, City of Santa Monica Department of Transportation Director, Big Blue Bus
"Transit has made it possible for us to offer our passengers everything they need to ride. We look forward to providing Royale for our customers."
— Brandon Policicchio, Chief Customer and Business Development Officer, Greater Dayton RTA
And if you don't yet see Royale in the app: we're rolling it out to more cities in the coming months.
Royale allows us to put riders and public transit first. It makes sure we're able to keep doing what we do best: building the best possible app for riders.
We hope you understand, and that you'll support our team.
Onwards.
— Sam and Guillaume, Transit's co-founders
Don't yet see Royale in the app? We're slowly bringing it to more cities. If your city doesn't have Royale (but you still want to subscribe and support Transit) you can go to transitapp.com/getroyale on your phone🤙
This email was sent to -
Don't want to be part of our secret club? 
Unsubscribe from this list
Transit · 5333 Casgrain Avenue · Suite 803 · Montreal, Quebec H2T 1X3 · Canada