LA Metro 🤝 Transit: It's official!
Email sent: Jun 23, 2020 4:48pm
Summer's here. You know what that means: hello full wetsuit and vintage diving helmet! (Because while we may not get the chance to hunt tuna with a crossbow this summer, that's probably for the best.) Bizarre fashion choices aside, we've been COVID-coping by diving deep into our work. Here's what's new in Transit Land...
NEW PARTNERSHIPS:
LA & KC 🤩
While our partnerships with LA Metro and RideKC have been marinating for a while 🍯😋 we're buzzing like a bumblebee burrito, now that work has officially started. YES!
When agencies like LA Metro and RideKC pick Transit as their partner, it's not just because we give their riders a shiny new app. Most importantly, it's because it gives them power to decide their city's mobility future. Nobody wants the "interface for urban mobility" to be buried under ten layers of car directions. Public transit should be front and centre  ❤️ in an app that riders love to use.
THREE SALVES FOR COVID CHAOS
CROWDING INFO 🚍
STATION ENTRANCES 🗺
TOUCHLESS TICKETING 👀
As we all begin to slowly prepare for Phase 2 of "This", we're working hard to equip Transit riders with the means to make their commutes safer and less stressful. Some recent additions to the app:
1. Crowding. Demand for public transit is down, but some routes are still surprisingly busy. We've added real-time crowding data to the app to reflect that, letting riders know how full their vehicles are. This data isn't available everywhere, but it is in a couplefew dozen cities including Sydney 🇦🇺; Auckland 🇳🇿; St.Catharines, ON 💧; Springfield, MA 🇺🇸; Akron, OH 🇺🇸; Dayton, OH 🇺🇸; Erie, PA 🇺🇸; Modesto, CA 🇺🇸; Torrance Transit and DASH in Los Angeles 🌴; and Staten Island-Manhattan express buses in New York 🗽.
As we start to mull that magic word "recovery" —  vehicle crowding data will be something riders expect of us. How do we get this info into their hands? On June 24 (that's tomorrow!) we'll be hosting an upbeat, casual Q&A on the very subject. Come meet Jessie Richards (MBTA), Emily Gates (Transit), Nathan Reynolds (Trapeze Group), and Marla Westervelt (MobilityData) to talk crowding.
We'll also be sharing results from a recent survey, where we asked Transit users how crowding levels would influence their likelihood of returning to public transit. You can register for free 👉 here 👈.
2. Station entrances. With millions of people still riding the rails, some are encountering station entrances closed for COVID-related reasons. Not knowing where to catch the train is certainly annoying — but this was an ongoing issue, pre-crisis, too. Telling a rider "go to Penn Station" is not a sufficient amount of detail. So we've added station entrance locations, wherever the data exists, and created that data ourselves in some cases.
The app now recalibrates if you walk past one station entrance — and automatically guides you to the next-nearest one. Just tap GO, and you're off to the races.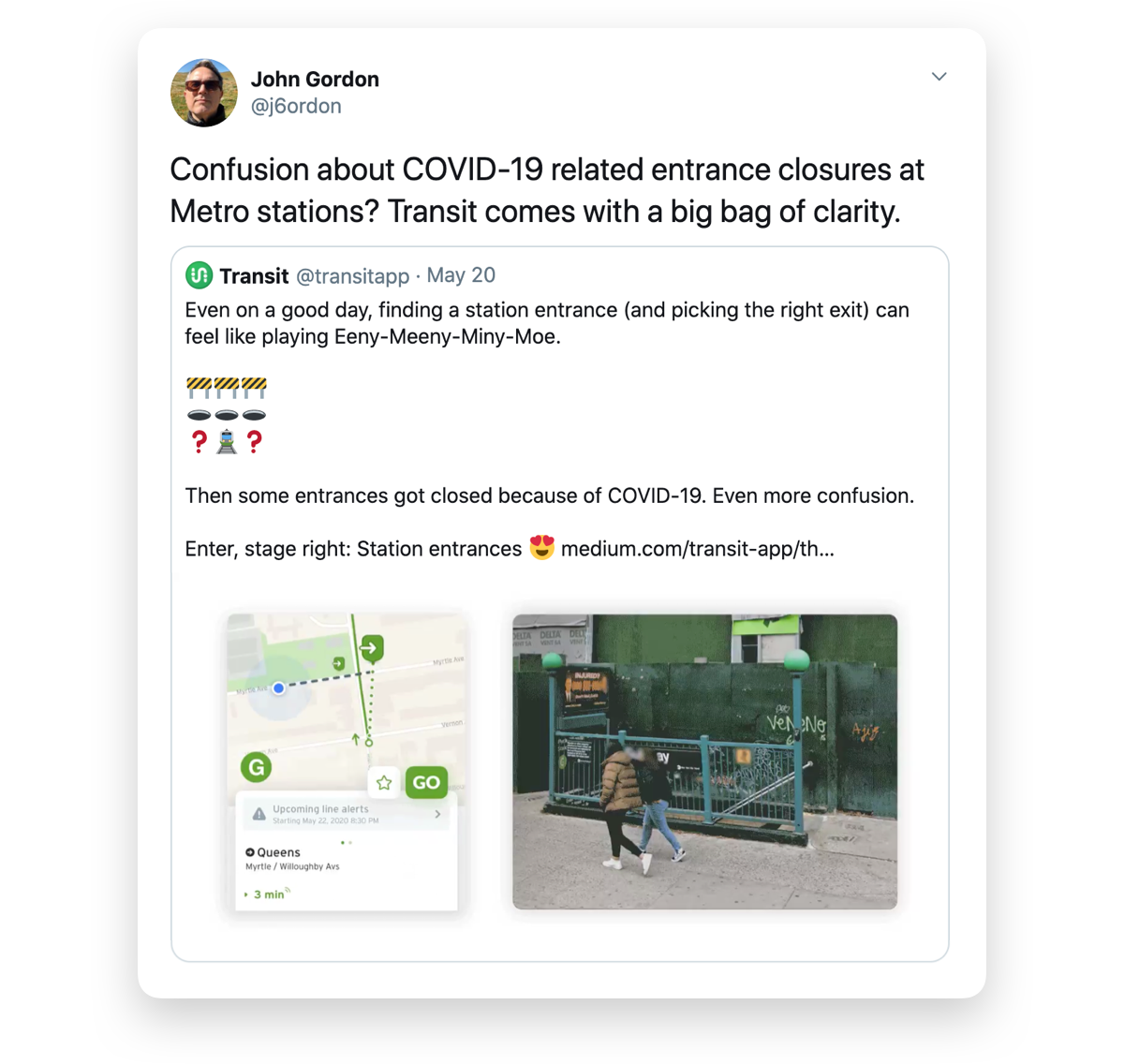 John Gordon: LA Metro's marketing maestro, helping spread the word about station entrances.
3. Touchless ticketing. By now, Transit newsletter aficionados will be zero-percent surprised to hear we do mobile ticketing 😏. But those deployments have understandably been sped up. We just launched mobile tickets for...
GET Bus in Bakersfield, CA (with Token Transit),
OmniTrans in San Bernardino, CA (also with Token),
RTA in Dayton, OH (with Masabi), and
Metro in St. Louis, MO (also with Masabi).
We're trying to extend this functionality to more agencies over the summer — it helps keep riders and drivers safe, while improving farebox recovery.
Get in touch
if touchless ticketing is something you're looking into.
THE NEW NORMAL (?)
With agencies focused on running service, we've got our battalions of bus wizards working to restore confidence in public transit, making it more useful (and less confusing) in these crazy, crazy times.
More than 1.5 million riders have used our daily, handcrafted COVID-19 updates to rejig their commutes. Meanwhile, agencies are actively checking Transit's COVID-19 real-time dashboard, to see how demand for transit is changing.
Another one of those dashboard junkies is Jarrett Walker: urbanist badass (and Elon Musk's bête noire). Jarrett published some interesting analysis using our stats. One of COVID-19's legacies might be a total elimination of "peak hour" demand for transit — is that ultimately a good thing for agencies? Worth a read.
We did some COVID analysis of our own, which you might have already encountered on the Twittersphere. We asked some 25,000 Transit riders about their commuting behaviour — and demographic info. Ridership is now significantly less white, and significantly more female as well. Which tells you something about who "essential" workers really are.
BLACK LIVES MATTER
On a very related note: it's been a gut-wrenching, anxious, and ultimately inspiring few last weeks — we've been moved by the Black Lives Matter protest movement in the US (and now at home, in Canada). Systemic racism is endemic to our society, and we in the transportation industry have a role to play in dismantling the long and painful legacy of anti-Black policies. Racism is not just an historical artefact, but a driver of painful realities today.
This moral reckoning has been a long time coming. At Transit, we must fight harder to ensure our work doesn't propagate, but actively dismantles structural inequality. Fighting for better transit access is a start, but it also requires more Black, Indigenous, and people of colour involved in the creation of our products, the management of our teams, our policy decisions, and our day-to-day work with partners.
Our riders expect better of us, and we do too.
Well, that about sums things up. We'll be back in no time at all 👋
Like the cut of our jib? Forward to a friend — via text, bike messenger, paper airplane, whatever. And here's a link to our newsletter sign-up form, if you haven't subscribed.
This email was sent to -
Don't want to be part of our secret club? 
unsubscribe from this list
Transit · 5333 Casgrain Avenue · Suite 803 · Montreal, Quebec H2T 1X3 · Canada 
Other emails from Transit
Shop without the noise.
Get our free newsletter of hand-picked sales you need to hear about from the web's best brands.