A holiday of a lifetime in North America
Holiday of a lifetime, every time
This email was sent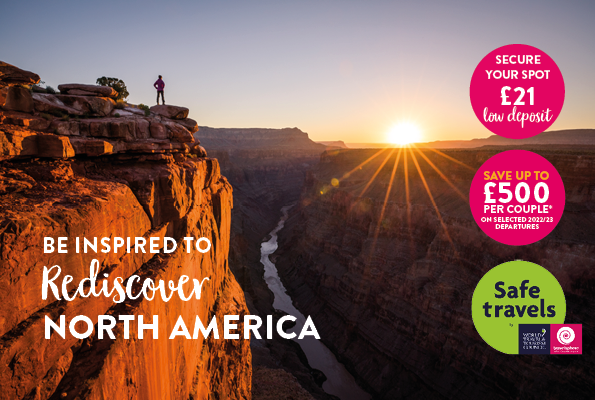 Looking to make up for the lost travel time over the last two years? If you're keen for an adventure, North America is the place to go. The US and Canada play host to some of the most diverse arrays of landscapes in the world; a land of magnificent forests, snow-topped mountains, bustling metropolises and breath-taking wide-open spaces. From the awe-inspiring Rocky Mountains to the sounds of the Deep South and iconic cities of west coast America - you are guaranteed to have the holiday of a lifetime in North America.

Seize the day and book your next adventure now for a Low Deposit of £21 plus you can save 21% on your holiday insurance when you book with our partners Holiday Extras. Don't forget all of our flight inclusive holidays also include our Private Chauffeur Service*, free airport parking* or a £100 reduction on your booking. Planning for 2023? There are fantastic discounts on selected worldwide holidays with our Early Bird Savings*. With a limited number of discounted places available - make sure you don't miss out!

Visit travelsphere.co.uk for more information or give us a call on 01858 415128 to speak to a friendly advisor.
Incredible Tours, Amazing Experiences
Best of the West
14 days from £2,949
Save up to £500 per couple
Take in the glitz and glamour of Los Angeles and Las Vegas and marvel at the awe-inspiring Grand Canyon and Yosemite National Park.

The Deep South
14 days from £2,949
Save up to £500 per couple
This tour takes you on an exhilarating journey through America's Deep South - from Nashville to New Orleans, this tour will not disappoint.
Epic Wonders of the National Parks
17 days from £3,199
Save up to £500 per couple
Be wowed by the scenery in eight of America's national parks on this incredible adventure, through seven different states.

New England & Canada in the Fall
11 days from £2,749
Save up to £500 per couple
The glorious fall foliage of New England, iconic cities and Niagara Falls - the sights don't get much better than this.
Canada's Eastern Splendours
Save up to £500 per couple
12 days from £2,399
Canada's rich history and immense beauty are yours to discover on this tour of iconic cities and natural wonders.

Rockies Winter Wonderland
Save up to £500 per couple
10 days from £1,849
Winter is a great time to explore the Canadian Rockies, with snowy peaks and frozen waterfalls just some of the magical highlights.
"What a fantastic holiday - visited so many states and saw beautiful landmarks and monuments. I am going back on this tour to enjoy it all over again."
Carol King - Travelsphere Customer
Epic Wonders of the National Parks
Holiday Assurance Guarantee
Your safety has always been our top priority, and our new Holiday Assurance policy features new health and safety measures from the moment you arrive with us until we say our fond farewells.
*For full terms & conditions see travelsphere.co.uk/information/essential-information.
To unsubscribe please follow the 'Unsubscribe' link above, or alternatively, please email [email protected]
Recent emails from Travelsphere.co.uk

See more