Australia & New Zealand - Once-in-a-Lifetime Holidays
Holiday of a lifetime, every time
This email was sent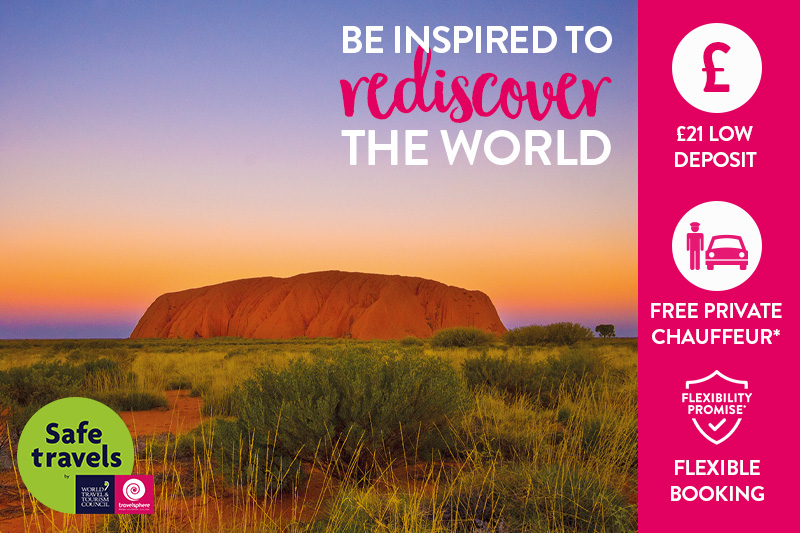 Get ready to be captivated by all things 'Down Under'. A visit to Australia is a true bucket list trip - the big country with an even bigger heart - it's impossible not to fall in love with the ancient landscapes and compelling culture. And then there is New Zealand - known for its stunning national parks, thousands of lakes, fine wines and weird & wonderful wildlife - the list just goes on! Take a trip to Oceania with Travelsphere and you guaranteed to have the holiday of a lifetime.

Seize the day and book your next adventure now for a Low Deposit of £21 plus you can save 21% on your holiday insurance when you book with our partners Holiday Extras. Don't forget all of our flight inclusive holidays also include our Private Chauffeur Service*, free airport parking* or a £100 reduction on your booking if you prefer to make your own arrangements. Planning for 2023? There are fantastic discounts on selected worldwide holidays with our Early Bird Savings*. With a limited number of discounted places available - make sure you don't miss out!

Visit travelsphere.co.uk for more information or give us a call on 01858 415128 to speak to a friendly advisor.
Incredible Oceania, Amazing Experiences
The Wonders of Australia
30 days from £7,049
Save up to £500 per couple
This epic tour will introduce you to Australia's iconic cities, most famous landmarks and diverse natural wonders.

Discover New Zealand
22 days from £5,399
2023 dates available
This once-in-a-lifetime holiday to New Zealand gives you the chance to discover the best of both the North and South Islands.
Highlights of Australia
22 days from £5,749
Save up to £500 per couple
Iconic cities and famous landmarks are waiting to be discovered as you journey from Melbourne to Brisbane via Sydney, Uluru, the Great Barrier Reef and so more.
5 Reasons why you need to visit Australia!
There are hundreds of reasons to visit Australia. We've tried hard to narrow it down to our top 5 (and that's not even including the sunshine, endless beaches and abundant barbeques!) - why not take a look?
"Travelsphere have looked after a number of escorted holidays for us and have never let us down. The escort representatives always go that extra mile to ensure the group have a wonderful time and their priority and attention to this responsibility is always in the forefront of their numerous tasks."
John Harris - Travelsphere Customer
Holiday Assurance Guarantee
Your safety has always been our top priority, and our new Holiday Assurance policy features new health and safety measures from the moment you arrive with us until we say our fond farewells.
*For full terms & conditions see travelsphere.co.uk/information/essential-information.
To unsubscribe please follow the 'Unsubscribe' link above, or alternatively, please email [email protected]
Recent emails from Travelsphere.co.uk

See more