Awe-inspiring UNESCO sites | 21 Low Deposit
Holiday of a lifetime, every time
This email was sent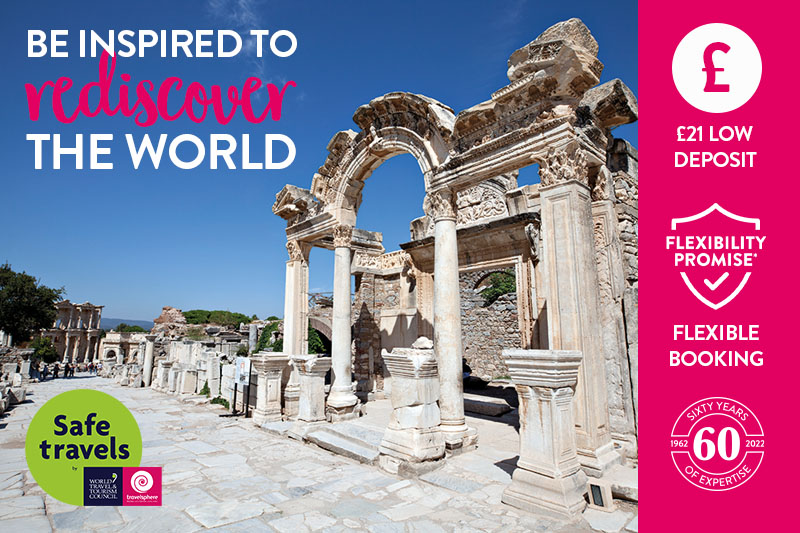 There are so many magnificent sites to visit around the globe - from natural wonders that take our breath away to historic cities waiting to be explored and iconic landmarks to stand in awe of. This week we've highlighted some of our favourite tours that visit incredible UNESCO World Heritage Sites across Europe.

Every Travelsphere tour includes great accommodation, world-class Tour Managers and plenty of thrilling excursions. Our flight inclusive holidays also include our Private Chauffeur Service*, free airport parking* or a £100 reduction* on your booking if you prefer to make your own arrangements. Secure your next tour for a Low Deposit of £21 plus you can save 21% on your holiday insurance when you book with our partners Holiday Extras. You can also book with confidence thanks to our Flexibility Promise.

Visit travelsphere.co.uk for more information or give us a call on 01858 415128 to speak to a friendly advisor. Plus if you book online before 25th April - you can benefit from an additional £25 discount per person with our web exclusive offer.
Treasures of Florence & Tuscany
8 days from £1,199
Save up to £200 per couple
Unearth unique traditions and sensational cuisine, visit iconic monuments and explore art-filled cities.

Dubrovnik & the Highlights of Montenegro
8 days from £1,449
Save up to £200 per couple
Enjoy a walking tour through Dubrovnik's maze of narrow streets and take in the views from the imposing city walls.
Mythical Greece - Athens, Delphi & Mycenae
8 days from £1,499
Save up to £200 per couple
Immerse yourself in the incredible myth and legends that surround Ancient Greece as you visit a host of historical sites accompanied by a Local Guide.

Amalfi Coast, Pompeii
& Capri
8 days from £1,349
Save up to £200 per couple
Pastel-shaded villages perched on a winding coast overlooking the azure sea - it's this picture-postcard scenery that makes this region so special.
The Best of Switzerland
8 days from £2,699
Save up to £200 per couple
Travel through Switzerland's untouched landscapes and stunning scenery on historic railways, discovering elegant towns, romantic castles and delicious local cuisine.

Treasures of Turkey
12 days from £1,349
Save up to £200 per couple
Turkey dazzles your senses, from Istanbul's Grand Bazaar to the incredible cave dwellings of Cappadocia and the shimmering tiles of the Blue Mosque and the legendary city of Troy.
Flexibility Promise
When you book your holiday with us you can have complete peace of mind. Your money is 100% protected, you can amend your booking for free* if you need to and your holiday is covered under ABTA or ATOL.

Holiday Assurance
Your safety has always been our top priority, and our new Holiday Assurance policy features new health and safety measures from the moment you arrive with us until we say our fond farewells.

*Private Chauffer Offer - Mileage restrictions apply over 100 miles - please see our Terms & Conditions for full information.
*For full terms & conditions see travelsphere.co.uk/information/essential-information.
To unsubscribe please follow the 'Unsubscribe' link above, or alternatively, please email [email protected]
Recent emails from Travelsphere.co.uk

See more