Enjoy a taste of Italy | Save 200 per couple
Holiday of a lifetime, every time
This email was sent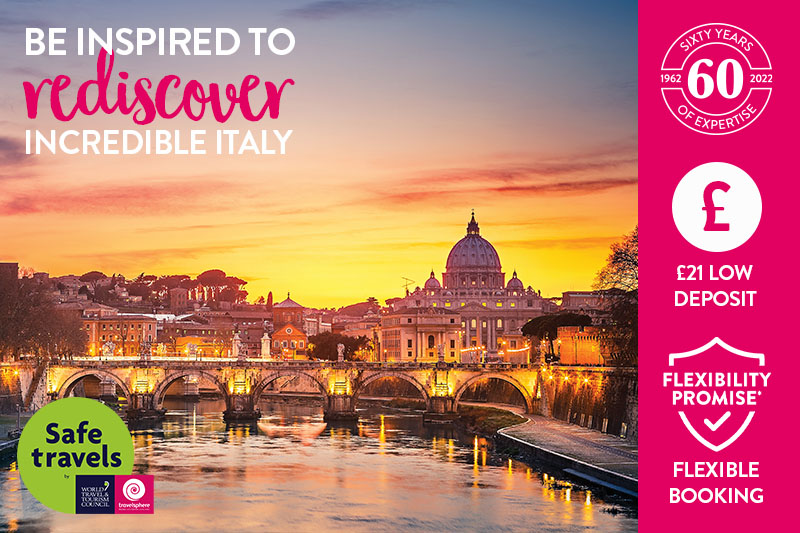 If like us you've been watching Stanley Tucci's adventures in Italy, we're sure you'd love to follow in his footsteps to soak up the incredible vistas, discover hidden secrets and of course, indulge in some of the mouth-watering food that we've seen on screen. Come with us on a guided holiday to Italy and together we'll explore world-famous sights, uncover hidden gems and enjoy free time where you can make your own discoveries too. What are you waiting for?

Every Travelsphere tour to Italy includes return flights, great accommodation, world-class Tour Managers and plenty of thrilling excursions. Start your holiday with the Travelsphere Private Chauffeur Service* or free airport parking*. Alternatively, if you'd prefer to make your own arrangements, we'll give you a £100* reduction on the price of your holiday!

Secure your next adventure today for a Low Deposit of £21, and what's more, our Flexibility Promise offers peace of mind when you book. With savings of £200 per couple on selected departures, visit travelsphere.co.uk today or give us a call on 01858 415128 to speak to a friendly advisor. 
Amalfi Coast, Pompeii & Capri
8 days from £1,299
Save up to £200 per couple
Pastel-shaded villages perched on a winding coast overlooking the azure sea - it's this picture-postcard scenery that makes this region so special.

Pompeii, Pasteum & Herculaneum
8 days from £1,149
Save up to £200 per couple
The Amalfi Coast and Mount Vesuvius offer stunning backdrops as you explore a trio of exceptional archaeological sites and more or the region.
Grand Tour of Italy
15 days from £2,199
Save up to £200 per couple
This amazing journey of discovery will introduce you to so many of Italy's iconic highlights, including the amazing cities of Venice, Florence and Rome.
The Best of Sicily
 
8 days from £1,399
Save up to £200 per couple
Brooding Mount Etna forms a dramatic backdrop to your discoveries as you revel in Roman history and uncover medieval treasures.

Treasures of Florence & Tuscany
8 days from £1,149
Save up to £200 per couple
Unearth unique traditions and sensational cuisine on this relaxing tour, taking in iconic monuments and art-filled cities to the stunning vineyards of Chianti.
Flexibility Promise
When you book your holiday with us you can have complete peace of mind. Your money is 100% protected, you can amend your booking for free* if you need to and your holiday is covered under ABTA or ATOL.

Holiday Assurance
Your safety has always been our top priority, and our new Holiday Assurance policy features new health and safety measures from the moment you arrive with us until we say our fond farewells.

*For full terms & conditions see travelsphere.co.uk/information/essential-information.
To unsubscribe please follow the 'Unsubscribe' link above, or alternatively, please email [email protected]
Recent emails from Travelsphere.co.uk

See more