Inspiration: Our Top 5 Destinations
Holiday of a lifetime, every time
This email was sent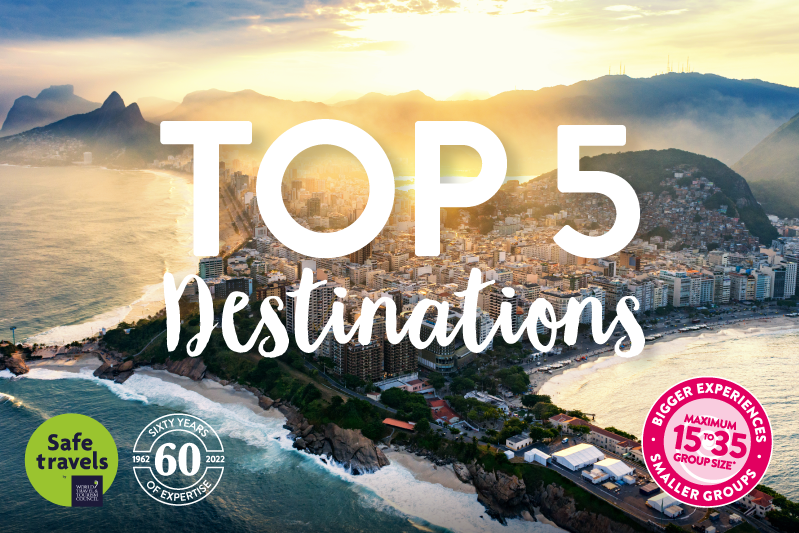 You are probably starting to think about your 2023 getaways. If you're in need of inspiration - why not take a look at our top destinations for the year ahead.

1. If you love city or even country hopping, then how about a trip across a beautiful region of Eastern Europe on our Grand Baltic Explorer holiday, visiting five countries on an epic journey from Finland to Poland?

2. Immerse yourself in Jordan's ancient treasures and biblical sites on an unforgettable holiday to the middle-east. This trip features a visit to the amazing, sandstone-carved city of Petra.

3. Fairytale castles, medieval villages, enchanting forests and ancient monasteries are all in store for those visiting Romania and Transylvania. You even get to explore the legendary castle of Count Dracula!

4. If you're a lover of wildlife and fancy going on safari than Namibia is perfect for you. Here you'll have the chance to see four of Africa's 'Big Five' in their natural habitat as well as learn about the country's ancient peoples.

5. Get a real taste for everything South America has to offer on our Latin Wonders of the World holiday. Here you'll travel through countries like Brazil, Peru and Chile discovering everything from ancient sites like Machu Picchu to the sounds and sights of natural wonders like the stunning Iguaçú Falls. Not to be missed!

Make the most of 2023 by booking a Travelsphere getaway. Visit travelsphere.co.uk or call 01858 415128 to speak to a friendly advisor today. What are you waiting for?
Grand Baltic Explorer    


10 days from £2,099
Discover five countries on this epic journey from Finland to Poland, travelling through the Baltic states of Estonia, Latvia and Lithuania.  



Jordan's Ancient Wonders 
8 days from £1,949
Discover historic and biblical sites, explore the 'Lost City' of Petra and soak up magical desert landscapes as you immerse yourself in Jordan's treasures.
Discover Romania and Enchanting Transylvania
8 days from £1,199
History, intrigue and legend accompany you on this tour of Romania's biggest and best attractions.


A Namibia Adventure
14 days from £3,949
Discover Namibia's unique landscape with towering dunes, plains and mountains. Find out more about its people and some of the wildlife on this unmissable tour.

Latin Wonders of the World  
18 days from £4,449
Soak up the spectacular sights and sounds of four Latin American countries - Peru, Bolivia, Argentina and Brazil - on a tour that's strictly for the adventurous.
Reasons to book

60 years expertise
Fantastic value for money
Flexible booking policy*
Expert Holiday Directors
Incredible experiences
Fly from your local airport
Free private chauffeur transfers**
Holiday Assurance
Your safety has always been our top priority, and our new Holiday Assurance policy features new health and safety measures from the moment you arrive with us until we say our fond farewells.


*Private Chauffer Offer - Mileage restrictions apply over 100 miles - please see our Terms & Conditions for full information.
*For full terms & conditions see travelsphere.co.uk/information/essential-information.
To unsubscribe please follow the 'Unsubscribe' link above, or alternatively, please email [email protected]
Recent emails from Travelsphere.co.uk

See more