The Most Beautiful Lakes in the World (in our opinion!)
Holiday of a lifetime, every time
This email was sent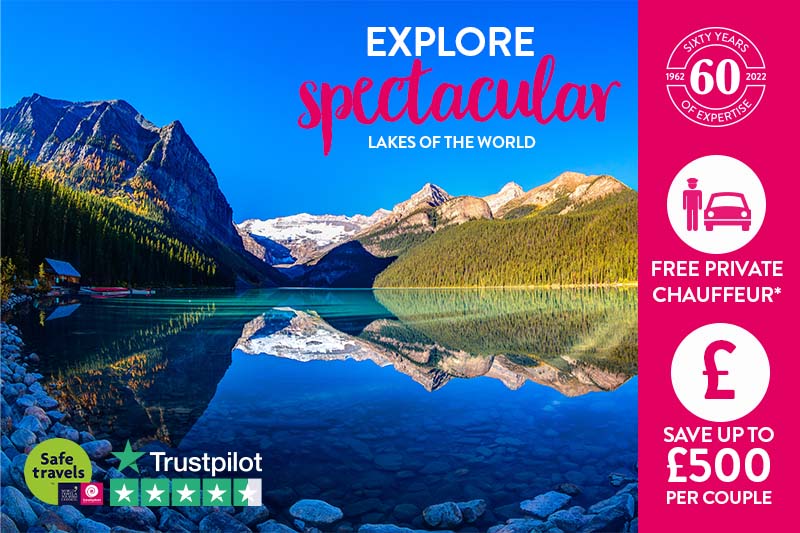 Some of the most beautiful places we visit (in our opinion) are the lakes of the world – with their vivid colours, alluring reflections of their breath-taking surroundings and the variety of wildlife the water attracts. There's the famous Lake Como – a jewel in Northern Italy - popular since ancient Roman times for its natural beauty nestled against the foothills of the Alps. Or you could travel to the Andes to see Lake Titicaca - a freshwater lake steeped in Ancient Peruvian and Bolivian history; a place of sparkling blue water, welcoming people, and snow-capped mountains. Or chance an African dream by visiting Lake Naivasha on our Kenya Safari. This wide and expansive lake is well known for being home to many species of wildlife, including colombus monkeys, giraffes and zebras stopping by for a water break.

With so much included on every tour, what are you waiting for? Visit travelsphere.co.uk or call 01858 415128 to speak to a friendly advisor today.
Magnificent Maggiore & Lake Como
8 days from £1,199
Save on 2023 departures
With an abundance of dramatic mountain landscapes, stunning lakes and historic towns, this is the holiday of idylls.

Secret Lakes of Italy
 
8 days from £1,249
Save up to £200 per couple
Soak up the stunning scenery at six 'secret' beauty spots, and sample the wonderful wines and cuisine of northern Italy.
Salzburg & the Austrian Lakes
8 days from £1,249
Save on 2023 departures
Enjoy picturesque villages and spectacular scenery on this enchanting tour of the Austrian Lake District.

Spectacular Rockies & Vancouver
12 days from £2,949
Save up to £500 per couple
Canada's Rocky Mountains and shimmering lakes combine with the stunning city of Vancouver to create a tour of scenic wonders.
Epic Peru
 
16 days from £3,549
Save on 2023 departures
Explore this intriguing country where Incan ruins, lost civilisations and intoxicating landscapes are sure to delight.

Kenya: Safari and Savannah Sunsets
10 days from £3,249
Save up to £500 per couple
Go in search of Africa's most thrilling animals, including the 'Big Five', and enjoy an overnight stay at Lake Naivasha.
WHAT OUR CUSTOMERS SAY...
"An amazing tour, we opted for top to toe of Italy also known as the Grand tour of Italy. We saw amazing sights wherever we went. Would highly recommend this trip and this company. We had a great tour Manager who could not do enough for us."
Mrs H

"Would highly recommend Travelsphere trips. We have been on several now. India, Kenya and Italy. All very different, but each of the trips have been five star. The tour guides are excellent, hotels and lodges were excellent. We will definitely be doing more trips."
Sandra & Hans
Holiday Assurance
Your safety has always been our top priority, and our new Holiday Assurance policy features new health and safety measures from the moment you arrive with us until we say our fond farewells.


*Private Chauffer Offer - Mileage restrictions apply over 100 miles - please see our Terms & Conditions for full information.
*For full terms & conditions see travelsphere.co.uk/information/essential-information.
To unsubscribe please follow the 'Unsubscribe' link above, or alternatively, please email [email protected]
Recent emails from Travelsphere.co.uk

See more