Strawberry & Mango Iced Tea - a Perfect Summer Refresher
1/3 off Fruit & Herbal Infusions.
This email was sent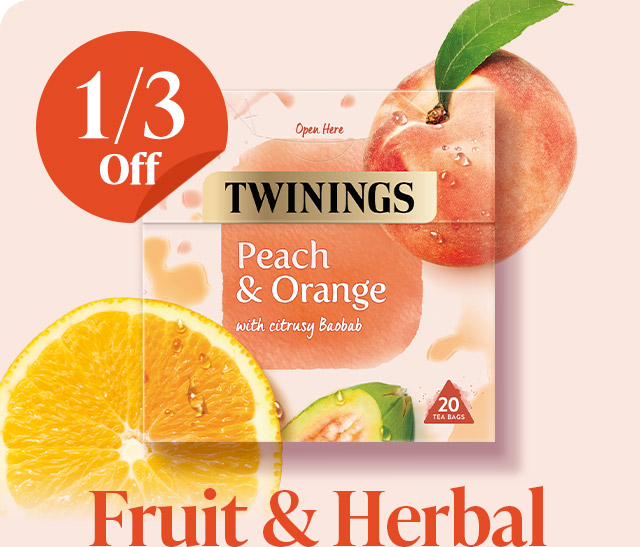 Delicious hot or cold, our fruit and herbal teas
are naturally

caffeine free

with no added sugar.
1/3 off automatically applied at checkout, ends 31st May.
 
Strawberry & Mango Iced Tea
 
Not only super delicious and refreshing, but also very stylish to look at. A perfect summer refresher.
 
 
Don't Miss These Offers
 
Monin Syrups
 
Perfect for creating iced
tea and mocktails.
 
 

 

 
Cold In'fuse
 
Liven up your water with
these sugar-free infusions.
 
 
Terms & Conditions
1/3 off selected Fruit & Herbal Infusions from 3rd May - 31st May 2022. Discount is automatically applied at checkout, no promotional code required. Promotion excludes individual envelopes. Only products labelled 1/3 Off are included in the promotion.

Special price of £2 on selected Cold Infuse Jars from 3rd May - 31st May 2022. Discount is automatically applied at checkout, no promotional code required.

15% off MONIN Syrups from 3rd May - 16th May 2022. Discount is automatically applied at checkout, no promotional code required. Only products labelled 15% Off are included in the promotion.

Cannot be used against sale products or in conjunction with any other promotion or cashback sites. We reserve the right to withdraw promotions/discounts at anytime without prior notice. We also reserve the right to cancel orders following misuse of this promotion. Promotions only valid online at www.twinings.co.uk
© 2022 R. Twining and Company Limited
Weston Centre, 10 Grosvenor Street
London W1K 4QY
Registered in England & Wales No. 525071
Recent emails from Twinings Teashop

See more