What's Your Favourite Superblend?
Alive in every drop
This email was sent

Alive in Every Drop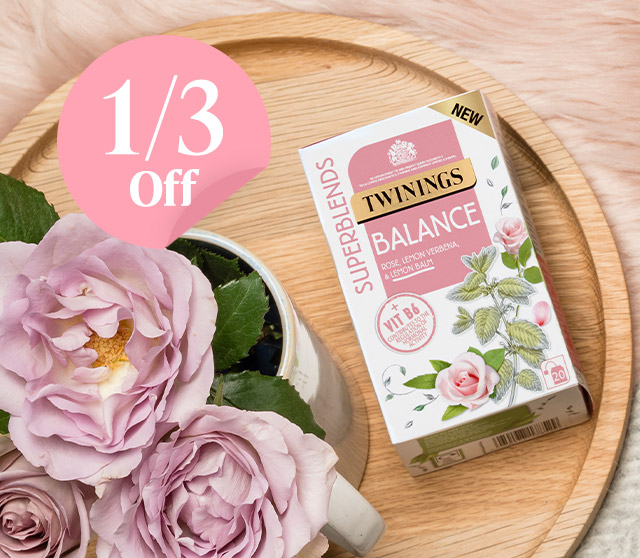 Superblends
Our delicious range of benefit-led infusions
and green teas, expertly blended to support
your everyday wellbeing.
1/3 off automatically applied at checkout, ends 14th July.
What's Your Favourite Superblend?
With nineteen great tasting blends to choose from,
there is a superblend to suit all tastes.
Time To Unwind
 
Strawberry & Camomile with
Limeflower and added Vitamin B12
 

Balance
 
Rose, Lemon Verbena & Lemon
Balm with added Vitamin B6
 
Digest
 
Fig flavoured Infusion with
Turmeric and Ginger.
 

Metabolism
 
Peppermint with Spiced Green Tea,
Nettle and added Zinc
 
 
Five Ways to Feel Alive Every Day
 
Healthy living tips with some great recipe ideas, and general life hacks.
 
 
Terms & Conditions
1/3 off Superblends from 1st July - 14th July 2022. Discount is automatically applied at checkout, no promotional code required. Promotion excludes individual envelopes. Only products labelled 1/3 Off are included in the promotion.

Cannot be used against sale products or in conjunction with any other promotion or cashback sites. We reserve the right to withdraw promotions/discounts at any time without prior notice. We also reserve the right to cancel orders following misuse of this promotion. Promotions only valid online at www.twinings.co.uk
© 2022 R. Twining and Company Limited
Weston Centre, 10 Grosvenor Street
London W1K 4QY
Registered in England & Wales No. 525071
Recent emails from Twinings Teashop

See more