U-BOAT AND DINO ROMANO READY TO BEAT THE SPEED RECORD.
This email was sent

U-BOAT AND DINO ROMANO READY TO BEAT THE SPEED RECORD

One more time on the road to Utah, towards Bonneville Salt Flats , Italo Fontana decides to join and support his friend and famous customiser Dino Romano in a just postponed challenge.
A full ecologic enterprise aims to break the record on the Salt Lake of speed riding a super-motorbike powered by natural gas, in occasion of  the annual Salt Lake City Speed Week in Utah from the 7th to 17th of August.
The Open Eyes Dream Team aka OED Italian Racing Team will ride "Christine" for U-BOAT at over 400 Km/h on the lake salty surface in order to break the speed record of 375 km/h.
Four professional riders will turn the dream into reality, Dino Romano himself , Maurizio Vettor, popular tester and journalist of Moto.it, Rosaria Fiorentino and Louisa Swaden both popular motorcyclists.
The concept of being time owner, of managing and controlling it and therefore having the illusion of dominating it; has always inspired U-BOAT and its designer Italo Fontana.
A shared passion for racing and technology at the highest level, the same adventurous spirit and the need for speed bring Italo Fontana and Dino Romano once again together for a never ending dream of freedom.
U-BOAT E DINO ROMANO PRONTI A BATTERE IL RECORD DI VELOCITA'

Ancora una volta sulla strada per lo Utah, in direzione di Bonneville Salt Flats, Italo Fontana decide di unirsi e supportare il suo amico e famoso custumizzatore Dino Romano in una sfida solo per poco posticipata.
Una impresa completamente ecologica mira a superare il record di velocità sul Lago Salato a cavallo di una super-moto alimentata a gas naturale, in occasione dell'annuale manifestazione Salt Lake City Speed Week nello Utah in programma dal 7 al 17 agosto pv.
Il Team Open Eyes Dream anche conosciuto come OED Italian Racing Team guiderà "Christine" per U-BOAT a oltre 400 Km/h sulla superficie salata del lago, in modo da battere il record di velocità fermo per ora a 375 Km/h
Quattro piloti professionisti trasformeranno il sogno in realtà, lo stesso Dino Romano, Maurizio Vettor famoso collaudatore e giornalista di Moto.it, Rosaria Fiorentino e Louisa Swaden entrambi motocicliste affermate.

Il concetto di essere proprietario del tempo, di gestirlo e controllarlo e quindi avere l'illusione di dominarlo; ha sempre ispirato U-BOAT e il suo designer Italo Fontana.
Una passione condivisa per le corse e la tecnologia ai massimi livelli, lo stesso spirito avventuroso e la febbre per velocità portano ancora una volta Italo Fontana e Dino Romano insieme per un sogno infinito di libertà.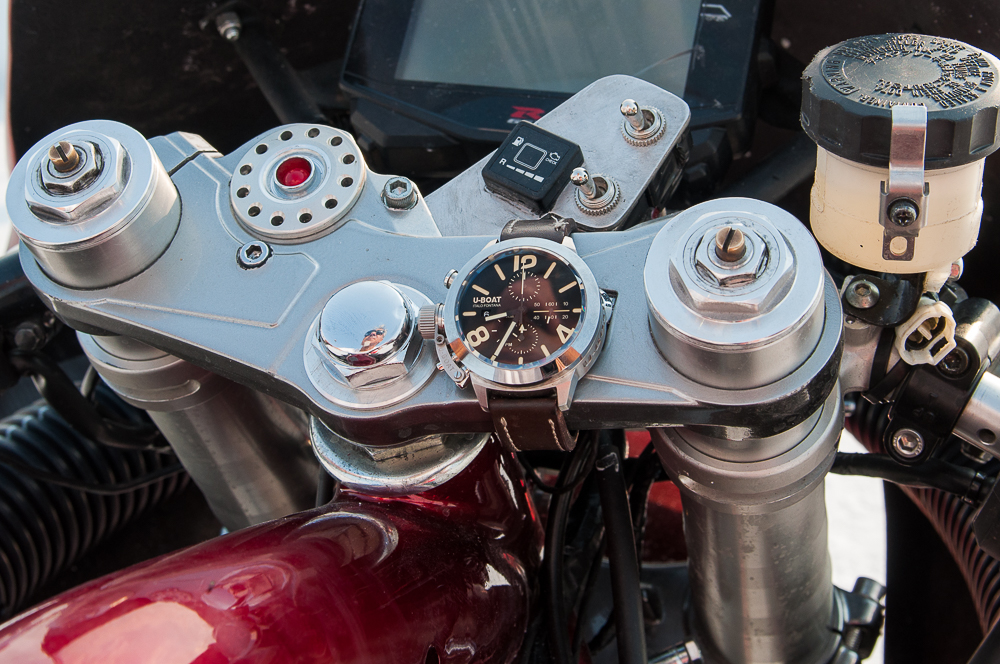 HEAD OFFICE
Via Pesciatina, 751H Gragnano, Capannori - 55012 Lucca Italy  
Ph : +39 0583 469288  Email: [email protected]
You are receiving this communication in response to a request you submitted www.uboatwatch.com
if you do not wish to receive any further update, please unsubscribe