U-BOAT READY TO OPEN ITS SECOND FLORENTINE STORE
This email was sent


U-BOAT READY TO OPEN ITS SECOND FLORENTINE STORE
The "Made in Tuscany" watch brand strikes again! Now known all over the world, U-BOAT is preparing for the opening of a second boutique in the heart of Florence.
It is a time for courage and positivity, the watch designer from Lucca, Italo Fontana, is firmly convinced of this and he is preparing to double the presence of the brand in the Renaissance capital by opening a second store that will flank the iconic boutique of Ponte Vecchio.

Precisely in this moment in which despair and uncertainty towards future scenarios and global difficulties seem to prevail over many people, U-BOAT roars and pulls out its claws, continuing with courage and enthusiasm the path started twenty years ago.

The new sign of the brand already stands out in the very central and refined Via Strozzi at number 28r, a vibrant center of Florentine high-spending shopping, waiting for the official opening scheduled for March.
The brand, which has always distinguished itself for freedom of movement and initiative, continues its retail development with this opening without being too intimidated and conditioned by the economic situation and at the same time providing its contribution to a general push for rebirth.

With a consolidated presence in over 60 countries around the world, through a massive network of retailers and several flagship stores in cities such as Rome, Moscow, Beirut and Baku; U-BOAT will offer a double chance to Florentines and to the expected tourists, Italian and foreign, of the city of lily to appreciate the brand's watch collections.
 U-BOAT PRONTA AD APRIRE IL SECONDO MONOMARCA FIORENTINO   
Il marchio di orologi "Made in Tuscany" colpisce ancora! Conosciuto ormai in tutto il mondo, U-BOAT si prepara all'apertura di una seconda boutique nel cuore di Firenze.
È il momento del coraggio e della positività, ne è fermamente convinto il designer di orologi lucchese, Italo Fontana, che si appresta a raddoppiare la presenza del marchio nella capitale del rinascimento aprendo un secondo punto vendita che affiancherà l'iconica boutique di Ponte Vecchio.
Proprio in questo momento in cui lo sconforto e l'incertezza verso gli scenari futuri e le difficoltà a livello globale sembrano prevalere su molti, U-BOAT ruggisce e tira fuori gli artigli, continuando con coraggio ed entusiasmo il percorso iniziato ormai vent'anni fa.
La nuova insegna del brand già campeggia nella centralissima e raffinata via Strozzi al civico 28r, centro vibrante dello shopping alto-spendente fiorentino, in attesa dell'apertura ufficiale prevista per il mese di Marzo.
Il brand, che si è sempre distinto per la libertà di movimento e di iniziativa, continua con quest'apertura il suo sviluppo retail senza farsi troppo intimidire e condizionare dalla situazione economica e al tempo stesso fornendo il suo contributo ad una generale spinta di rinascita.
Con una presenza consolidata in oltre 60 paesi nel mondo, attraverso una fitta rete di retailer e diversi monomarca in città come Roma, Mosca, Beirut e Baku; U-BOAT offrirà una doppia possibilità ai fiorentini e agli attesi turisti, italiani e stranieri, della città gigliata per apprezzare le collezioni di orologi del brand.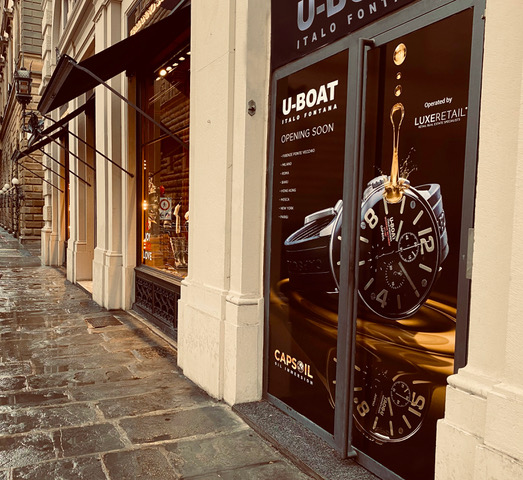 HEAD OFFICE
Via Pesciatina, 751H Gragnano, Capannori - 55012 Lucca Italy  
Ph : +39 0583 469288  Email: [email protected]
You are receiving this communication in response to a request you submitted www.uboatwatch.com
if you do not wish to receive any further update, please unsubscribe