Select wine lovers receive 2 complimentary wines
Email sent: Jul 21, 2021 12:35pm
To ensure uninterrupted receipt of Cyber Circle special offers,
please add our "From" address (

[email protected]

) to your Address Book.

Notice of Revised Member Status

UPGRADE & FREE BONUS


2 Complimentary
Bottles of
Super-Premium
Wine For Newest
Elevant Members



Robert - Your name has been randomly selected to be added to our Elevant Society Roll of Honor. I think you are the kind of member that will appreciate all this exclusive club has to offer. But you be the judge.

This important distinction entitles you to exclusive shipments of super-premium wines... and two free bonus bottles of wine in your upcoming shipment.

Each wine we feature in the Elevant Society is rated by our tasting panel – and other wine industry critics - at 90 points or above. These critically acclaimed red wines are, quite simply, the best of the best.

Confirm your newly upgraded status & 2 free bottles of wine now
Dear Robert,

     I founded Vinesse with some friends in 1993. Shortly after we introduced our flagship club, our members lead us to create its Elevant Society – an exclusive club within a club. They wanted a second club where they could buy wines for special occasions, special dinners, and to share with special friends. Some 20 years later it is still one of our most popular tiers, and once members enroll, not many leave.

     Elevant membership is strictly limited due to the very limited quantities of these distinctive boutique wines from some of the best artisanal winemakers in the world. As a result, only a select few can be approved for our Elevant Roll of Honor. I think that you'd be an excellent addition to the program.

Please accept your upgraded Elevant status now.

      As our wine experts scour the globe for unique wines for our members, they periodically discover an especially rare wine. A superior wine that towers head and shoulders above 99.9% of the wines on the market. But more often than not, quantities of these superb selections are severely restricted. (While we'd love to share them with all members, there simply isn't enough to go around.)

     We take extra steps to ensure that your shipments arrive in pristine condition. For example, each bottle is hand wrapped in custom tissue paper, designed to protect the bottles and labels of these prized wines.

     Here are just a few examples of the wines our Elevant Society members have been treated to in the past several shipments: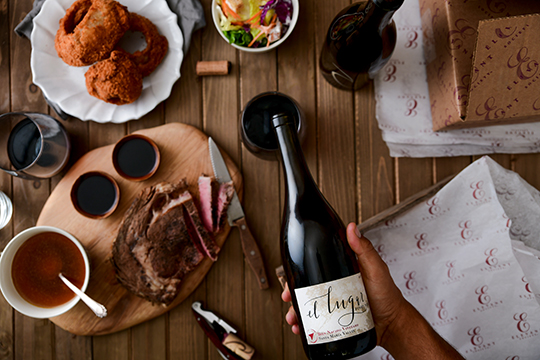 We love the adventure of trying out new wines from all over the wine world. We have never had a bad one, and many of the wines we have become favorites for us and for our guests. We always end up sharing where we get our "great wines"...because they always ask.
- Louis Gram, Eagan, MN

I like the surprise of opening the box and finding wines I've never seen or tasted before. I enjoy trying the wines with different foods — occasionally adding a small amount to cooking and salad dressings.
- PJ Morrow, Boiling Springs, SC

     That's why I created the Elevant Society. It's a select "inner circle" of wine lovers -- made up exclusively of our top-tier members who appreciate the rich, velvety flavors ... opulent aromas ... and smooth, lingering finishes of these super-premium – and impeccably aged - wines.

     And now your name has been added to this coveted "inner circle."
     As a special "welcome to the Elevant Society," your first shipment will include two extra bottles of super-premium wine - yours at no cost compliments of the Elevant Society. That means you'll discover four of the very best wines available - for the price of just two bottles.

     How can the Elevant Society bring you world-class wines at such a reasonable price? We live and operate in California, and regularly meet with top suppliers and producers to find small lots of great wine that the industry has somehow overlooked. And as a result, we frequently buy out the entire stock - direct from the winery with no middleman - for much less than you'd expect to pay on your own.

     These are wines you would expect to find on Steakhouse and fine dining wine lists at 2, 3 or even 4 times as much as you pay as a member of our Elevant Society.

      Of course, Elevant wines are unconditionally backed by the same guarantee extended on all our wines. You must be completely delighted with every wine we send or we'll replace it at our expense.

     Your name has already been added to our Elevant Society Roll of Honor. At this point, all I need is confirmation of your upgraded member status.

      IMPORTANT: You pay nothing to step up to our elite tier as an Elevant member. There are no membership dues involved in the Elevant Society.

      Your first Elevant shipment - including 2 extra bottles of super-premium wine sent absolutely free - is ready to go. Please accept your upgraded status within the next 7 days. Give the program a try and enjoy our most super-premium offer.

Welcome to the Elevant Society,


Cheers!

Lawrence Dutra
CEO and Founder
Vinesse

P.S. New spots on the Elevant Society Roll of Honor cannot be extended indefinitely. Due to the extremely limited supplies of Elevant super-premium wines, open positions on the Elevant Roll of Honor are rare. In fairness to other members waiting for this special designation, I must ask you to confirm your upgraded status within the next 7 days.
Vinesse - The fastest growing wine club in America
If you would prefer not to receive Cyber Circle, please
click here
.
(CC072121D1) You are subscribed to our mailing list as: -
888509643
© 2021 Vinesse, LLC. All rights reserved.

Vinesse
4550 East Thousand Oaks Blvd., Suite 100, Westlake Village, CA 91362

Other emails from Vinesse Wines
Sep 24, 2021

Almost Sold Out- Must Have Harvest Selections: Gold Medal Winning Pink & Red Wines We Cannot Do Without This Fall, Yours for Less Than $14.50/Bottle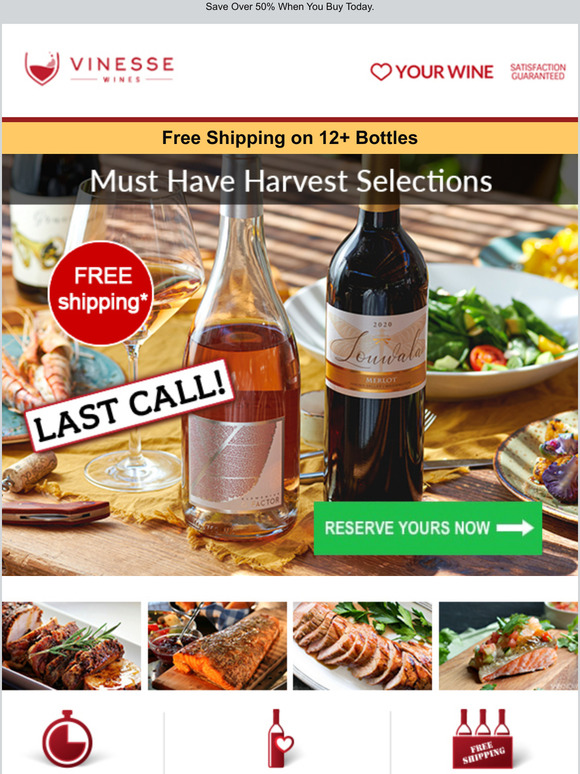 Sep 21, 2021

Must Have Harvest Selections: Gold Medal Winning Pink & Red Wines We Cannot Do Without This Fall, Yours for Less Than $14.50/Bottle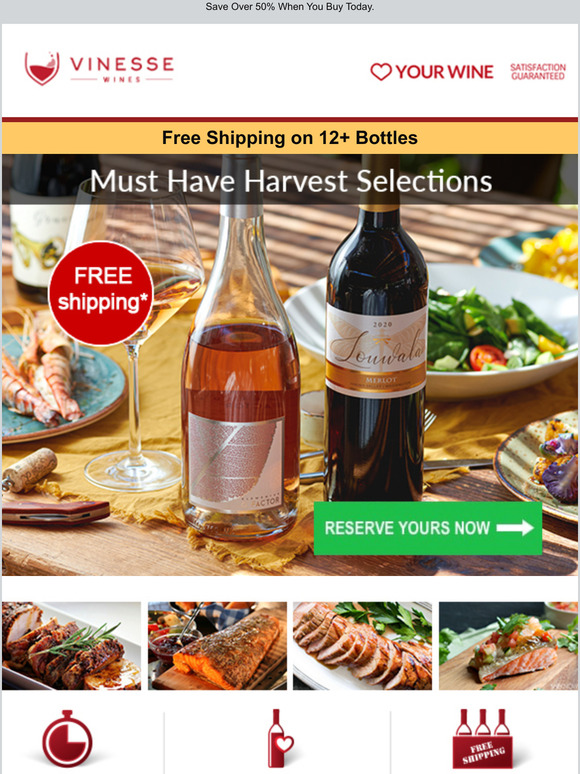 Sep 20, 2021

Last Chance To Stock Up & Save up to 50% Off on Wines; Will you find a Golden Ticket?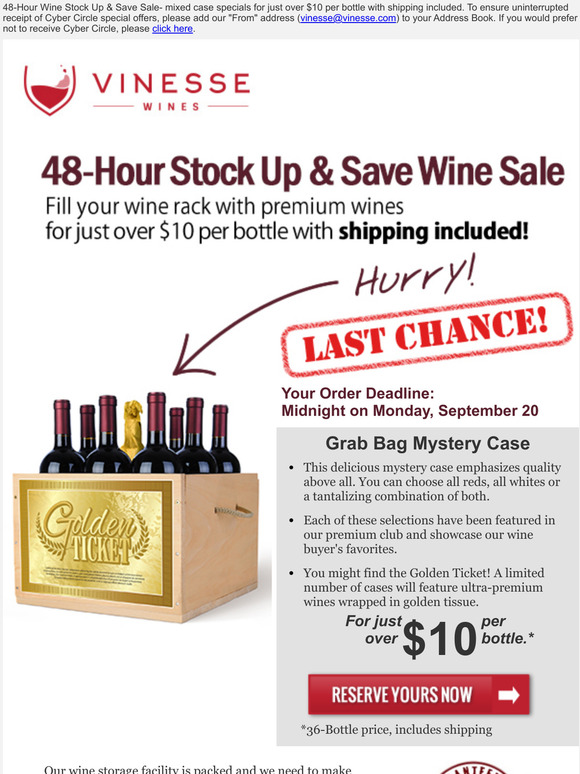 Shop without the noise.
Get our free newsletter of hand-picked sales you need to hear about from the web's best brands.