Summer Heat Calls for This Aperol Spritz Recipe!
Email sent: Jul 25, 2021 12:33pm
Wine news from Vinesse!


Hello Friends,

Welcome to another edition of our Three Sip Sunday eNewsletter.

We appreciate you taking some time out of your summer weekend to let us share what is interesting in our world of "delivering the good life!"

From mi casa to su casa, here we go:




If you're a fan of the gin-based Italian cocktail Negroni (as I am) you are almost certain to like an Aperol spritz. Lower in alcohol and lighter, I like to think of the Negroni as a winter beverage and an Aperol Spritz as the epitome of summer.

You can find a recipe to make a Negroni here.

But I digress, this post is about championing the simple, delicious and simply delicious Aperol Spritz.

Walk through an Italian town during the late-afternoon-particularly in Northern cities like Milan and Venice-and you'll find groups of people enjoying Aperol Spritzes. The after-work spritz is a long-established Italian tradition, and fortunately, it's one that's easily replicated.

Aperol traces its roots back to Padua, Italy. The aperitivo, an appetite-whetting beverage designed to be consumed before dinner, was created in 1919. Its bittersweet flavor, aromatic botanicals and easygoing alcohol content (like Prosecco, it's only 11% ABV) made it the perfect choice for pre-dinner sipping. Pair Aperol with bubbly wine and sparkling water, and you'll be hard-pressed to find a more refreshing and thirst-quenching cocktail.

Among the canon of Italian spirits, Aperol and the Aperol Spritz cocktail are classics. The gentle sweet-bitter profile goes down easy-especially when lightened with bubbles.

In my version, I add frozen tangerine slices as a garnish. Not only do these elevate the "fun" factor, they keep the beverage colder longer. (Pro tip: you can do the same thing with green and red grapes for your wine.) And once their work is done and they are re-thawed, they are a delicious complement to the bitter and citrus flavors in the Prosecco and Aperol. The latter is widely available now in the US and will cost you $20-$25.

The promised recipe for an Aperol Spritz:

3 parts Prosecco
2 parts Aperol
1 part club soda
Tangerine slices for garnish, frozen if possible

I like to serve my Aperol Spritz in a Champagne flute (as shown in the accompanying photo) but a wine glass would work just as well.



Photo Credit: wineindustryadvisor.com


There's a saying in the wine business that wine drinkers "talk dry and drink sweet". This recent article from the Wine Industry Advisor suggests that there may be at least some truth in that truism.

From the article: "That Duplin Winery in eastern North Carolina is included among the country's top 50 producers...wouldn't surprise anyone who lives in the state. The wines are found on grocery store shelves everywhere, from Southport on the coast to Elkin in the mountains.

While it doesn't share the same national profile as many of the others on that list, the family-run business has carved out a regional niche as a producer of primarily sweet wines made from the Muscadine grape"

I love a good independent family wine business success story. - check it out.



Photo Credit: santamariatimes.com


When I started Vinesse with a friend in 1993, our winemaking and shipping operations were based in northern Santa Barbara County, Santa Maria to be precise.

Unlike the regions of Napa and Sonoma counties to the north, Santa Barbara was a relatively new region for winemaking at the time. Its winemaking epicenter was Santa Maria, which was home not only to Vinesse at the time, but also to the (now famous) Bien Nacido Vineyard.

Bien Nacido (meaning "well born" in Spanish) was not only was growing highly sought-after Chardonnay and Pinot Noir grapes, but was also home to a fledging new winery started by a larger than life winemaker named Jim Clendenen.

We were a small fraternity of wine pioneers at the time, and Jim was one of the most powerful figures in that circle. He was a generous, jovial, tireless champion of wines from Santa Barbara. He dedicated his life to making elegant Burgundian style wines under his Au Bon Climat label.

He was a rock star winemaker and he looked the part. Like Vinesse, he was pursuing a passion and vision to alter the wine business landscape, or at least put a dent in it. I recall the first time I met him at a wine in symposium some 20 years ago. It was a period for excess in California, and he was questioning - loudly from the back of the room - why the highest scores had to go to the ripest wines with the highest levels of alcohol. Why does there need to be so much oak? If the wine is this soft on release, is it going to be dead in five years? In a room full of wineries that were followers, he was a man with the courage and conviction to pose questions that provoked introspection and discourse.

We were kindred spirits.

After 68 years, some five decades of which were dedicated to sharing his love of food and wine, Jim quietly shuffled off this mortal coil at the age of 68 recently, leaving a large hole in the Santa Barbara wine community. I miss him and especially his fearless independent spirit.

Carpe diem, my friends.



Larry Dutra
CEO and Founder



...instagram




...vinesse today


Editor's Journal


Great House Wines... for Your Home

Do you like to entertain at home...
Read more...


Wine in the Glass


Every National Day Is a Reason to Raise a Glass
We're always looking for a reason - it doesn't even have to be a good reason...
Read more...


Wine FAQ


6 Tips for Cleaning Wine Glasses... Without Shattering Them

Some people purchase logo glasses at their favorite wineries and call it a day
Read more...




Connect With Us
4550 East Thousand Oaks Blvd, Suite 100, Westlake Village, CA 91362
© 2021 Vinesse. All rights reserved. Unsubscribe


Other emails from Vinesse Wines
Sep 24, 2021

Almost Sold Out- Must Have Harvest Selections: Gold Medal Winning Pink & Red Wines We Cannot Do Without This Fall, Yours for Less Than $14.50/Bottle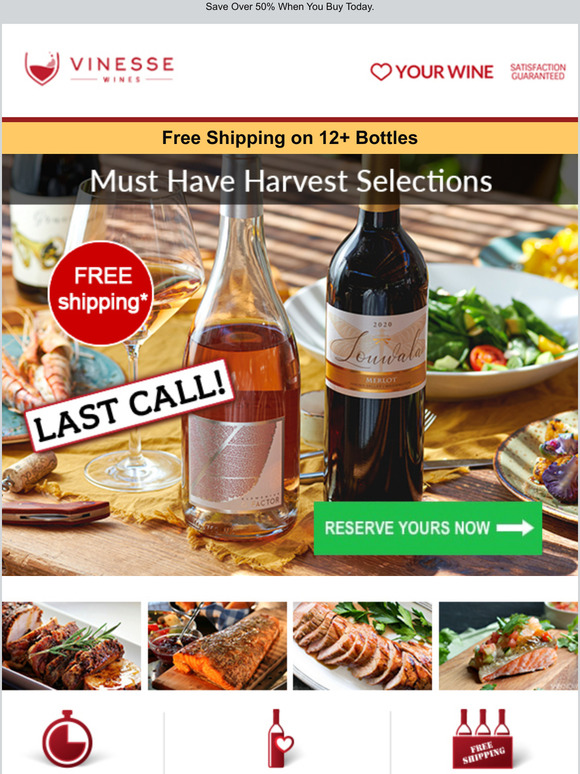 Sep 21, 2021

Must Have Harvest Selections: Gold Medal Winning Pink & Red Wines We Cannot Do Without This Fall, Yours for Less Than $14.50/Bottle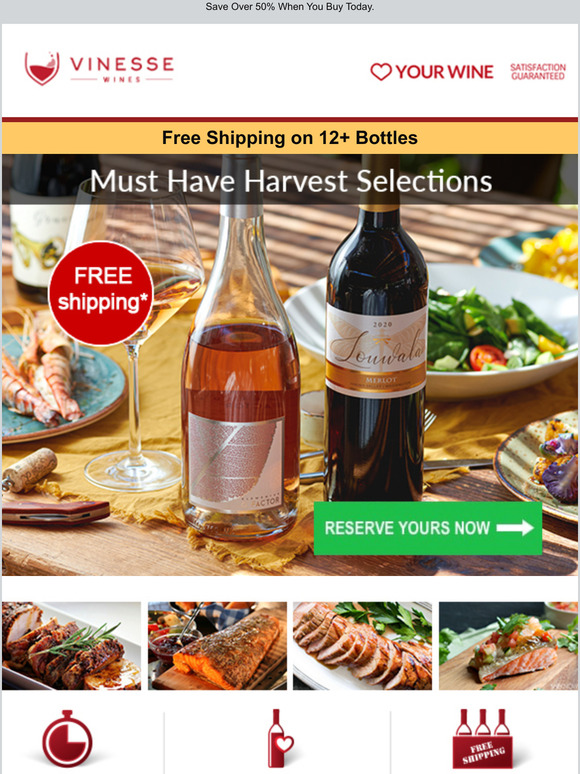 Sep 20, 2021

Last Chance To Stock Up & Save up to 50% Off on Wines; Will you find a Golden Ticket?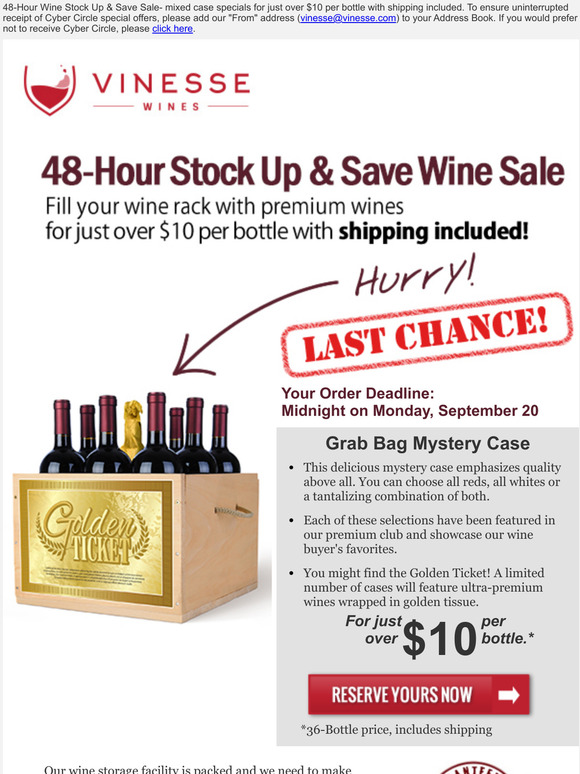 Shop without the noise.
Get our free newsletter of hand-picked sales you need to hear about from the web's best brands.