WebexOne 2021 - Register now
WebexOne is a two-day virtual event to announce our latest Webex technology and innovations
This email was sent
View in browser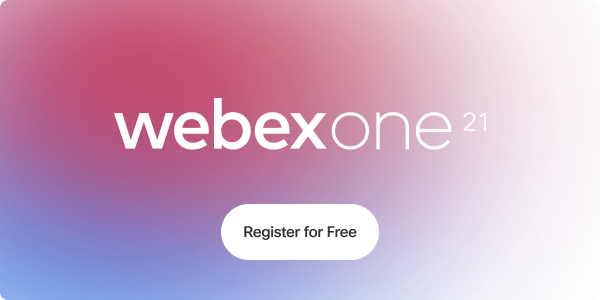 Americas, October 26-27
Asia Pacific, October 27-28
EMEA, October 27-28
Reserve your spot today!
WebexOne is a two-day virtual event to announce our latest Webex technology and innovations, to celebrate our amazing customers, and to inspire business leaders and IT in the new world of Hybrid Work. This year's theme is ELEVATE. It exemplifies our commitment to helping people connect and engage with each other, to use technology to bring all humans closer.
Join us at WebexOne to discover new solutions that can elevate the power of hybrid work in your organization, and set new standards in your customer's experiences.
Here's some of what we'll be discussing:
Reduce meeting fatigue and create a more inclusive hybrid workforce
Create workspaces that are hybrid, smart, secure, and connected
Host next-gen events, that are virtual, in-person, engaging and meaningful
Implement secure, AI-powered hybrid work platform
Delight your customers with modern omnichannel experiences
Harness powerful APIs and SDKs to build real-time communication features within your apps
We'll be featuring special guest speakers, 30 learning sessions, and a chance to network with innovators like you.
One more thing... it's free!
Hope to see you there!

Webex.com | Privacy | Terms & Conditions | Cookies | Trademarks






Click here to unsubscribe from Cisco marketing communications. Cisco will continue to send service/transactional communications, including those that have to do with any accounts that you may have with us.
Copyright © 2021, Cisco Systems, Inc. All rights reserved. Cisco, Cisco Systems and the Cisco Systems logo are registered trademarks of Cisco Systems, Inc. and/or its affiliates in the United States and certain other countries.

Cisco Systems, Inc.
170 West Tasman Dr.
San Jose, CA 95134-1706
USA