How to get a smooth bikini line
This email was sent
Whether you're all for being a bald eagle, like to keep it trim or prefer to rock the au naturale look, our top tips will have you summer ready in no time. Say goodbye to ingrown hairs and shaving rash!
SHOP HAIR REMOVAL

Get started by using an exfoliating scrub on the area you'll be removing hair from. This will remove any dead skin cells and oil to create an even canvas. If you prefer to let your hair grow, exfoliating will still benefit the skin underneath and leave you glowing!

Want that dolphin smooth finish? We've got you covered. Our Tame It! Hair Removal Cream works in 3-6 minutes with no ingrown hairs in sight.
SHOP TAME IT!

Clean up stray hairs with our Tame It! Wax Strips. Ready to use straight from the pack, these strips are quick and easy to use in a hurry. Each pack also includes aloe vera balm to cool and soothe any sensitive areas.
SHOP WAX STRIPS

…our Saddle Sore Soothing Balm! This skincare saviour will have your skin feeling as smooth as a dolphin's nose. It's also great for preventing and aiding chafing -ideal for this time of the year!
SHOP SADDLE SORE

"I have always been sceptical about hair removal cream, particularly for intimate areas, however WooWoo has completely converted me! The hair removal cream is completely effective and causes no unwanted irritation! I have also purchased the WooWoo wipes and lube recently which are also great! 10/10 would recommend."- Anonymous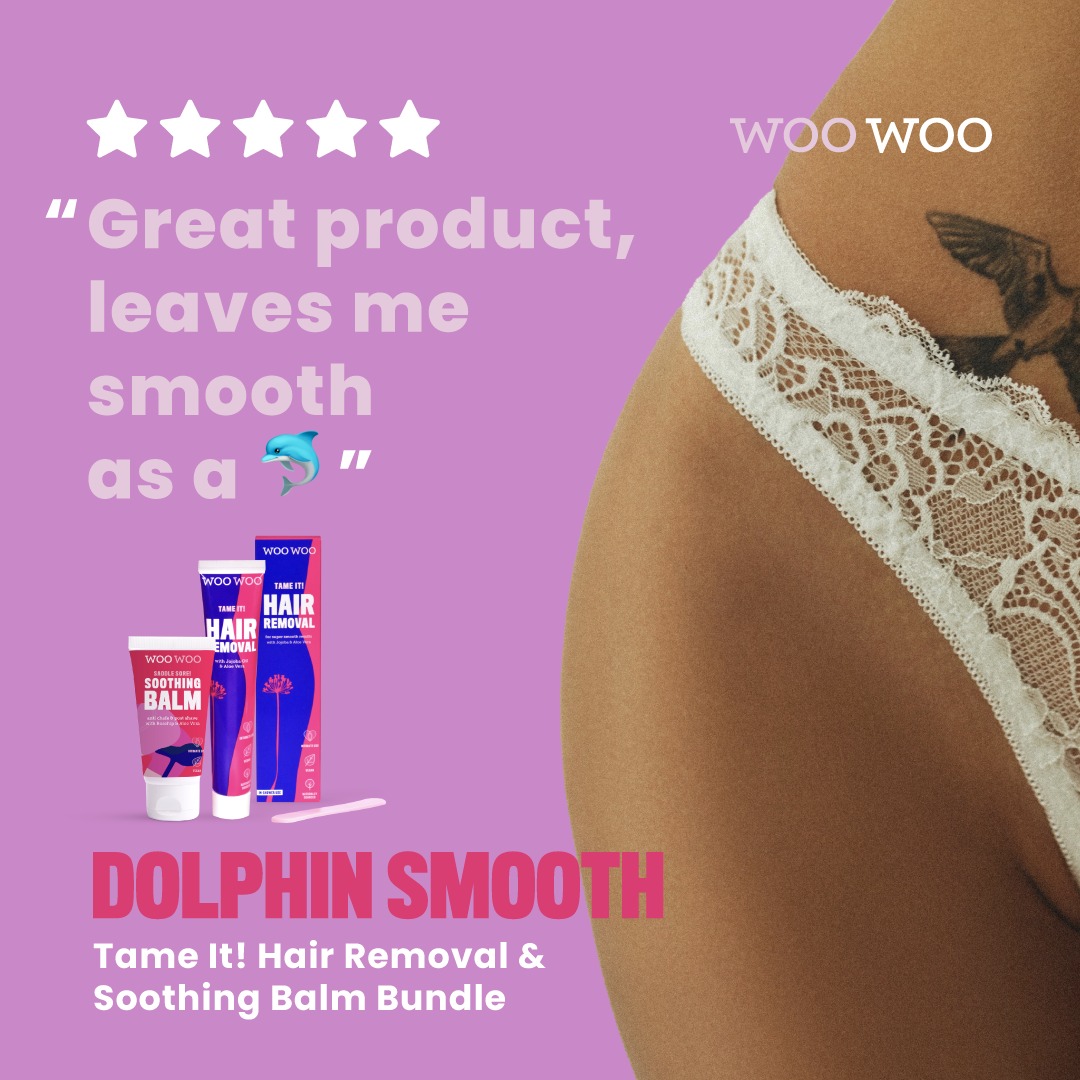 SHOP DOLPHIN SMOOTH BUNDLE
WooWoo 17 Moreton Road Bosham, Chichester PO18 8LL

Unsubscribe