Re: Building Membership Sites with WordPress: Part 3
Email sent: Jan 4, 2019 5:37pm
Hello
This is part three of my series on building membership sites with WordPress.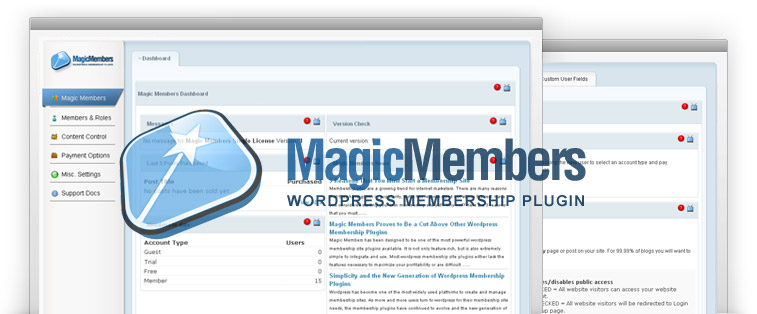 The MagicMembers WordPress plugin provides many great member enhancement features for WordPress site owners to utilize. MagicMembers can be bought with three different license types. WordPress site owners can buy a single license for $97, a 3 users license for $197, and an unlimited license for $297.
For people who run a WordPress site and wish to enhance user activity,
MagicMembers
is a good choice. MagicMembers gives site owners the ability to implement different member levels, such as gold, silver, and bronze.
This feature allows site owners to offer different subscription levels and payment fees. For instance, a site owner could offer a free bronze member level with limited content and a paid gold level with full content. MagicMembers also allows flexible membership options, which gives site owners the ability to set different member billing options and the ability to have unlimited subscriptions.
Subscription lengths are also provided with MagicMembers. Subscription lengths allow site owners to set time limits on memberships. Subscription lengths would be a great way for a site owner to allow a limited preview of their site or a reoccurring payment system.
MagicMembers also supports Secure RSS with tokens. Secure RSS with tokens allows site owners to provide paid members an RSS feed that is secure and lacks the ability to be accessed by nonpaying members of the site. MagicMembers also has a download manager, which keeps your content safe from illegal downloads by assigning different permissions based on member level.
MagicMembers
comes equipped with a pay per post system, which is a great way to allow free members the ability to buy individual pieces of content. MagicMembers supports several different payment modules, allowing a variety of choices for users. The payment modules supported by MagicMembers are PayPal, ClickBank, Authorize.net, WorldPay, and Epoch.
That's it for today. I have one more part in my series on membership plugins for Wordpress.
Thank you.
Sincerely,
Jason Keith
WP Internet Marketing Concepts
http://WP-InternetMarketing.com
http://WP-SalesLetterTheme.com
http://WP-LandingPages.com
http://WP-Countdown.com
JKW Enterprises, Inc, PO Box 6781, Moore, OK 73153, USA
Please see http://wp-internetmarketing.com/legal/ for disclosures.
Affiliate Compensation Notice: http://wp-internetmarketing.com/legal/compensation-disclosure.html
Unsubscribe
|
Change Subscriber Options
Shop without the noise.
Get our free newsletter of hand-picked sales you need to hear about from the web's best brands.