10 Things Every Childrens Picture Book Writer Should Know
Email sent: May 4, 2021 1:48pm

"Creativity is a combination of discipline and childlike spirit."
―Robert Greene
In this newsletter:
Instructor Kelly Bingham shares with us ten things that every picture book writer should know.
Browse our updated course calendar through Mid-June.
Join our Facebook group and share your craft with us. We'd love to see you!
I hope you and yours are happy, healthy, and well.
—Fred
Congratulations to...
Instructor Barbara Henning, whose poem "Here We Are" was selected as "Pick of the Week" by Best American Poetry. Read Barbara's poem here!
New Writing Tips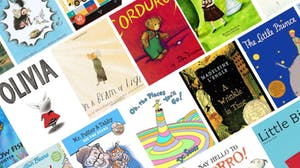 If you're working on a children's picture book, inspiration is everywhere you look.
Our Upcoming Courses

May Classes
with Tantra Bensko | 8 Weeks | $315
Poetry is alive and well. Contemporary poets can be touching, terrifying, and laugh-out-loud funny. Join us for an exploration of writing and reading poems.
with Gloria Kempton | 10 Weeks | $360
Structure your story and give it meaning with Joseph Campbell's The Hero's Journey.
with Jack Smith | 10 Weeks | $360
In this course, you'll work with the basic elements of fiction--the fundamentals that drive the story and determine the quality of the work.
with Barbara Henning | 10 weeks | $430
Gather material through writing and experimenting with journaling, researching and taking notes to develop into poems or prose works.
with Lissa Jensen | 8 Weeks | $315
Go beyond narrow definitions of "journaling" to include visual images and let writing give what is seen a new voice. Surprise yourself.
with Giulietta Nardone | 4 Weeks | $175
If you want to be an in demand storyteller in the digital age, you need to get in, get out and get going. In this "short" four-week memoir writing adventure, you'll learn to scope out, swoop down and snatch up important memories from your life then speed write them into miniature masterpieces.
with Shelley Singer | 10 Weeks | $415
Many students have attended this 10-week online fiction workshop with Shelley Singer multiple times, completed novels, and come back to finish more books.
with Tantra Bensko | 10 Weeks | $360
Create new work with fresh language, universal themes, sustained mystery and memorable characters. Stimulate your imagination.
with Gloria Kempton | 10 Weeks | $360
In-depth character development using an ancient personality study of human motivation--the Enneagram.
June Classes
with Sarah Aronson | 5 Weeks | $250
Instructor Sarah Aronson welcomes all writers who are working on manuscripts for kids and teens. This advanced workshop will focus entirely on the participants' own work in progress.
with Jonathan J.G. McClure | 6 Weeks | $260
Can you translate the movement of a dance into a poem? What happens when you write a story in the form of a multiple-choice quiz? Learn to take your work in rich and unexpected new directions by subverting and blending genre conventions.
with David Mills | 6 Weeks | $260
Learn how diving into form—the coherent relationship of all of a poem's parts—can enhance your creativity and freedom as a poet.
with Gloria Kempton | 3 Weeks | $155
Voice: What is it and how do you find yours? Instructor Gloria Kempton offers feedback on assignments in this 3-week online class.

Other emails from Writers.com
Shop without the noise.
Get our free newsletter of hand-picked sales you need to hear about from the web's best brands.