10 Ways a Word Plays
This email was sent

"One of my secret instructions to myself as a poet is: 'Whatever you do, don't be boring.'"
―Anne Sexton
In this newsletter:
All about wordplay, with 10 fun devices to incorporate in your work.
Browse our updated course calendar through May.
Join our Facebook group and share your craft with us, and find us on Instagram.
Good news from an instructor.
Enjoy instructor Zining Mok's lovely poetry reading from last Friday.
I hope you and yours are happy, healthy, and well.
—Fred
Starting This Week
with Giulietta Nardone | 4 Weeks | $235
In this fun, transformative four-week program, get tips and techniques to bring out your courage to publish a story in print or online.
with Kelly Bingham | 6 Weeks | $330
Picture books have changed greatly over the last few decades, and the market is wide open for fresh ideas. Join us in this six-week intensive where we'll take that idea of yours and turn it into a manuscript!
with Wendy Call | 10 Weeks | $460
Elevate your memoir, travel writing, literary journalism, & lyric and personal essays.
New Writing Tips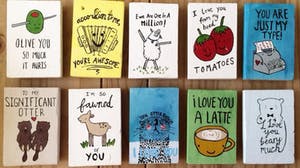 Experimenting with language, using devices like kennings and spoonerisms.
Congratulations to...
Instructor Lyzette Wanzer, whose forthcoming memoir Trauma, Tresses, & Truth: Untangling Our Hair Through Personal Narrative was listed as a Top-Shelf Pick by Independent Publishers Group (IPG). Lyzette's manuscript will receive additional marketing efforts and high-profile magazine features as it approaches publication in the fall.
Our Upcoming Courses
May Courses
with Susannah Simpson | 6 Weeks | $330
If you're a caregiver, public servant, or medical professional, this 6 week journaling course is designed to affirm your place in the world, creating a space for hope, gratitude, and meditation.
with Giulietta Nardone | 4 weeks | $285
The holiday season is the best time to get the ball rolling on your book. Join us if you really want to get your book into the world.
with Gloria Kempton | 10 Weeks | $460
Structure your story and give it meaning with Joseph Campbell's The Hero's Journey.
with Jennifer Billock | 8 Weeks | $395
Take to the skies in this online travel writing course. We'll discuss the market, different types of travel writing, and pitching your piece!
with Barbara Henning | 10 Weeks | $460
Gather material through writing and experimenting with journaling, researching and taking notes to develop into poems or prose works.
with Rosemary Tantra Bensko | 8 Weeks | $395
Join us for this workshop on creating powerful poems—poems that are clear and organized, fresh and moving, full of life.
with Gretchen Clark | 10 Weeks | $460
Gretchen Clark pick axes her way into the volcanic marriage of real life and fiction. Weekly writing with incisive feedback.
with Jessica Festa | Single-Day Webinar | $89
When planned right, a blog allows you to share your passion and make money in the process. Learn how to build a blog in this one-day webinar.
with Tess Fahlgren | 5 Weeks | $275
In Creative Nonfiction, place is a character in itself. Deeply explore a narrative and a place of your choosing, and make weekly progress on your essay or memoir.
with Sandra Novack | 4 Weeks | $235
How do writers tell stories with tension, action, and emotion? Learn how to write forward-moving tension in this 4 week fiction course.
with Gloria Kempton | 8 Weeks | $395
Throughout her writing career, Gloria Kempton has met many anti-heroes. In this course, you'll receive feedback on your story antagonists.
with Brad Wetzler | Single-Day Webinar | $89
Your true story of healing or transformation can captivate and empower your readers. Learn how to balance showing the vivid details of your own journey with telling the broader themes for readers to apply in their own lives.