25 Gift Ideas for Writers
This email was sent
"Successful writing is one part inspiration and two parts sheer stubbornness."
―Gillian Flynn
In this newsletter:
Are you holiday shopping for the writer in your life (or in your clothes)? We've surveyed professional authors to find 25 outstanding gift ideas for writers of all stripes.
Learn all about giving Writers.com courses and workshops as gifts.
Good news from an instructor and a student.
Browse our updated course calendar through early January.
Join our Facebook group and share your craft with us, and find us on Instagram.
Happy Thanksgiving! I hope you and yours are happy, healthy, and well.
—Fred
New Writing Tips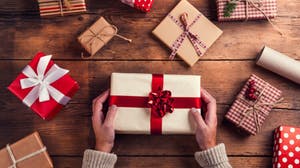 Useful, unique, and creative gifts for writers.
Gift a Writers.com Course
With the holiday season approaching, Writers.com courses and workshops make great gifts for the writers in your life. Our courses are designed to meet writers at every stage of their writing journey and help their writing flourish.
Learn more about gifting a course here!
Congratulations to...
Instructor Giulietta Nardone, whose humor piece "Email From A Condemned Tree, Begging For Mercy" was published in Little Old Lady Comedy. Read it here.
Tamara Kreutz, who published her poem "The Body Collector of Spain" in Rattle's "Poets Respond" series. Read Tamara's poem here.

Congratulations to Giulietta and Tamara!
One-Day Live Workshops
with Briana McGuckin | Single-Day Webinar | $89
Are you writing about people from real life? This one-day live workshop answers the question of how to be a good art friend.
with Zining Mok | Single-Day Webinar | $89
How can writers harness the power of dreams? Let your slumber supercharge your creativity in this three hour dream writing workshop.
Our Upcoming Courses

November Courses
with Jack Smith | 8 Weeks | $395
Over eight weeks, you'll develop a solid basis in the fictional elements—protagonist, setting, secondary characters, point of view, plot, and theme—while you develop the outline of your novel. You'll receive feedback at all stages from your fellow writers and your instructor.
December Courses
with Giulietta Nardone | 4 Weeks | $235
If you want to be an in demand storyteller in the digital age, you need to get in, get out and get going. In this "short" four-week memoir writing adventure, you'll learn to scope out, swoop down and snatch up important memories from your life then speed write them into miniature masterpieces.
with Rudri Patel | 6 Weeks | $330
Want to write your world, your way? Join us for this six week program on article writing, blogging, and essays.
with Jennifer Billock | 8 Weeks | $395
Take to the skies in this online travel writing course. We'll discuss the market, different types of travel writing, and pitching your piece!
with Kelly Bingham | 6 Weeks | $330
Picture books have changed greatly over the last few decades, and the market is wide open for fresh ideas. Join us in this six-week intensive where we'll take that idea of yours and turn it into a manuscript!
January Courses
with Marc Olmsted | 4 Weeks | $250
A four-week class, melding the language mind with the sensual: How to turn detailed observation into a poem. With Marc Olmsted.
with Gloria Kempton | 8 Weeks | $395
For those who want to kick start their writing into high gear.
with Jack Smith | 10 Weeks | $460
Get a good start on a novel in just ten weeks, or revise a novel you've already written. Free your imagination, move steadily ahead and count the pages!