Boing: Writing with Onomatopoeias
This email was sent

"Some writers confuse authenticity, which they ought always to aim at, with originality, which they should never bother about."
―W. H. Auden
In this newsletter:
What onomatopoeias are, and how to use them in your writing.
Good news from an instructor.
Browse our updated course calendar through mid-January.
Join our Facebook group and share your craft with us, and find us on Instagram.
I hope you and yours are happy, healthy, and well.
—Fred
New Writing Tips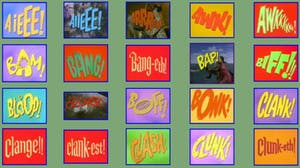 Wham! Flash! Bang! How to use onomatopoeias with style and flair.
Congratulations to...
Instructor Tina Barry, who recently had a poem accepted in Rattle. Tina's poem will be published in 2022.
Congratulations, Tina!
Our Upcoming Courses

December Courses
with Zining Mok | Single-Day Webinar | $89
How can writers harness the power of dreams? Let your slumber supercharge your creativity in this three hour dream writing workshop.
with Rudri Patel | 6 Weeks | $330
Want to write your world, your way? Join us for this six week program on article writing, blogging, and essays.
with Jennifer Billock | 8 Weeks | $395
Take to the skies in this online travel writing course. We'll discuss the market, different types of travel writing, and pitching your piece!
with Kelly Bingham | 6 Weeks | $330
Picture books have changed greatly over the last few decades, and the market is wide open for fresh ideas. Join us in this six-week intensive where we'll take that idea of yours and turn it into a manuscript!
January Courses
with Rudri Patel | Single-Day Webinar | $89
Want to have a productive new year? Set up your bullet journal in this one day live workshop.
with Marc Olmsted | 4 Weeks | $250
A four-week class, melding the language mind with the sensual: How to turn detailed observation into a poem. With Marc Olmsted.
with Gloria Kempton | 8 Weeks | $395
For those who want to kick start their writing into high gear.
with Jack Smith | 10 Weeks | $460
Get a good start on a novel in just ten weeks, or revise a novel you've already written. Free your imagination, move steadily ahead and count the pages!
with Shelley Singer | 5 Weeks | $275
Learn the basics of fiction writing and submit weekly writing for feedback from Shelley Singer, author of 13 novels. It's time to start.
with Susan Vespoli | 4 Weeks | $235
Want to move forward into the new year with gratefulness and clarity for 2022? Join us for 4 weeks of writing about gratitude and hope.
with Sandra Novack | 8 Weeks | $395
Jump-start your creative juices, and explore a world of divination, symbolism, and imagery right at your fingertips: learn short story and novel writing through Tarot.
with Kelly Bingham | 5 Weeks | $300
Even if you've never written poetry before, you can begin the rewarding process of crafting a poetry novel for Young Adults. Is there a market for novels written in verse? Are they well received? Yes, there is, and yes, they are!
with Jack Smith | 10 Weeks | $460
In this course, you'll work with the basic elements of fiction--the fundamentals that drive the story and determine the quality of the work.
with Barbara Henning | 10 Weeks | $460
Write 1–3-page flash fiction in this online course with Barbara Henning, drawing on classic, poetic & experimental elements. Read the form's masters.
with Wendy Call | 10 Weeks | $460
Elevate your memoir, travel writing, literary journalism, & lyric and personal essays.
with Jeff Lyons | 10 Weeks | $550
In this 10 week story writing class, Jeff Lyons pairs the Enneagram with story development techniques to revolutionize your writing practice.
with Rosemary Tantra Bensko | 8 Weeks | $395
Join us for this workshop on creating powerful poems—poems that are clear and organized, fresh and moving, full of life.
with Rudri Patel | 8 Weeks | $395
Writing about grief is a powerful healing tool. Turn pain into power in this personal essay course, with instructor Rudri Patel.
with Shelley Singer | 10 Weeks | $460
Many students have attended this 10-week online fiction workshop with Shelley Singer multiple times, completed novels, and come back to finish more books.