How to Start a Story
This email was sent

"I think I did pretty well, considering I started out with nothing but a bunch of blank paper."
―Steve Martin
In this newsletter:
How to start a story, how not to start a story, and what the beginning of your story ought to accomplish.
Good news from a student and an instructor.
Browse our updated course calendar through early February.
Join our Facebook group and share your craft with us, and find us on Instagram.
I hope you and yours are happy, healthy, and well.
—Fred
New Writing Tips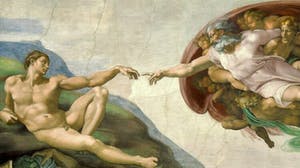 A look at the best ways to start stories, including examples from classic and contemporary literature.
Congratulations to...
Mindy Stern, whose flash essay "It Might Be Your Kid" was selected as one of the "Medium Stories That Defined 2021." Read Mindy's award-winning essay here.

Instructor Rudri Patel, whose flash piece "Ganesh and Southern Maid Donuts" received a nomination from Moonpark Review for the 2022 Best Small Fictions Anthology. Read Rudri's award-winning story here.

Congratulations to Mindy and Rudri!
Our Upcoming Courses

January Courses
with Sandra Novack | 8 Weeks | $395
Jump-start your creative juices, and explore a world of divination, symbolism, and imagery right at your fingertips: learn short story and novel writing through Tarot.
with Kelly Bingham | 5 Weeks | $300
Even if you've never written poetry before, you can begin the rewarding process of crafting a poetry novel for Young Adults. Is there a market for novels written in verse? Are they well received? Yes, there is, and yes, they are!
with Jack Smith | 10 Weeks | $460
In this course, you'll work with the basic elements of fiction--the fundamentals that drive the story and determine the quality of the work.
with Jeff Lyons | 10 Weeks | $550
In this 10 week story writing class, Jeff Lyons pairs the Enneagram with story development techniques to revolutionize your writing practice.
with Rosemary Tantra Bensko | 8 Weeks | $395
Join us for this workshop on creating powerful poems—poems that are clear and organized, fresh and moving, full of life.
with Rudri Patel | 8 Weeks | $395
Writing about grief is a powerful healing tool. Turn pain into power in this personal essay course, with instructor Rudri Patel.
with Shelley Singer | 10 Weeks | $460
Many students have attended this 10-week online fiction workshop with Shelley Singer multiple times, completed novels, and come back to finish more books.
with Sarah Aronson | Single-Day Webinar | $89
How do you write a story that's compelling to start and satisfying to finish? Sarah Aronson explains in this comprehensive one-day workshop.
with Lyzette Wanzer | 6 Weeks | $330
Not sure how to start building a literary career? By the end of this course, you'll have tackled the author's bio, C.V., LinkedIn, and more!
with Jack Smith | 8 Weeks | $395
Over eight weeks, you'll develop a solid basis in the fictional elements—protagonist, setting, secondary characters, point of view, plot, and theme—while you develop the outline of your novel. You'll receive feedback at all stages from your fellow writers and your instructor.
February Courses
with Lisa Taylor | 6 Weeks | $330
How can your own mortality inform your work? In this 6-week course, you'll use death to inspire and motivate your poetry writing.
with Barbara Henning | 8 Weeks | $395
Poet and Novelist, Barbara Henning offers this eight-week online workshop, writing tiny fictions while experimenting with first and third person points of view and analyzing how point of view affects the craft of fiction writing. There is no pre-requisite. Barbara will offer practical instruction and assignments, suggestions for revision, as well as lectures and and articles.
with Giulietta Nardone | 4 Weeks | $235
Ready to add a splash of fun to your writing life? Join us for a four-week humor writing class. We'll read. We'll laugh. We'll write. We'll experiment.
with Lissa Jensen | 8 Weeks | $395
Go beyond narrow definitions of "journaling" to include visual images and let writing give what is seen a new voice. Surprise yourself.