Interview: Ferne, a Detroit Story
This email was sent

"Your intuition knows what to write, so get out of the way."
―Ray Bradbury
In this newsletter:
An interview with Barbara Henning about her new book Ferne, a Detroit Story, which mixes biography, fiction, poetry, and visual media to evoke Barbara's mother's life in mid-20th century Detroit.
Good news from an instructor.
Browse our updated course calendar through mid-March.
Join our Facebook group and share your craft with us, and find us on Instagram.
I hope you and yours are happy, healthy, and well.
—Fred
New Writing Tips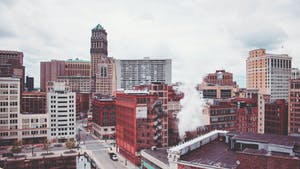 Barbara Henning discusses family, her writing process, and the magic of mid-century Detroit.
Congratulations to...
Instructor Sandra Novack, who will begin teaching for Drexel University's MFA program in March.
Congratulations, Sandra!
Our Upcoming Courses

February Courses
with Tess Fahlgren | 8 Weeks | $395
What are the different types of creative nonfiction? From the personal essay to the hermit crab, learn the ropes of CNF in this 8 week class.
with Susannah Simpson | 6 Weeks | $330
Whether you're struggling with addiction, newly sober, or have been sober for years, the WriteRecovery program supplements the 12 Step program and supports recovering addicts on their path to sobriety.
March Courses
with Gloria Kempton | 8 Weeks | $395
It's an age-old art form—storytelling—and you can learn the craft.
with Marc Olmsted | Single-Day Webinar | $89
Haiku, Senryu, and other Japanese poetry forms encourage us to slow down and write mindfully. Learn how to write these forms in this meditative writing workshop.
with Nadia Colburn | Single-Day Webinar | $89
What is your story about? What is your voice? Whether you write poetry, fiction, or nonfiction, hone your writing in this 3 hour workshop.
with Jennifer Billock | 8 Weeks | $395
Do you collect cookbooks, love to cook, or religiously read anything about food? This course is for you. With award winning writer Jennifer Billock.
with Jessica Festa | Single-Day Webinar | $89
When planned right, a blog allows you to share your passion and make money in the process. Learn how to build a blog in this one-day webinar.
with Jeff Lyons | 5 Weeks | $325
The premise line is the only reliable tool that can tell you, BEFORE you start writing, whether or not your story will "work." In this class participants will learn how to master the process of premise line development—the essential first step in any book or screenplay's development process.
with Giulietta Nardone | 6 Weeks | $330
You'll write prose that gets folks so hot and bothered they won't be able to put it down, even if it isn't about sex.
with Sandra Novack | 10 Weeks | $460
The first 50 pages sets up plot, characters, and voice, and it lays the groundwork for your book's overall structure and success. Receive critical, supportive feedback on your book's start from novelist Sandra Novack.
with Joy Roulier Sawyer | 4 Weeks | $250
Have you wanted to get into poetry, but don't know where to start? Learn the craft from the Joy of poetry herself in this 4-week beginner-friendly workshop.