On the Debut Novel: Interview with Antonia Angress, Author of "Sirens & Muses"
This email was sent

"The best time for planning a book is while you're doing the dishes."
―Agatha Christie
In this newsletter:
I hope you and yours are happy, healthy, and well.
—Fred
New Writing Tips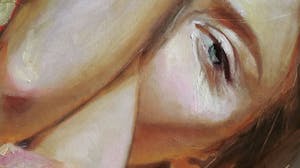 Antonia Angress discusses her novel writing process, having her debut novel published with Penguin Random House, and what's next for novelists.
Announcing the 2022 Novel Writing Intensive
We're now accepting applications for our 2022 Novel Writing Intensive! The Intensive is a comprehensive nine-month program designed to give you a completed first draft of your novel, plus clear editing and revision strategies, and a honed, persuasive pitch to literary agents. It's everything you need to get your novel written—and set yourself up for publishing success.
Enrollment in this Intensive is limited to eight spots. Applications are now open, and we'll be reviewing them on a rolling basis. The first application window ends at 11:59 PM Eastern time on Sunday, November 7, so if you want to secure your spot, please submit your application as soon as you can.
Congratulations to...
Charley Springer, whose poetry collection Nowhere Now Here was made available for preorder by Radial Press. Charley developed several prose poems in Barbara Henning's course "Poetic Prose: The Prose Poem." You can preorder Charley's collection here.
Congratulations to Charley and Barbara!
One-Day Live Workshops
with Jessica Festa | Single-Day Webinar | $89
When planned right, a blog allows you to share your passion and make money in the process. Learn how to build a blog in this one-day webinar.
with Jacquelyn Stolos | Single-Day Webinar | $89
Develop powerful and realistic settings in this generative three-hour workshop, with Jacquelyn Stolos.
Our Upcoming Courses
November Courses
with Rosemary Tantra Bensko | 8 Weeks | $315
Join us for this workshop on creating powerful poems—poems that are clear and organized, fresh and moving, full of life.
with Giulietta Nardone | 4 Weeks | $215
Wander through the rooms of your own life to discover stories of deep connection, reconnection or loss of connection and fashion your findings into stories suitable for blog posts, essays, short memoirs, short plays, scenes in screenplays, or chapters of novels.
with Jennifer Billock | 8 Weeks | $315
Do you collect cookbooks, love to cook, or religiously read anything about food? This course is for you. With award-winning writer Jennifer Billock.
with Dana De Greff | 6 Weeks | $300
Want to write about nature like Robert Frost, Henry David Thoreau, or Annie Dillard? Join us for this six week nature writing course.
with Shelley Singer | 10 Weeks | $415
Many students have attended this 10-week online fiction workshop with Shelley Singer multiple times, completed novels, and come back to finish more books.
with Sandra Novack | 4 Weeks | $215
How do writers tell stories with tension, action, and emotion? Learn how to write forward-moving tension in this 4 week fiction course.
with Giulietta Nardone | 4 Weeks | $215
Learn how to write emotionally resonant journeys that stick with the reader, using the power of character transformation.
with Susan Vespoli | 4 Weeks | $215
Poetry is a powerful method for healing and happiness. Write poems about gratitude and hope in our intimate, live-video writing circles, with instructor Susan Vespoli.
with Gloria Kempton | 4 Weeks | $175
Solve the mystery of marketing and get your work out there in front of readers in this 4-week online class taught by Instructor Gloria Kempton.
with Jack Smith | 8 Weeks | $315
Over eight weeks, you'll develop a solid basis in the fictional elements—protagonist, setting, secondary characters, point of view, plot, and theme—while you develop the outline of your novel. You'll receive feedback at all stages from your fellow writers and your instructor.