Wait for It: Using Foreshadowing in Fiction
This email was sent

"Good writing is supposed to evoke sensation in the reader—not the fact that it is raining, but the feeling of being rained upon."
―E.L. Doctorow
In this newsletter:
Examining the art of foreshadowing, with examples in literature and suggestions for your own work.
Browse our updated course calendar through mid-March.
Join our Facebook group and share your craft with us, and find us on Instagram.
I hope you and yours are happy, healthy, and well.
—Fred
New Writing Tips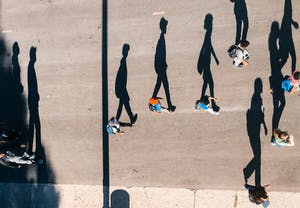 The subtle intricacies of foreshadowing in fiction.
Our Upcoming Courses

February Courses
with Susan Vespoli | 8 Weeks | $395
By studying the poems of Billy Collins, Ellen Bass, Natalie Diaz, and more, write stunning poetry in this generative writing circle workshop.
with Giulietta Nardone | 5 Weeks | $275
In a song inspired class, write several essays about the music that has moved you through life: the emotions, the relationships, the events, the outcomes.
with Rudri Patel | Single-Day Webinar | $89
Want to have a productive new year? Set up your bullet journal in this one day live workshop.
with Tess Fahlgren | 8 Weeks | $395
What are the different types of creative nonfiction? From the personal essay to the hermit crab, learn the ropes of CNF in this 8 week class.
with Kelly Bingham | 6 Weeks | $330
Picture books have changed greatly over the last few decades, and the market is wide open for fresh ideas. Join us in this six-week intensive where we'll take that idea of yours and turn it into a manuscript!
with Susannah Simpson | 6 Weeks | $330
Whether you're struggling with addiction, newly sober, or have been sober for years, the WriteRecovery program supplements the 12 Step program and supports recovering addicts on their path to sobriety.
March Courses
with Gloria Kempton | 8 Weeks | $395
It's an age-old art form—storytelling—and you can learn the craft.
with Marc Olmsted | Single-Day Webinar | $89
Haiku, Senryu, and other Japanese poetry forms encourage us to slow down and write mindfully. Learn how to write these forms in this meditative writing workshop.
with Nadia Colburn | Single-Day Webinar | $89
What is your story about? What is your voice? Whether you write poetry, fiction, or nonfiction, hone your writing in this 3 hour workshop.
with Jennifer Billock | 8 Weeks | $395
Do you collect cookbooks, love to cook, or religiously read anything about food? This course is for you. With award winning writer Jennifer Billock.
with Jessica Festa | Single-Day Webinar | $89
When planned right, a blog allows you to share your passion and make money in the process. Learn how to build a blog in this one-day webinar.
with Jeff Lyons | 5 Weeks | $325
The premise line is the only reliable tool that can tell you, BEFORE you start writing, whether or not your story will "work." In this class participants will learn how to master the process of premise line development—the essential first step in any book or screenplay's development process.
with Giulietta Nardone | 6 Weeks | $330
You'll write prose that gets folks so hot and bothered they won't be able to put it down, even if it isn't about sex.