New Inventory Arrived! New Styles are Slip Resistant, Cherry Red & Sapphire Blue in Stock
Email sent: Oct 18, 2020 11:25am
Our Men's Jet Black is SLIP RESISTANT and in stock today! We also received some of our new women's styles AHEAD of schedule! ‌ ‌ ‌ ‌ ‌ ‌ ‌ ‌ ‌ ‌ ‌ ‌ ‌ ‌ ‌ ‌ ‌ ‌ ‌ ‌ ‌ ‌ ‌ ‌ ‌ ‌ ‌ ‌ ‌ ‌ ‌ ‌ ‌ ‌ ‌ ‌ ‌ ‌ ‌ ‌ ‌ ‌ ‌ ‌ ‌ ‌ ‌ ‌ ‌ ‌ ‌ ‌ ‌ ‌ ‌ ‌ ‌ ‌ ‌ ‌ ‌ ‌ ‌ ‌ ‌ ‌ ‌ ‌ ‌ ‌ ‌ ‌ ‌ ‌ ‌ ‌ ‌ ‌ ‌ ‌ ‌ ‌ ‌ 
IN STOCK TODAY
Jet Black: Medium & Extra Wide Men's Style (Up to size 16) This style is Slip Resistant + New Women's Styles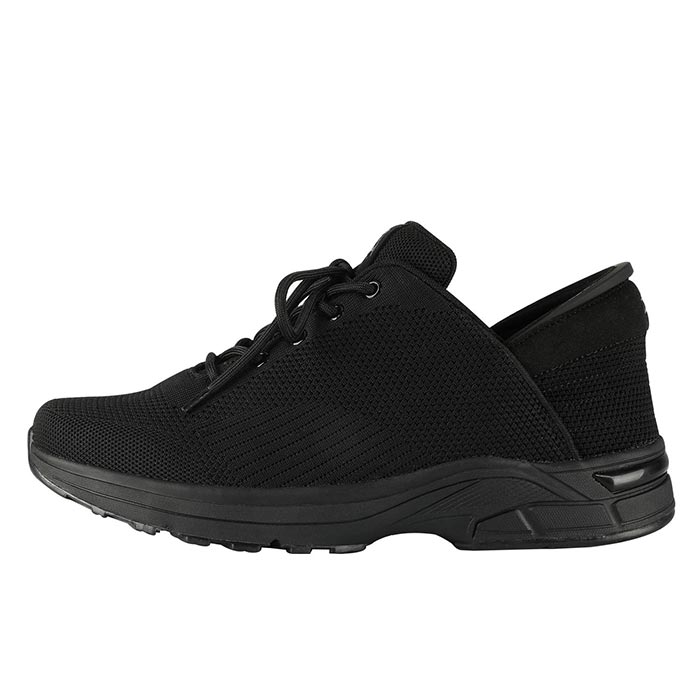 Jet Black is available in both medium and extra wide and is our only men's style available that's slip resistant. We've had a lot of customers ask us to make shoes that are slip resistant and we've decided to make all of our new styles slip resistant. So our upcoming women's Sapphire Blue and Cherry Red will also be slip resistant!
We've also received some Sapphire Blue and Cherry Red inventory ahead of our initial estimates! The extra wide Cherry Red is available TODAY and will be shipped right away. Sapphire Blue in Medium is available in most sizes today as well. We should get ALL sizes / widths in stock for these 2 new ladies styles towards the end of the month. These 2 styles are also slip resistant! Both of these 2 women's styles will be available in Medium and Extra wide.
Most of our Sapphire Blue in medium widths are available today! Sapphire Blue is a women's style
All of our Cherry Red in extra wide are available today! Cherry Red is a women's style.
We also received some more Steel Onyx today, so all of our Steel Onyx sizes are in stock today for quick shipment (both Medium and Extra wide are all in stock)
We're working on expanding our physical footprint and are actively looking to lease a retail space in Las Vegas, NV both as a distribution point and as a physical store! Expect an announcement in the near future!
We're still working on a dress shoe and have gone through several prototypes already. We want to make sure our dress shoe is excellent before taking orders on it so we're taking our time with it. We plan to offer it early to mid 2021. 
If you have any questions or comments please contact us at [email protected]
Zeba Shoes © 2020. All rights reserved.
Zeba Shoes, 178 Arundel Road, Paramus, NJ, 07652, US
You are receiving this email because you opted in at our website. Don't want to receive further emails? Unsubscribe 


Other emails from Zeba Shoes
Dec 23, 2020

Zeba - Thank You so much for Your Business and Support in 2020. We Have a Request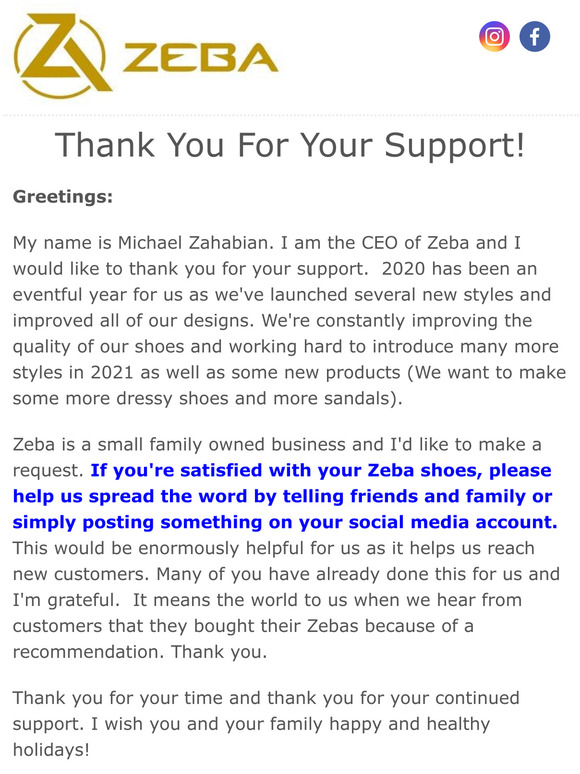 Shop without the noise.
Get our free newsletter of hand-picked sales you need to hear about from the web's best brands.