New Women's Medium & Wide Style
Email sent: Aug 27, 2020 9:55am
Introducing Cherry Red - a new Red & Black women's Zeba Shoe available in both extra wide and medium! ‌ ‌ ‌ ‌ ‌ ‌ ‌ ‌ ‌ ‌ ‌ ‌ ‌ ‌ ‌ ‌ ‌ ‌ ‌ ‌ ‌ ‌ ‌ ‌ ‌ ‌ ‌ ‌ ‌ ‌ ‌ ‌ ‌ ‌ ‌ ‌ ‌ ‌ ‌ ‌ ‌ ‌ ‌ ‌ ‌ ‌ ‌ ‌ ‌ ‌ ‌ ‌ ‌ ‌ ‌ ‌ ‌ ‌ ‌ ‌ ‌ ‌ ‌ ‌ ‌ ‌ ‌ ‌ ‌ ‌ ‌ ‌ ‌ ‌ ‌ ‌ ‌ ‌ ‌ ‌ ‌ ‌ ‌ ‌ ‌ ‌ ‌ ‌ ‌ ‌ ‌ ‌ ‌ ‌ ‌ 
INTRODUCING
Cherry Red: A New Medium & Extra Wide Women's Style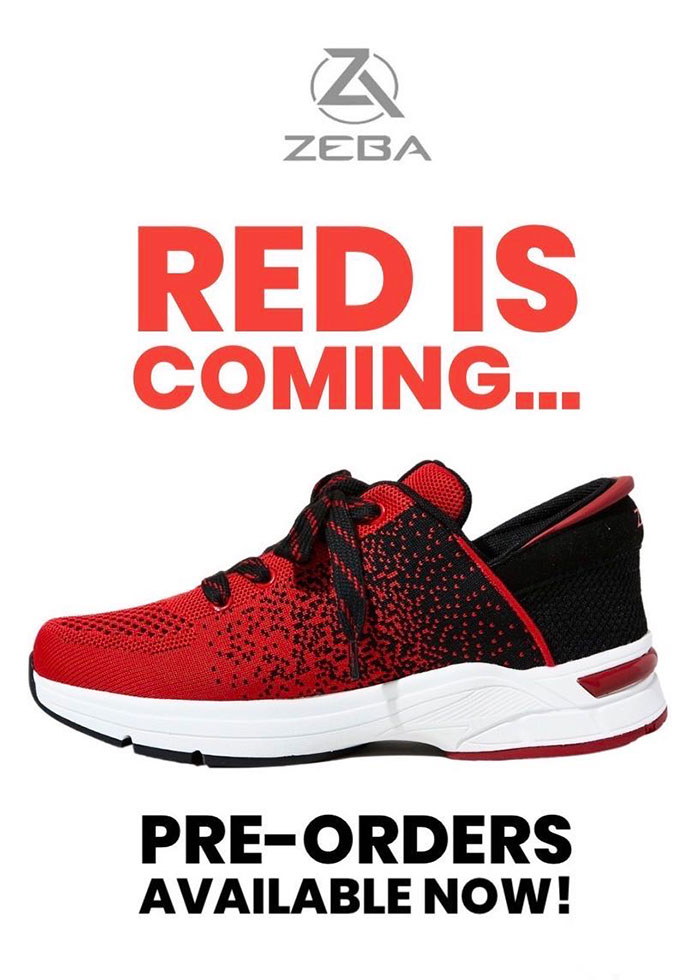 Cherry Red will be available in both medium and extra wide! This style is available as a pre-order and will ship out in early November. Our first production run is limited, so reserve yours today! (As with all backorders on ZebaShoes.com, you'll be billed right away, but can cancel anytime by contacting us). Both Cherry Red and Sapphire Blue are expected to ship out in early November.
We've now shipped out over 36,000 shoes! Thank you so much for your continued support. As always, we really appreciate you taking the time to write a review on our website and posting about us on social media. Word of mouth is our #1 way to find new customers, so if you'd like to help us out tell your friends about your Zeba shoes!!
Our men's Jet Black production is running slightly ahead of projections! Our original estimate was to have it shipped in late October and while we're keeping that as our estimate on the website, we hope to get it out a bit sooner!
All orders for in stock products are getting shipped out quickly. Orders to our customers in the U.S. are usually shipped out the next business day and arrive in just 4 days after shipment via Fedex.
If you have any questions or comments please contact us at [email protected]
Zeba Shoes © 2020. All rights reserved.
Zeba Shoes, 178 Arundel Road, Paramus, NJ, 07652, US
You are receiving this email because you opted in at our website. Don't want to receive further emails? Unsubscribe 


Other emails from Zeba Shoes
Dec 23, 2020

Zeba - Thank You so much for Your Business and Support in 2020. We Have a Request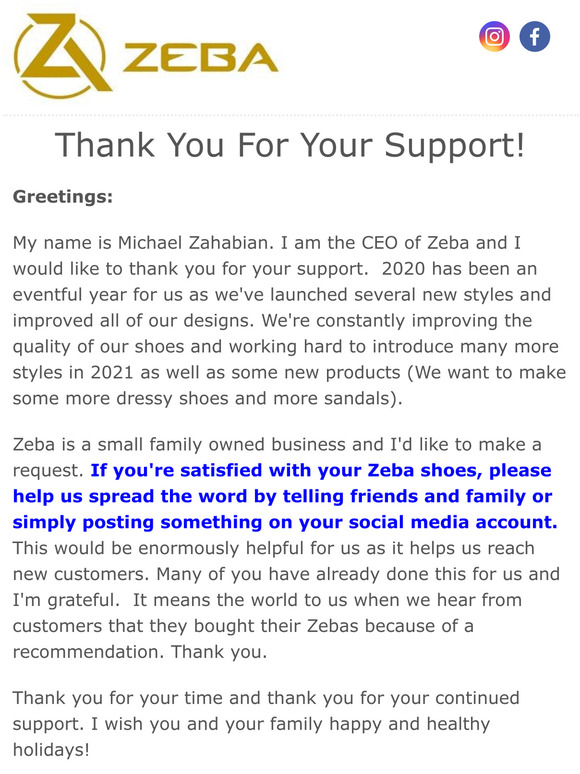 Shop without the noise.
Get our free newsletter of hand-picked sales you need to hear about from the web's best brands.