"This is the antichrist"
Email sent: Jul 10, 2019 6:53pm
We welcome their hatred.

The billionaire class and financial establishment of this country have made it clear: they hate Bernie Sanders. That's how you know we're on the right track. Make a contribution to our campaign to help us fight back.
Friends -
Look at this crew:
Kenneth Langone, a man worth $3.7 billion dollars yet pays his workers so little many rely on food stamps, Medicaid, and public housing says, "I saw Bernie Sanders and the kids around him." I thought: "This is the antichrist."
Or the former CEO of Verizon, Lowell McAdam, who made almost $20 million a year while fighting to take away health care from his employees and thinks Bernie's views on issues like Medicare for all are "in a word, contemptible."
Billionaire political mega-donor Haim Saban who says, "We love all 23 candidates… minus one. I profoundly dislike Bernie Sanders."
Or Lloyd Blankfein, the former CEO of Goldman Sachs, who says our campaign "has the potential to be a dangerous moment."
We are dangerous!?!?!? Lloyd Blankfein's company almost completely destroyed the WORLD economy and wiped out generations of wealth, and we are dangerous?
Like FDR says, Bernie welcomes their contempt. We wear it like a badge of honor. But these people are enormously powerful, and we need your help to fight back:
Make a $2.70 contribution to our campaign and we are going to win this primary, beat Donald Trump, and transform this country — whether the billionaire class likes it or not.
The truth is, Bernie does not represent large corporations and he does not want their money. He proved in 2016 you can run for president without begging rich people for money and in this campaign we have more donations than anyone else in the race.
But we can't stop now. Because the rich folks above will do and spend whatever it takes to beat us.
In solidarity,
Faiz Shakir
Campaign Manager


Paid for by Bernie 2020

PO BOX 391, Burlington, VT 05402
This email was sent to -. If you need to, unsubscribe here. You can also sign up to receive fewer emails. We hope you'll stay, because emails are such an important part of how we organize and how we raise money. In fact, there is no single greater source for our campaign's fundraising than emails like this one. And that's important, because no one person, not even Bernie Sanders, can take on Trump and the billionaire class alone.


Before you go about the rest of your day, help power our fight against the billionaire class by making a contribution today.
Submit this form to update your contact information.

Other emails from Bernie Sanders 2020
Oct 14, 2021

Enclosed: my Fox News op-ed and a request for your $2.70 contribution to show we're in this together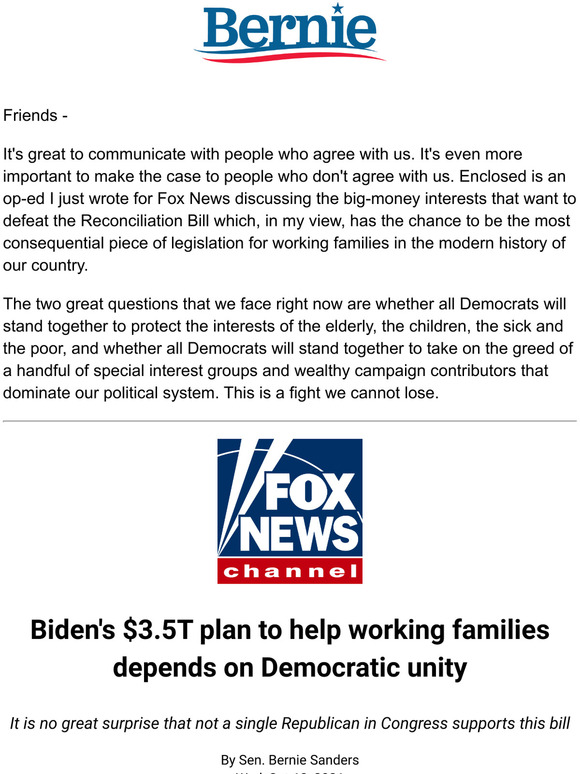 Oct 11, 2021

I'm writing to ask if you can make a $2.70 contribution to help India Walton win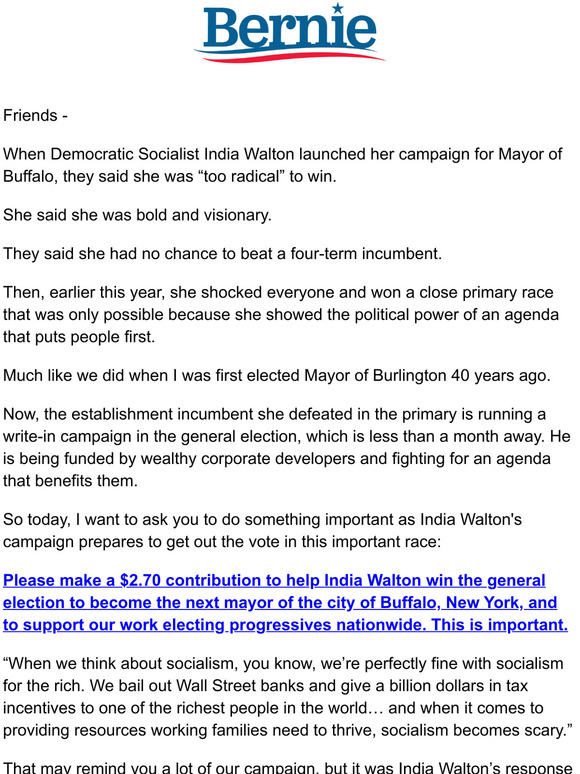 Oct 5, 2021

Can you call your Senators and House member to say you support the $3.5 trillion Reconciliation Bill, and then contribute $2.70 to stand with me in passing the most significant legislation in the modern history of this country?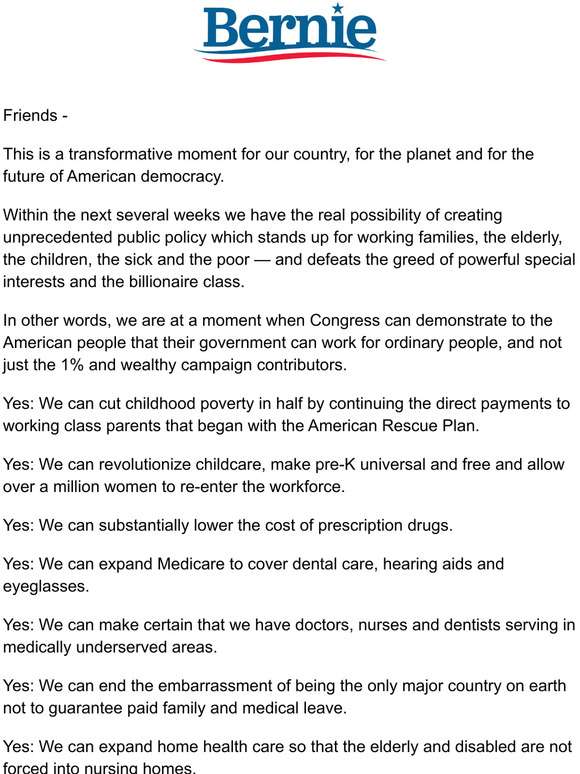 Sep 29, 2021

I am writing to share my op-ed for USA Today, and to ask you to chip in $2.70 to send a powerful message to my colleagues in the Senate that our movement is united on the $3.5 trillion reconciliation bill. This is important.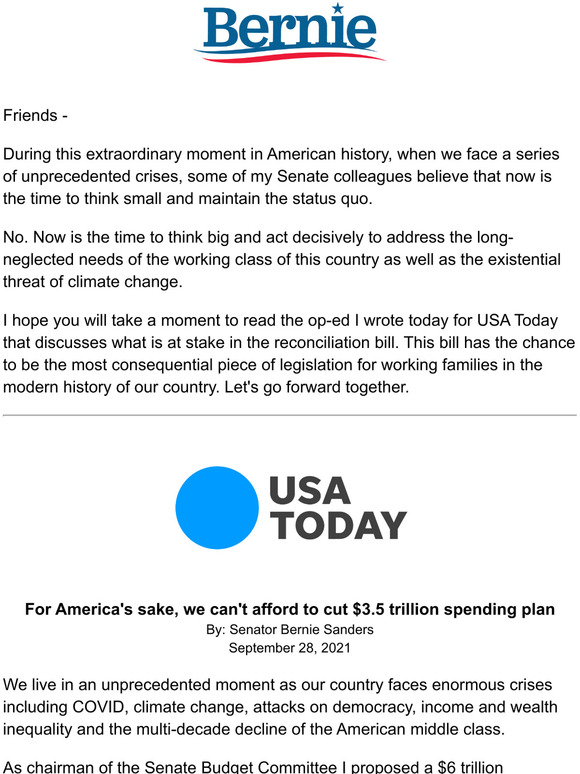 Sep 24, 2021

Sign my petition tell Congress to expand Medicare to offer hearing, dental, and vision for our nations seniors and pay for it by allowing Medicare to negotiate drug prices like every other major country on earth.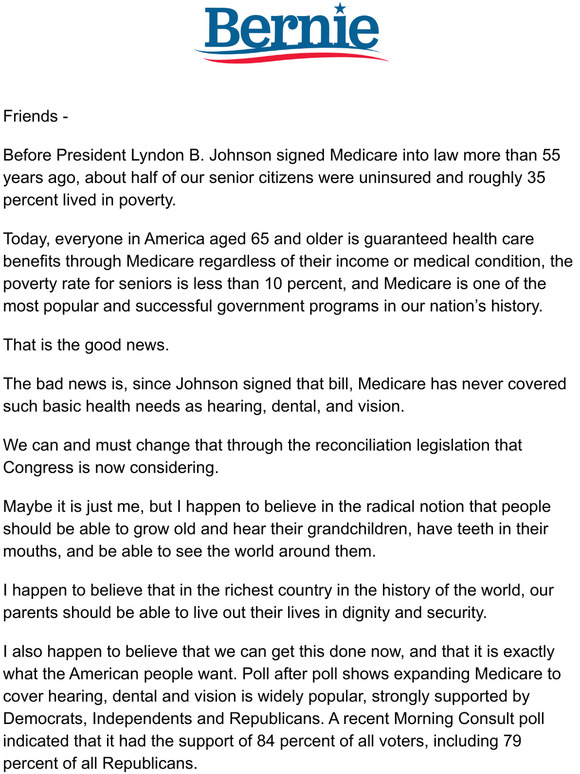 Sep 21, 2021

Nothing will happen if we look at this reconciliation process as a spectator sport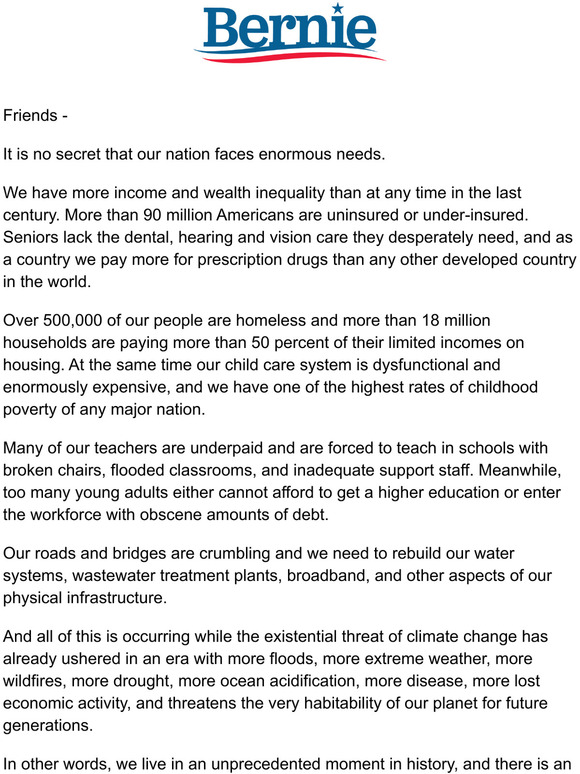 Shop without the noise.
Get our free newsletter of hand-picked sales you need to hear about from the web's best brands.