Our Favorite Collaborations Are Back + A Fall Giveaway
Email sent: Oct 10, 2021 11:14am
OUR FAVORITE COLLABORATIONS ARE BACK FOR A LIMITED TIME 💥
We're so lucky to get to work with amazing chefs, bakers, distillers, preservers and even soap makers across the country, and every so often, we get the opportunity to collaborate with them.
Our collaborations are a chance for us to see our spices at work in the hands of a food maker that shares a similar set of values to us — using well-sourced ingredients, supporting their community, and making food that is so, so good that it makes us stop whatever we're doing and savor the moment.
To celebrate our 5th anniversary, we brought back three of our favorite collaborations, and we are going to re-introduce you to some of our other favorites.
They're all available on the site, and they won't last long!
ENZO'S AUTUMN SPICE ALMOND BUTTER 🍁
We first collaborated with Enzo's Table to make this Autumn Spice Almond Butter for our inaugural Spice Club shipment last fall. The feedback was so good that we brought back this warmly spiced almond butter and made it available to all!
This almond butter is made by the Ricchiuti family, who have spent four generations building their farm to sustainably grow and harvest exceptional nuts, fruits and olives. Best known for their award-winning, single-estate Enzo olive oil, they also make an incredible almond butter with almonds grown in their orchards in the San Joaquin Valley in California.
After being harvested, raw almonds are lightly toasted, ground and spiced with a handmade blend of our Royal Cinnamon, New Harvest Turmeric, Sweet Allspice, Buffalo Ginger and just a touch of sea salt. The result is an intoxicating almond butter that is wonderful on toast, in smoothies or in pastries or cookies.
MILU CHILI CRISP 🌶
Our chili crisp collaboration with Milu is one of our most popular collaborations ever, and it's been hard to keep in stock. Good news for you: we've just gotten our hands on a fresh batch!
We first met Chef Connie when she was the sous-chef at the three-Michelin-starred Eleven Madison Park, and she helped get our spices on the menu.
When New York was shut down due to the pandemic, Connie and her partners worked to get Milu, a casual eatery inspired by historic Hong Kong–style cafes, up and running. She knew that she wanted to feature a housemade chili crisp, and we were beyond excited to collaborate.
The resulting chili crisp is a toasty, umami-rich and highly spiced sauce with a gentle heat provided by a mix of chilis, including our Black Urfa Chili, Silk Chili and Cobanero Chili Flakes. The addictive crispy bits are fried onion and garlic, preserved black bean and Connie's secret ingredient, toasted soy nuts. You'll be hard-pressed to find something that isn't made better by this delicious sauce.
*ORDERS CONTAINING THE CHILI CRISP WILL SHIP BY THURS 10/14* 
BRINS LEMON SAFFRON MARMALADE 🍋
We can't help it! We just love this BRINS Lemon Saffron Marmalade — so much so that we are joyfully revisiting this undeniably delicious collaboration.
BRINS was started by architect Candice Ross. Through her extensive travels, Candice came to see the powerful connection between flavor, place and home. She started BRINS to capture that connection and infuse it into her preserves, which are expertly made in small batches from whole fruits and other sustainably sourced ingredients.
For this marmalade, thinly sliced California Lisbon lemons are slowly simmered with our Herati Saffron. Because it uses less sugar than a typical marmalade, this tart preserve makes a perfect addition to a cheese plate, adds a delicious element to a sandwich, or in a savory marinade.
COLLAB ROUNDUP 👯‍♂️
Since we're talking collaborations, let's go through a few of our favorite collaborations all in stock for a limited time.
WILD ICELANDIC KELP SOAP
Yes, we made a spiced soap. Artisan soap company TREE*STAR added our Wild Icelandic Kelp Flakes as an exfoliating element into their all-natural, super-fatted soap. The result is a luxurious lather that will leave your skin feeling softer than an otter's pelt. There are no added fragrances, colors, foaming agents or anything artificial.
COBANERO CHILI HOT HONEY
We partnered with the Clif Family Winery to bring you Cobanero Hot Honey. The honey comes from hives on the solar farm that offsets the energy used by the Clif Bar Bakery. After the honey is harvested, it's infused with our Cobanero Chili Flakes for two weeks. The result is a beautifully balanced, spicy honey that belongs on cheese plates, drizzled on pizza, or used in a glaze for a holiday ham or baked sweet potatoes.
RUNAMOK MAPLE SYRUP
Our friends at Runamok Maple produce some of the very best maple syrup. We couldn't decide between Royal Cinnamon or Star Anise–infused syrup, so we decided to make both!
We love these syrups poured over pancakes (how could we not?), but they are also wonderful drizzled onto vanilla ice cream, served with a big slice of apple pie, or used as a spiced sugar substitute.
BARREL-AGED VANILLA BITTERS
These barrel-aged bitters were crafted using our Nyanza Vanilla by award-winning makers El Guapo Bitters. After brewing, the bitters were aged in freshly emptied rum barrels. The result is a versatile, slightly sweet bitters with notes of sarsaparilla and nutmeg. We love it in an old fashioned, dropped into a glass of sparking water, or baked into cookies and brownies.
JAMAICAN NO. 2 BITTERS
These bright and cheery bitters were made in collaboration with our friends at Milwaukee-based Bittercube. The grapefruit and hibiscus overtones make it the perfect bitters for a daquiri or mojito, and the lingering aroma from our Sweet Allspice lends enough depth to make a lovely Manhattan. Even better? The bitters come with a recipe booklet chock full of alcoholic and non-alcoholic drinks.
SNICKERDOODLE COOKIE MIX
Win the dinner party by showing up with these soft, chewy snickerdoodle cookies. Oh, and they're vegan AND gluten-free. We partnered with Renewal Mill and 5x James Beard Award–winning cookbook author Alice Medrich to put together this incredible cookie mix. The secret is the okara flour, an upcycled, gluten-free flour made from soybean pulp. Our Royal Cinnamon adds a sweet and spicy kick to these delightfully chewy cookies.
EMMA'S TORCH SPICED NUTS
Cashews, pecans and almonds are roasted with nine different Burlap & Barrel spices, including Smoked Pimenton Paprika, Royal Cinnamon and a touch of Cobanero Chili Flakes. This blend was made in collaboration with Emma's Torch, a non-profit restaurant and catering company in Brooklyn, NY that provides culinary education and job placement for refugees and asylum seekers.
B&B + LITTLE APPLE TREATS GIVEAWAY!
To celebrate our Sour Apple Caramel collaboration with Little Apple Treats, we're giving away some essentials for your fall cooking pleasure. 
Little Apple Treats is as meticulous about sourcing as we are, and they make all of their incredible caramels, vinegars, shrubs and granolas from apples grown in their generations-old orchards.
The giveaway winner receives:
Giveaway ends Thursday 10/14 at midnight PST. One winner will be chosen. Must live in the US. Good luck!!
Want more spicy goodness?
Hi, it's Ori, co-founder of Burlap & Barrel.
I write our newsletters along with my fellow co-founder Ethan.
🌱  Learn more about Burlap & Barrel
 🍳  Find recipes on our Spice Forum
🎒  Follow our adventures on Instagram
 🎧  Cook along to our Spotify playlists

Questions? Feedback? Ideas? 
We love to hear from you. Just reply to this email.

Other emails from Burlap & Barrel
Nov 14, 2021

New Collab with Alicia Kennedy + Fall Spice Club Reveal (Lots of New Spices!)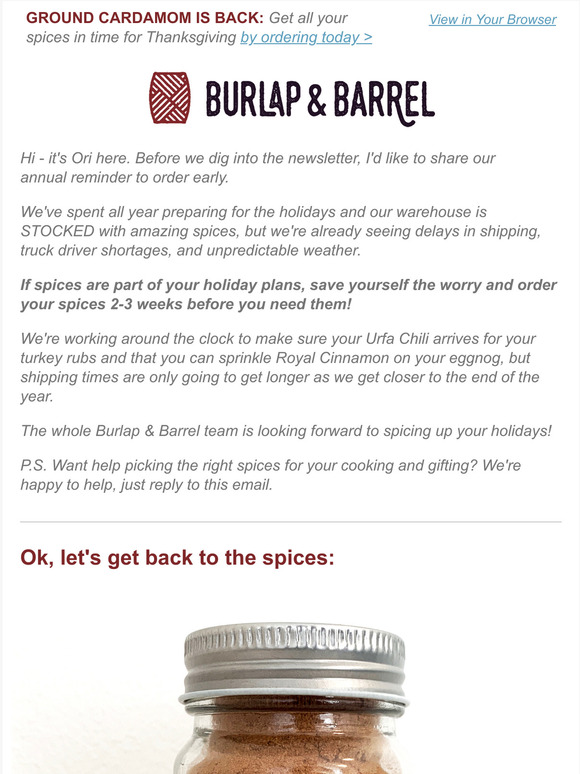 Nov 7, 2021

New: Red River Coriander & Lucknow Fennel + A Hot Cocoa Collab + 3 Malaysian Blends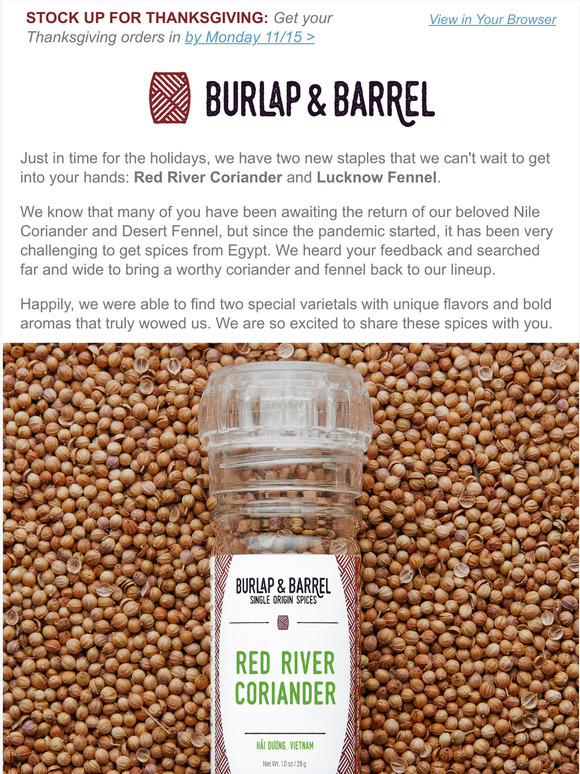 Oct 31, 2021

3 New Floyd Cardoz Masalas + 3 New Spices + 5th Anniversary Deals Extended Until Nov 2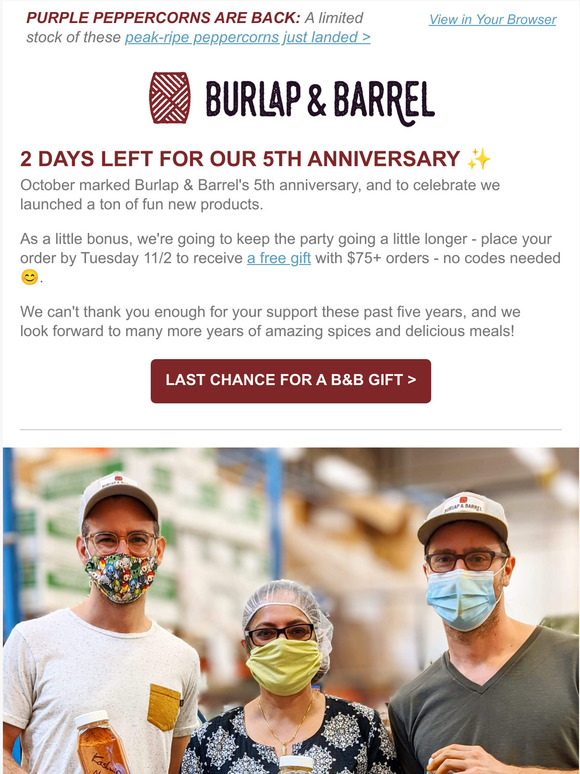 Shop without the noise.
Get our free newsletter of hand-picked sales you need to hear about from the web's best brands.