FAMILY: Can I help my kid become a creative genius?
Email sent: Mar 21, 2021 1:06pm
| | |
| --- | --- |
| | Sunday, March 21, 2021 |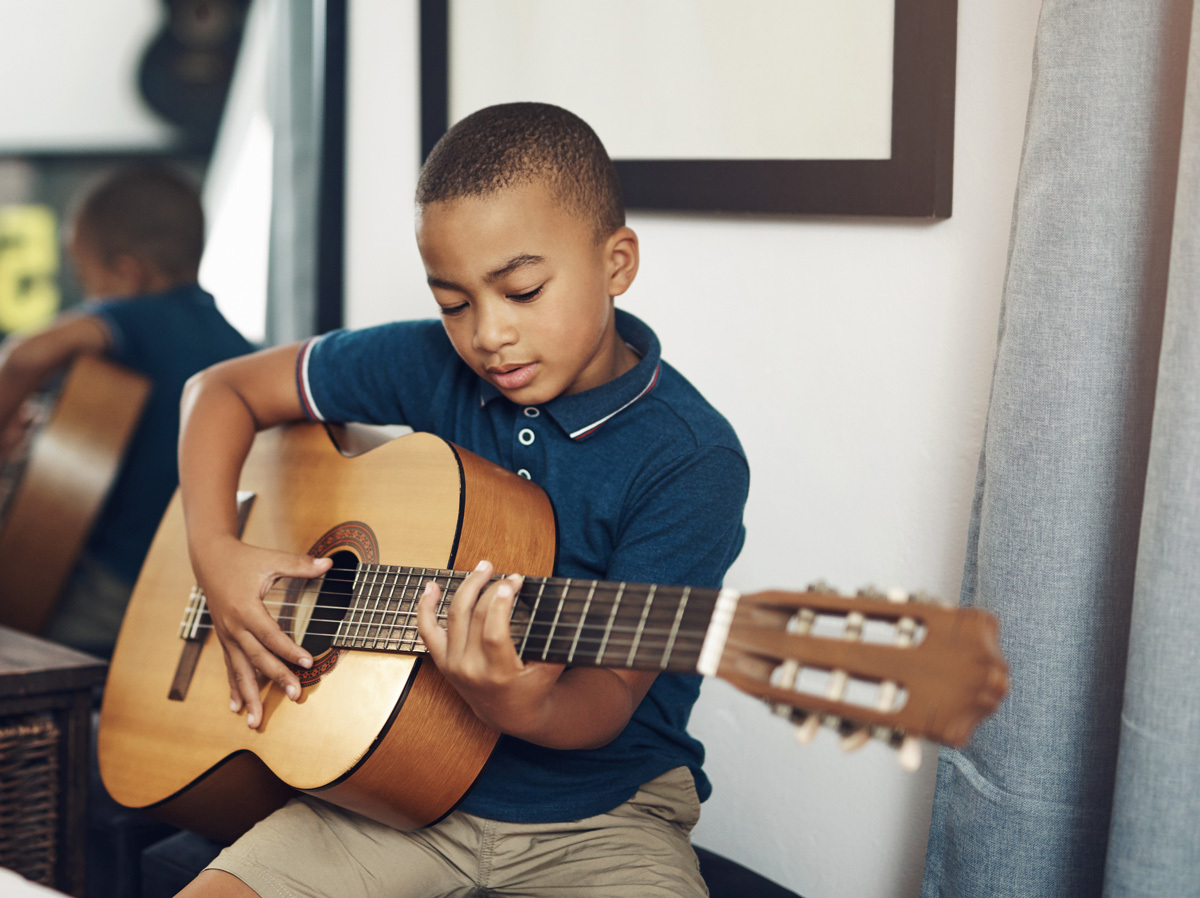 PHOTOGRAPH BY PEOPLEIMAGES / GETTY IMAGES

By Rachel Buchholz, KIDS AND FAMILY Editor in Chief

My parents indulged many fleeting obsessions that my sister and I insisted would become lifelong passions. Guitar, macrame, oil painting, cross-stitch. Stamps, tap dancing, model planes, parakeets. (Oh, that poor parakeet.)

It must've been frustrating to feel like Parents of the Year who enthusiastically supported their daughters' interests, only to watch those interests turn into money-sucking whims that disappeared as quickly as an unattended parakeet being stalked by the family cat. (Again, apologies to the parakeet.) But maybe they'll feel better knowing that parents who indulge their kids' obsessions might actually be contributing to a child's development into a genius.

Experts agree that no one is born a genius. As Michelle Z. Donahue writes in this Nat Geo article, a genius is an adult who pulls from their extensive knowledge base to make brilliant new connections that changes their field—or the world—whether it's in science, art, sports, or whatever. That knowledge base needs time to develop. But often it starts with a childhood obsession. (Have kids take this personality quiz to find out which genius they're most like.)

"Most people who end up being 'geniuses' did not show up as anything exceptional as children," says gifted-education researcher and psychologist Dona Matthews. "It develops over time—people find their area of passion and follow it." (Watch how Aretha Franklin's genius developed over her lifetime in the new Nat Geo series Genius: Aretha, premiering tonight.)

And though artistic and musical geniuses are usually thought to own creativity, Matthews argues that because genius involves creatively making new connections, anyone who's considered a genius is also therefore creative. That's why when parents encourage creativity in their children, they might be helping them develop traits that can turn an obsession into a lifelong passion, which could one day change the world.

"Childhood passions can be really meaningful, and people can have really strong interests as kids that shouldn't be disregarded as a mere hobby," says Claudia Kalb, author of Spark: How Genius Ignites, From Child Prodigies to Late Bloomers. "If they have a passion that strong, they'll work hard at it." (Tell us what hobby your child is obsessed with right now.)

So indulge those seemingly frivolous obsessions. Ask questions—"Uh, why'd you paint a flying octopus in that green sky?"—to understand their thinking. Allow them to be bored. Allow them to fail. (Here are other ideas to spark your child's creativity and passion.)

My sister and I didn't turn out to be geniuses (no matter how much my parents—and maybe my sister—disagree). But the obsessions we did stick with as children—the ones my parents continued to blindly support—helped us develop into successful adults. Thankfully, they had nothing to do with doomed parakeets.

If you want to get this newsletter every week, sign up here. If you want your children to get Nat Geo Kids or Nat Geo Little Kids magazines, subscribe here.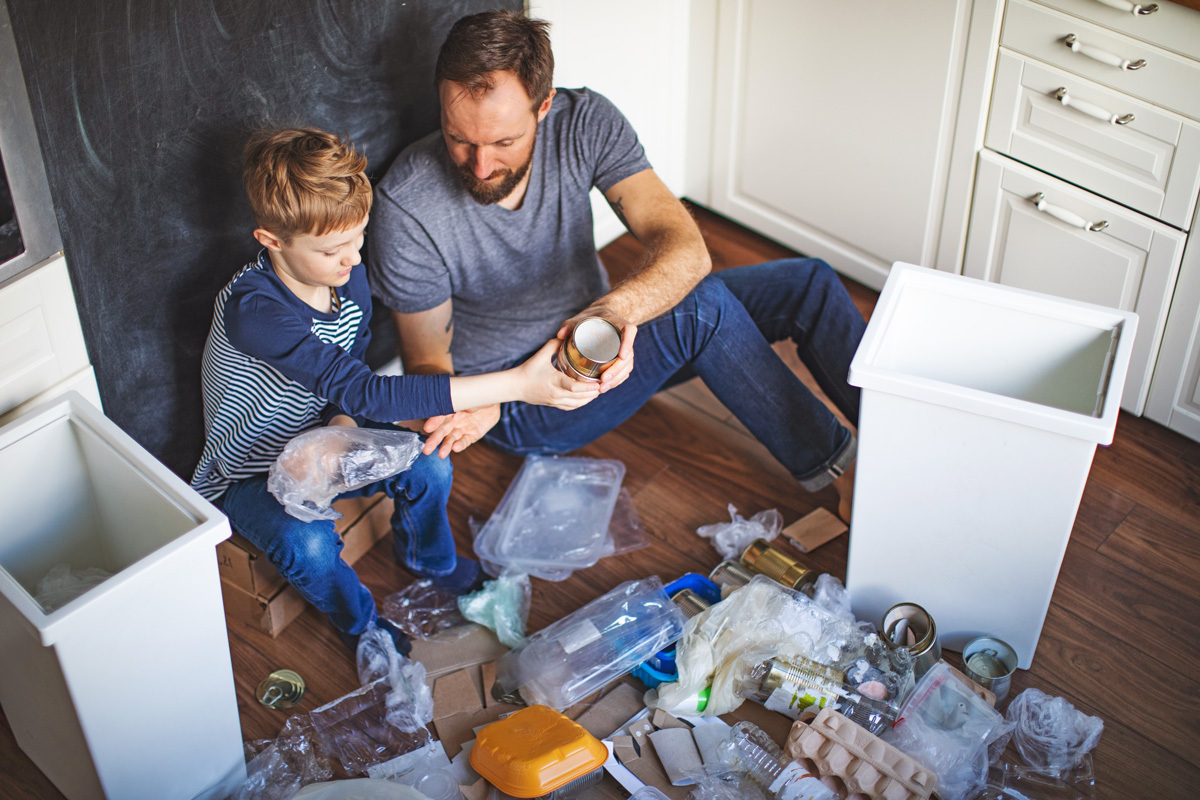 PHOTOGRAPH BY YULKAPOPKOVA / GETTY IMAGES
Trash talk. What's grosser than pawing through your kitchen garbage with your kids? Knowing that if we continue tossing nearly five pounds of trash a day, all operating U.S. landfills will be full in 62 years. But a trash audit—getting up-close-and-personal with an analysis of your family's garbage—can help children make the connection between the waste that disappears once the garbage lid closes and the impact it has on the environment. "Once kids see the dozen single-use plastic birthday cups they begged Mom for now heading to the landfill, they may choose to opt for reusable glasses next time," says Mary DeMocker, author of The Parents' Guide to Climate Revolution. Here's an easy step-by-step guide on doing a trash audit with your kids (as well as a less messy option). Or take our virtual trip through a recycling center, with cool Richard Scarry-like illustrations. Or teach them more about waste in the Nat Geo Kids book This Book Stinks!

Another hate crime? Usually, I don't like to repeat article recommendations too close together in this newsletter, but the widespread concern that last week's Atlanta shootings that killed six Asian women were racially motivated—at a time when hate crimes against Asian Americans are surging—changed my mind. This article on talking to kids about xenophobia can help parents answer questions—though I hope this is the last time that I need to include this article for a while.

We asked, you responded. Last week we wanted to know where your family would go on spring break if you could go anywhere, and it sounds like parents are ready to totally get away. From beach locales like Costa Rica and Anguilla, to old college haunts like Oxford, to historical journeys in Italy, Ireland, and Machu Picchu, families are itching to explore the world again. Then again, some of us likely need a spring break from our families—one reader is thinking about Acadia National Park, all by herself.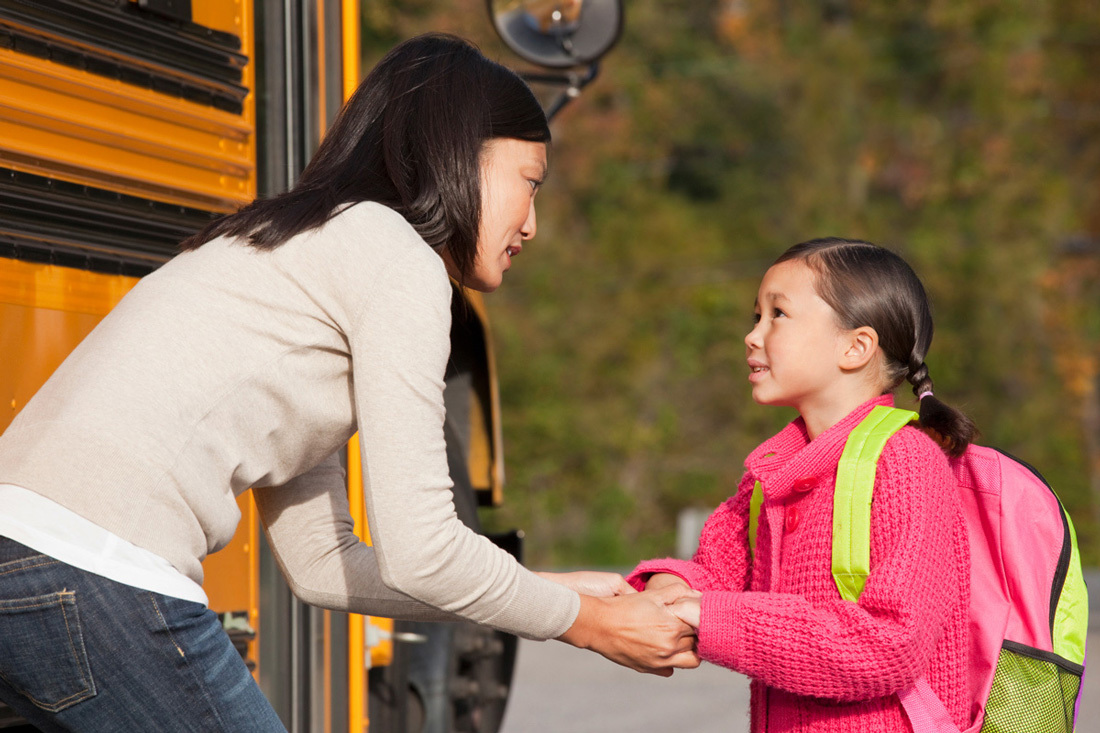 PHOTOGRAPH BY ARIEL SKELLEY / GETTY IMAGES
Cutting those pandemic cords. Most parents I know are practically shoving their kids out the door as more and more schools reopen for in-person instruction. But not all children are as equally excited. After a year of having parents around 24/7 and being told that large gatherings in enclosed spaces aren't always safe, children are understandably nervous about going back to school. "Kids are resilient but that doesn't mean they're going to be happy right away," says clinical psychologist Kate Gibson. Check out these expert tips on mitigating separation anxiety, helping kids feel safe, and getting over the transition.

Family discussion: In parts of the United States, it's about to get loud outside. Real loud. Do your kids know about cicadas? Or the sound they make when billions of them come alive at the same time? Here's our guide on the wildly chirping insects, which will hit the mid-Atlantic region with a once-every-17-years infestation for a few weeks this spring.
TRY THIS: BOREDOM BUSTERS FOR KIDS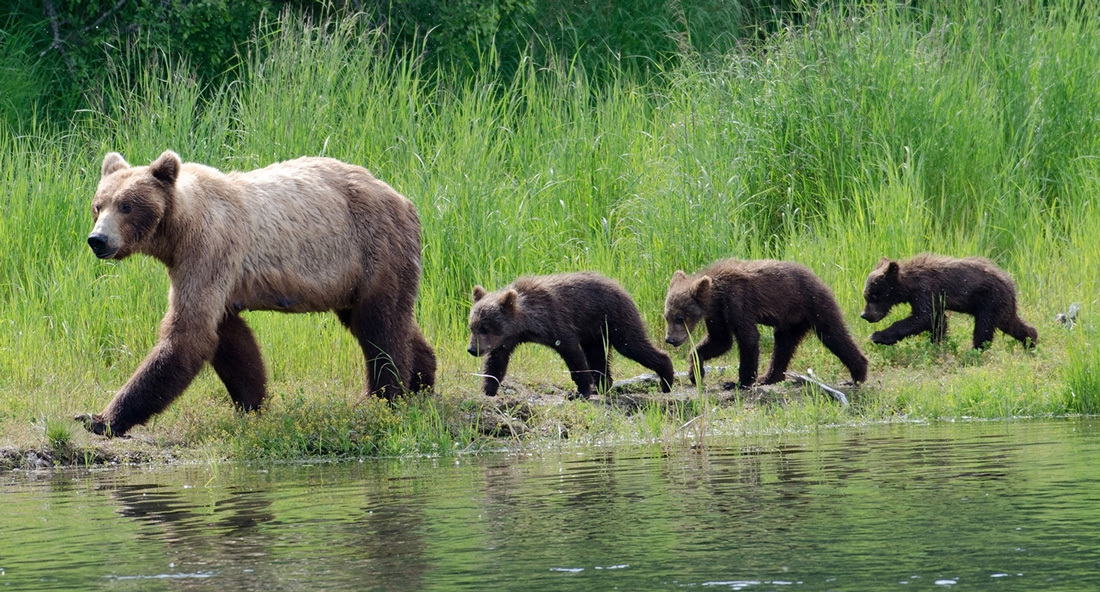 PHOTOGRAPH BY TONY CAMPBELL, DREAMSTIME

Glug, glug! Tomorrow is World Water Day, a day to emphasize the importance of clean water around the world. Get kids started with videos, personality quizzes, and games, then introduce them to animals that depend on clean water to live, such as sea turtles, river otters, and brown bears (above). Teach them about the water cycle, or show them five reasons why water is so awesome. Let them gawk at this photo gallery of weird-looking waterways, or challenge them to build their own water filter.

Happy Spring! Whether you adopt a plant, create a treasure hunt, or photograph nature, there are plenty of ways to have outdoor family fun no matter where you live. Search for more free, fun ideas to explore the wonders of the world with the National Geographic Education Resource Library.

This newsletter was edited and curated by David Beard and Rachel Buchholz. Monica Williams and Kimberly Pecoraro helped produce this. Have a healthy and a sane (as possible) week ahead!

| | |
| --- | --- |
| | SHARE YOUR THOUGHTS |
| | |
| --- | --- |
| | We'd like to hear from you! Tell us what you think of our emails by sharing your feedback in this short survey. |
Clicking on the Facebook, Twitter, Instagram, and National Geographic Channel links will take you away from our National Geographic Partners site where different terms of use and privacy policy apply.

This email was sent to: -. Please do not reply to this email as this address is not monitored.

This email contains an advertisement from:
National Geographic | 1145 17th Street, N.W. | Washington, D.C. 20036

Stop all types of future commercial email from National Geographic regarding its products, services, or experiences.

© 2021 National Geographic Partners, LLC, All rights reserved.
Other emails from NationalGeographic online store
May 5, 2021

Don't Wait - Subscribe to Nat Geo Today, Starting at $2.99/month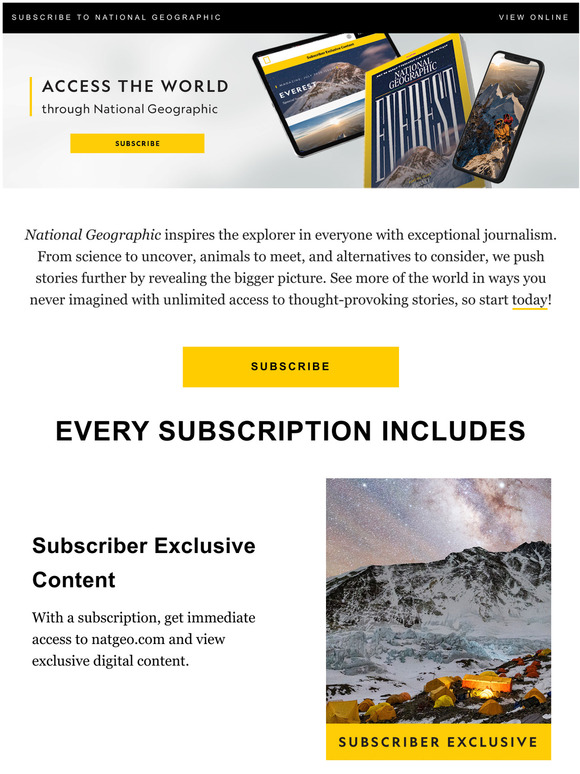 May 5, 2021

YOUR WEEKLY ESCAPE: The face that changed the human story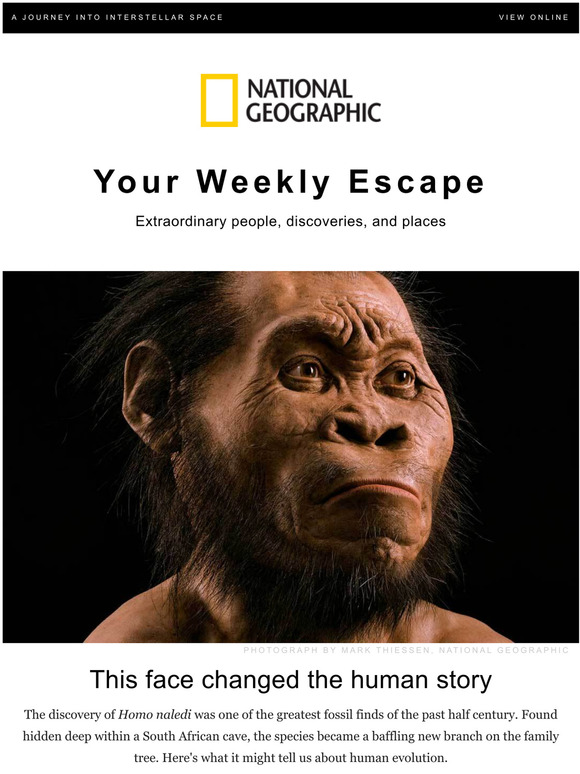 May 5, 2021

SCIENCE: What the oldest African burial tells us about ourselves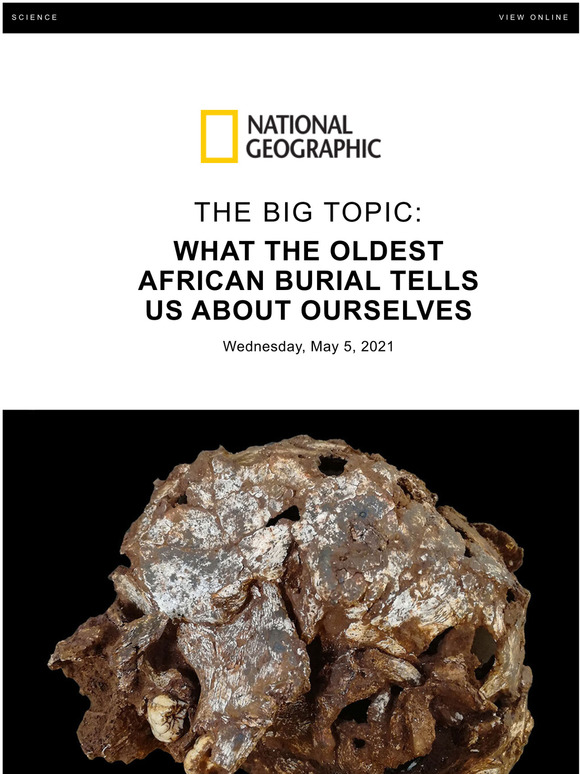 May 4, 2021

Subscribe to Nat Geo HISTORY to meet rule-breakers from the past who changed the world!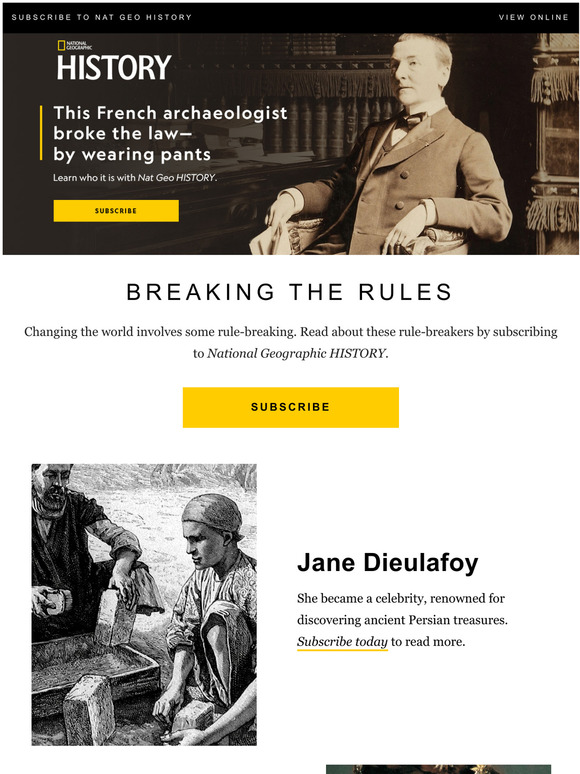 May 4, 2021

PLANET POSSIBLE: Can more nuclear energy create a greener future?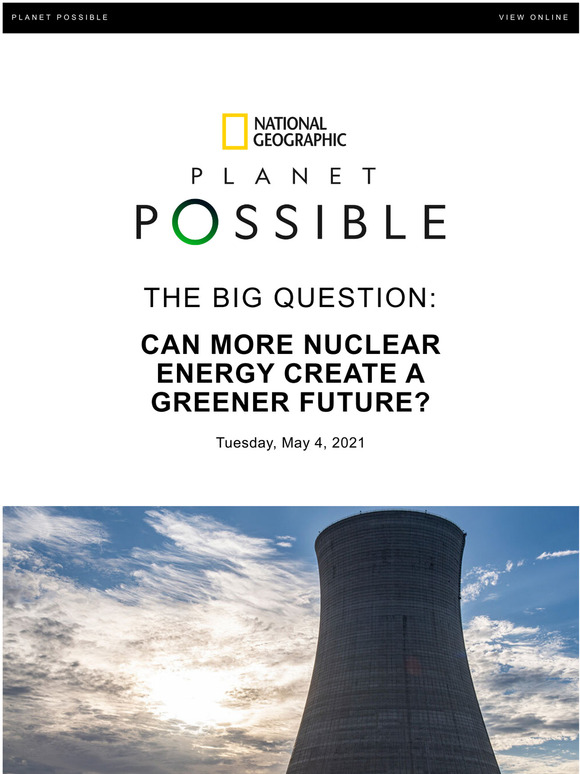 Shop without the noise.
Get our free newsletter of hand-picked sales you need to hear about from the web's best brands.