A Note From Our Editor: Six Words About Race
Email sent: Jun 6, 2021 6:05pm
One hundred years ago a white mob destroyed Greenwood, a prosperous Black district of Tulsa, Oklahoma, in a two-day rampage of looting, burning, and shooting that killed as many as 300 people and left some 10,000 homeless. The attack on what's remembered as
Black Wall Street
is one of the worst acts of terrorism in U.S. history—and I'm embarrassed to admit that until recently, I'd never heard of it.
In many respects, the distance between 1921 and 2021 is enormous. So much about our country has changed, and that includes significant progress on extending equality and opportunity to all. And yet, in other ways and places, echoes of a segregated and hateful past remain, and all of us have reflected on the racial reckoning in the United States — ongoing and far from resolved.
National Geographic
has been covering the human journey since its founding in 1888. Through the years, the mission has been much the same: to observe the world's people and cultures, to shed light on the human experience—and to show how much more alike we are than we are different. But only in the past several years have we directly tackled the topic of race. Through this work, we try to both move
the conversation forward, and highlight compassion, understanding and progress. In that spirit, today we again turn our focus to race. And we are asking you to get involved.

More than a decade ago, writer Michele L. Norris began the Race Card Project, in which she asked people to think about the word "race" and boil their thoughts down to six words. She expected few would respond. She was wrong. "I had no idea that what I was actually creating was a taproot that would carry me into people's most private spaces," she says. So far, more than 500,000 people have written six-word micro-essays about race, hailing from every state and about 100 countries and territories. Michele recently has brought the Race Card Project to the National Geographic Society, as a storytelling fellow. We'll support Norris in using a wealth of tools—audio, video, animation, cartography, photography, art, technology—to bring the project's archived
stories
to life. These aren't just binary conversations about Black and white people; this "quilt," as she describes it, pulls at all manner of cultural threads, from Latinos and Indigenous people to Asians and Iranians.
We invite you to add your thoughts about race and identity to the project. It's challenging to take a subject such as race and distill it into six words. We all have a lot of "
race cards
" inside of us, and no doubt they change with time and circumstance. I asked a friend who had participated in the project to share hers: "Only Black family in the neighborhood" was one of her race cards. "Suburban soccer mom. Doesn't fit narrative" was another.
So, what's my race card? This is a hard exercise, but reflecting on the difficult past year, on our fraught politics, and so many frank conversations I've had with friends and colleagues, for now I'll leave it at this: "White, privileged, with much to learn."

Here's how you can add your thoughts to The Race Card Project. Go to
theracecardproject.com
. Follow the prompts to add the six-word phrase that sums up your thoughts, experiences, or observations about race. Write more if you wish, and see the statements of others who've also come to share.

I hope you'll join us in this conversation — and as a
subscriber to National Geographic
.

Sincerely,

Susan Goldberg
Editor in Chief, National Geographic
Race Card: White, privileged, with much to learn.
Clicking on the Facebook, Twitter, Instagram, and National Geographic Channel links will take you away from our National Geographic Partners site where different terms of use and privacy policy apply.

This email was sent to: -. Please do not reply to this email as this address is not monitored.

This email contains an advertisement from:
National Geographic | 1145 17th Street, N.W. | Washington, D.C. 20036

Stop all types of future commercial email from National Geographic regarding its products, services, or experiences.

© 2021 National Geographic Partners, LLC, All rights reserved.
Other emails from National Geographic
Jul 26, 2021

Summer fun with Nat Geo Little Kids' Big Little Bundle - starting at $39/year.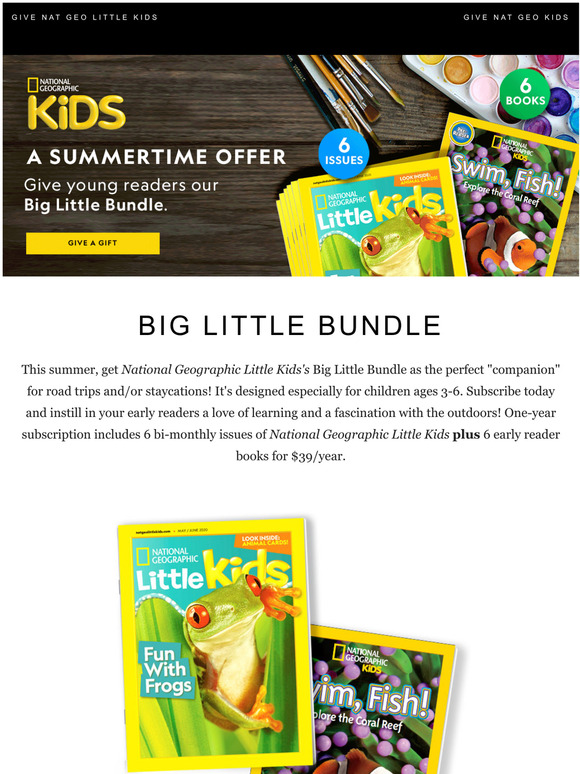 Shop without the noise.
Get our free newsletter of hand-picked sales you need to hear about from the web's best brands.