Your Invitation to be a Champion for the Armed Forces
This email was sent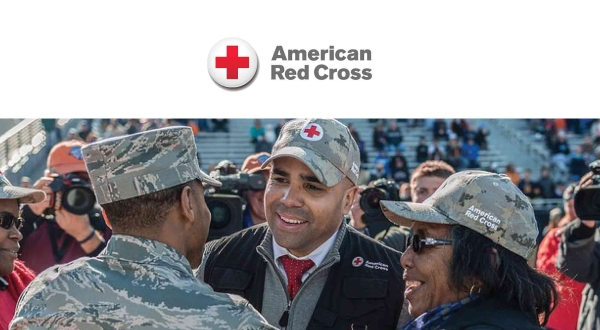 Will you be one of 100 new Champions to make an ongoing difference in the life of a service member by May 31?
Dear Friend,
Since the Civil War, our founder Clara Barton made it a cornerstone of the Red Cross to be there for the members of the military where and when she was most needed. As our military has been deployed around the world, this tradition has continued: We provide critical services with a caring touch, from the moment a member of the military joins the ranks, throughout their careers and long after they return home as veterans.
Friend, as a supporter of the Red Cross, I know that helping those in need is important to you. Thats why Im asking you to join a special group of Champions dedicated to supporting these services.
Make a monthly donation today and become a Champion for the Armed Forces. Your monthly support will directly fund the work we do for our greatest heroes.
Well send you a free Red Cross pin as our way of saying thanks.
Being a Champion for the Armed Forces is more than just making a simple gift. It means making a real, ongoing difference in the life of a service member.
Men and women in uniform, veterans and their families know they can turn to the
Red Cross
in times of needno matter where, no matter when. This is your monthly gift in action:
Provides

24/7

emergency

global communication

services to connect families even when loved ones are deployed.
Strengthens military families capacity to cope with the unique demands of military life by providing hands-on training, coping skills, and connections to local resources to support them.
Welcomes veterans and service members at medical facilities with kits of toiletries and other essentials.
Offers mental health support, material assistance, and rehabilitation therapy in partnership with Veterans Administration hospitals to help veterans and service members return to health faster.
Were grateful for the sacrifice and support of our service members. Would you consider joining us in support of our military as a Champion today?
Right now, we have a goal of 100 founding members to join our Champions for the Armed Forces. This dedicated group of supporters will help bring vital services to active U.S. service members and veterans all over the world.
Become a Champion for the Armed Forces and join us by Thursday, May 31.
Champion for the Armed Forces
and honor Americas warriors who came before, by serving those who stand to fight today.
Thank you,

Koby Langley
Senior Vice President,
Service to the Armed Forces
| | |
| --- | --- |
| | |
Subscribe | Contact Us | Privacy Policy

Staying in touch via the American Red Cross email list is the best way we have of keeping in regular contact with supporters like you, letting you know about how you can protect yourself and your loved ones from disasters and other emergencies, and how you can support our life-saving work.
Click here
to unsubscribe from our list, but please know that if you leave, it will be harder for you to stay involved with the Red Cross and continue the work of which youve been such a critical part. It is only because of supporters like you that the Red Cross is able to respond when a disaster strikes or a home is impacted by fire, when someone needs CPR or a lifesaving blood transfusion, or when a family needs to contact a deployed service member in an emergency. And we dont want to lose you! Thanks for your support!
2018 American Red Cross | 431 18th Street NW Washington DC 20006
Donate by phone: 1-800-RED CROSS (1-800-733-2767) | Donate by Mail
Your gift will help ensure that those who serve our country have our unwavering support.

An average of 91 cents of every dollar the American

Red Cross

spends is invested in humanitarian services and programs.

Recent emails from American Red Cross

See more